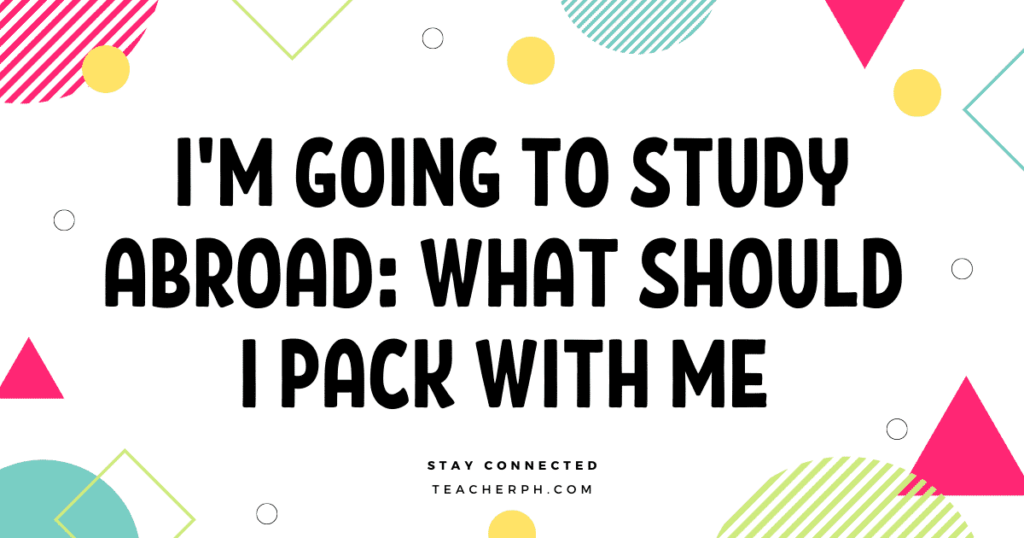 Until the moment of packing for the road, studying abroad seems like the amazing adventure of a lifetime. On the whole, it is, but when the moment comes to pack, it turns out that many questions arise. Chief among these questions is what to take with you? Fortunately, this problem is not unique, so don't worry, we're going to deal with it now.
So, stop throwing your clothes around chaotically and solve the unsolvable problem of how to pack your whole life into two (or one!) suitcases. That way, you will only panic even more, and at some moment, you will decide that it is better to stay home and hide under the covers altogether. We invite you to check out our approach and even a ready-made list. So hurry up and read on.
Packing is NOT Just Solving the Puzzle of "How to Stuff Everything into a Small Box"
Although many prospective students panic about packing, they also try to keep things simple, thinking that the main thing is to fit all their stuff in. Because of this, they forget about the factors that influence what they need to take with them and either take unnecessary things or do not put the essentials. So we won't start with a specific list (but there will be one anyway, just later), but with a study of the problem piece by piece.
Where Are You Going to Study?
This is the first question you should think about. When reading about universities abroad, you can often see these "other culture insights" things. After you graduate from college, you'll already have them, but you just have to face them until then, and it's important that you don't offend anyone in doing so, including your clothes.
Conservative vs. Liberal
This may not sound feminist, but it is especially important for women. The fact is that in conservative countries, there are many rules about how one should dress-what parts of the body must be covered and so on. Given that these rules often go back to religious traditions, you can cause a lot of conflicts if you fight them. And sometimes it will just be uncomfortable – for example, you'll need to go into some study room, and they just won't let you in because you're wearing an open T-shirt.
Rural vs. Urban
This factor affects how easy it will be for you to access the boutiques. You may be used to always having a supermarket near your home, but your new location may have different conditions. For example, if you're going to study botany on an island (by the way, it's a pretty popular course, considering how many requests there are for botany essays on https://www.academicsaviour.com/ ), you'll probably need to bring a large supply of shampoo with you. And if your college is located in the middle of a metropolis, you may well save space in your suitcase by taking only the essentials.
What is the Climate of the Country Where You Will Live?
Our planet is huge, and sometimes the weather can surprise you. For example, you will come to a country with a hot climate but humid. And it's quite different from living in a warm and dry area. So, two main factors you should pay attention to.
Climate in General
To assess this factor is simple – google it. Look at the official summaries of temperature, wind, and humidity. If these figures don't tell you anything, read the blogs of people who live there. Because not always "hot" means "take only shorts." Some countries are so hot and sunny that you can't do without clothes that cover your entire skin.
Period of Time You Will Study There
It is easiest for students who go to study for a short period of about three months. This usually means that you will catch one season and you won't need very many clothes. But if you go abroad for a year, it is more difficult here, because, for example, winter in Belgium is very different from summer in Belgium, so you will have to bring almost your entire closet with you.
How Many Suitcases to Take?
To answer this question, you should think about two moments. The first is how you fly. It means what airline ticket you have. Check the baggage requirements – they are usually set in the number of suitcases and also their weight. Of course, you can always pay more to bring more, which leads us to another moment. How many suitcases are you ABLE to bring? Because you can not be sure you will get help in the airport, so it will be possible that you will have to run with all this cargo on your own and also try not to miss your flight.
Finally, The List
Isn't that why we're all here, you may ask. Why, then, does the article not begin with this list and does not include only it? The point is that it is not a universal list but rather a basic one. It can and should be adapted, considering your own needs and the factors we discussed above.
The List Of Clothes
The clothes you wear most often: your favorite T-shirts and sweatshirts, pants, shorts, dresses and/or skirts.
As many socks and underwear as possible: Students do not always have laundry available every day, so have as much underwear as possible to replace.
Swimsuit: takes up little space but has a lot of use.
Travel Suit: a tracksuit would be great.
At least one outfit and shoes to go with it: comfort is good, but do not skimp on beauty; it's unlikely you'll stay at home all year.
Universal shoes for all weather: for example, leather sneakers.
Rubber slippers: for the beach, as home shoes, and as shoes for public showers.
Sportswear and shoes.
Universal jacket: even in hot countries, it can be frosty at night.
The List Of Toiletries
Shampoo, shower gel, etc., in travel format.
Creams and other hygienic cosmetics.
Toothbrush and toothpaste.
Decorative cosmetics.
Hairbrush.
Tampons or pads.
Contraceptives.
Medications.
Manicure scissors and file.
Sunscreen.
The List of Gadgets
Smartphone and a charger for it.
Laptop or tablet with charger and bag for it.
Power bank with charger.
The List of Useful Tools for the Abroad Trip
Portable scales to know the exact weight of your luggage.
Vacuum bags for packing things without excess air.
Universal lock to secure the clasp on the bag.
Luggage tag and tape.
Other
All necessary documents (passport and ticket at least), as well as copies of them.
A gift from your country if you are not staying in a hostel, but with a family.
A small everyday bag.
A mini bag for documents, keys, smartphone.
Academic books that are recommended on the college reading list. But don't worry if they don't fit, you can find all the useful information on https://lunwenzhushou.net/ .
What You Should Not Take With You
We remind you that the above list, of course, can be expanded. However, we also want to list those things that you most likely will not need while studying abroad. So if you want to add them to the list, think twice about whether you should.
Home Appliances
This could include a hairdryer and hair straightener. There are several reasons why you won't need them. The first is that you don't know how your hair will behave in the new climate. Second, you don't know what conditions are like in the new place of residence. If it's a dorm, you'll probably share a hairdryer in the shower. Otherwise, there's a risk that the wires will catch fire from the voltage.
Brand New Clothes
Starting a new life with a new closet sounds very tempting, but it's also risky. After all, we all know that the most comfortable shoes are the old shoes, and new shoes, while very beautiful, often rub your feet to the point of bleeding. With clothes, too, sometimes there is trouble. For example, you may already realize that your new jacket is too small during the trip, and the shirt is too hot and does not let air in. As a result, in the new country, you have to update the closet, and it's expensive and not always easy.
Clothes That Do Not Match With Each Other
The universal closet should be a capsule; that is, each thing from it, you can combine with any other. For example, jeans look great under any of your T-shirts, and any T-shirt is combined with a skirt. Usually, such coincidence is achieved by choosing things in a similar color scheme and the same style.
When choosing what to take with you, use the rule "I won't take something I'll wear at most two times."
Uncomfortable Shoes
Uncomfortable shoes are evil. But how many times have each of us fallen for this "I'll buy those heels because they're so beautiful!" ruse? Unfortunately, this situation becomes even more uncomfortable if you take these shoes with you to study abroad. So what to do if you don't always want to wear sneakers under a dress? Consider comfortable shoes on a wedge or shoes with a small heel.
By the way, flip-flops are also not the best shoes if you take them not for home, but the street. This would only be appropriate, perhaps, on the islands. In other cases, buy and take espadrille with you.
Anything That Indicates You Are a Newcomer
Try to look like locals to avoid becoming easy prey for crooks. To do this, again, learn more about the country before you get there.
Bonus Advice: Pack Your Things Twice
Start packing in advance. Then, if you remember something, you can report it. Then do it again. And again. By the way, this advice – double-check everything – can be applied to many other things in college, including essay writing. That's exactly what https://meiguodaixie.com/ experts do to get a good paper.
So, back to packing. You have to be sure you haven't forgotten anything and that everything fits. It's also important that you have everything on hand. If it's a long flight, you're going to need some things on the way too, and it's not very convenient if they end up in the luggage compartment.
Also, try a basic bag lift. Can the handles hold it? Is it too heavy for you? These problems will be easy to solve if you don't do it on the last night.
You Are Ready!
If you need to pack, then you've already taken care of everything else. So we wish you a pleasant trip and a successful study abroad!