The Department of Education (DepEd) is now accepting applications for the Special Program for the Employment of Students (SPES) 2020.
March 21, 2020 Update:
The Department of Education (DepEd), through the Youth Formation Division (YFD), is suspending the implementation of the Special Program of Employment for Students (SPES) Batch 1 for High School and Senior High School students, which is scheduled to commence on April 6, 2020.
This suspension is in line with the directive of President Rodrigo R. Duterte and DepEd Order No. 34, s. 2020, as a precautionary measure to prevent the spread of COVID-19.
However, the SPES for College Students Batch 2 will still pursue its schedule, which will commence from June to August. The possibility of a suspension may also apply if the COVID-19 outbreak continues.
For clarification, please contact the YFD through mobile number 0907-529-9320, landline number (02) 8637-9814, or email at blss.yfd@deped.gov.ph.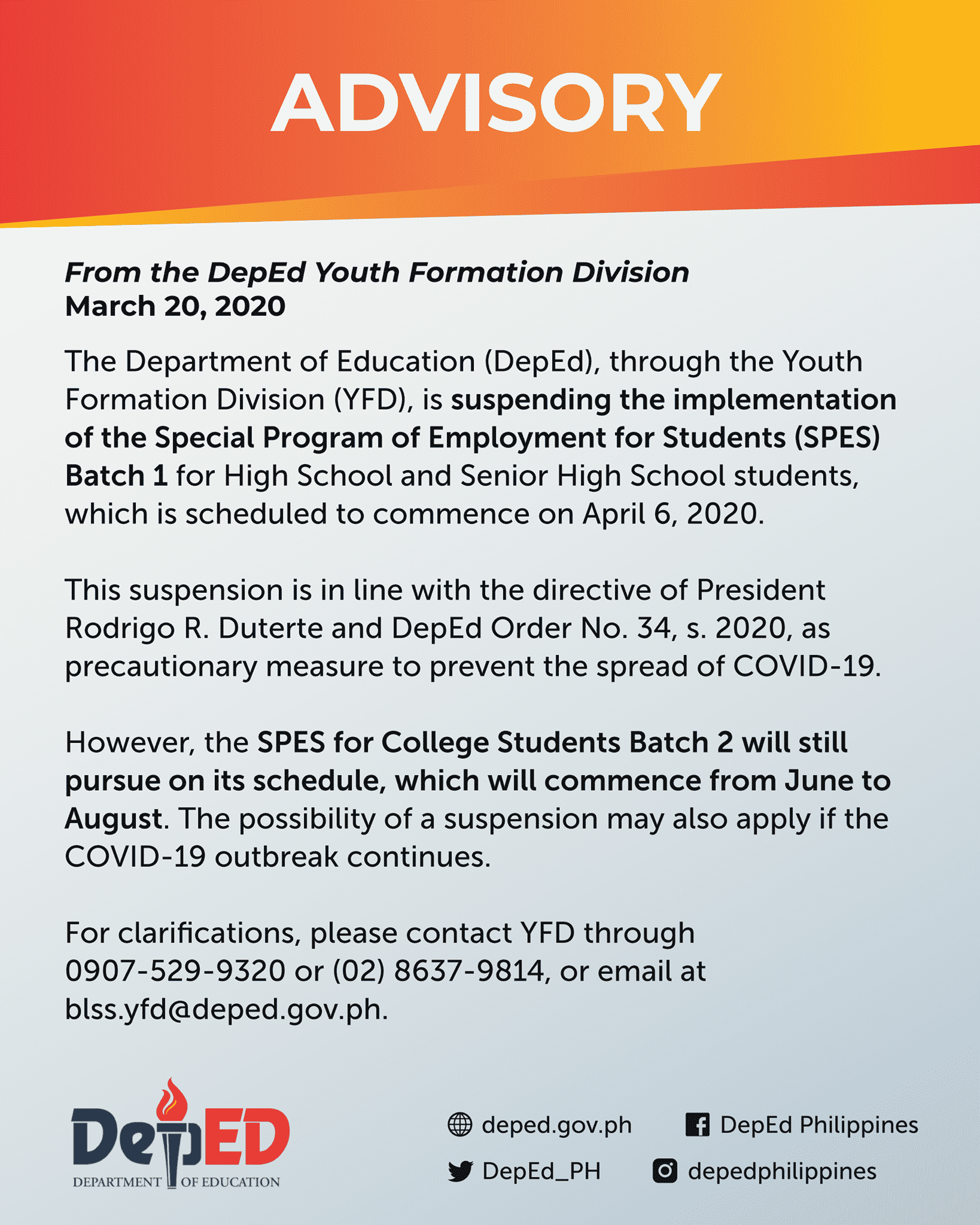 SPECIAL PROGRAM FOR EMPLOYMENT OF STUDENTS (SPES)
SPES is an annual summer employment program that encourages students to make their vacation productive by working during summer thereby earning extra, which they can use during regular school days. The program is spearheaded by the Department of Labor and Employment (DOLE) and in partnership with the Department of Education (DepEd). The program will be implemented at the DepEd Central Office only.
Qualified applicants will be employed for forty days and will be paid minimum wage (60% will be paid by DepEd and 40% by DOLE). The DepEd SPES will also be given an additional daily allowance on top of their salaries.
The SPES has two categories: SPES Babies and New Applicant.
SPES Babies
The classification to be considered as SPES Babies are as follows:
A) They were hired last year and completed or have at least 37-40 days of attendance.
B) No complaint coming from, the office where they are assigned.
C) Attended all activities conducted by the YFD or by the Department.
SPES New Applicant
The application date is from February 20 to March 6, 2019, from 9:00 AM to 4:00 PM. Applicants should first submit their resume at the Youth Formation Division (YFD). This will be followed by an interview and screening which will be scheduled starting March 8-15, 2019.
NOTE: For 2020, DepEd has not yet announced when will the application process commence. Please check back regularly or bookmark this page for updates.
Below are the qualifications for SPES applicants:
At least 16 years old but not more than 30 years old.
Must be a High School, Senior High School or College student from 1st to 3rd year only (Technical or Vocational courses).
No failing grade from the recent grading or semester.
Combine net income of both parents must not exceed to 150,000.00 per annum.
Must possess at least basic computer skills (Word and Excel).
The SPES applicants are required to submit the following documents during the interview:
Resume with recent 2×2 picture
Personal Assessment Form (SPES 02)
Photocopy PSA Birth Certificate
Copy of Form 138 for High School and Senior High School
Recent grades and School Registration preferably in the Second Semester
Qualified applicants will be notified through call or text for the schedule of the final interview. Only those who have received a text/call shall be entertained for screening and interview and must submit the BIR documents depending on their family income.
Certificate of Barangay Indigency
Certificate of Non Filing of ITR
Certificate of Low Income
Certificate of Tax Exemption
Application Form SPES Form 02
Filled up Oath of Undertaking SPES Form 2-A
Submit your resume to the Youth Formation Division Office, 4F Mabini Bldg., DepEd Central Office, Meralco Ave., Pasig City
Get ready to learn new skills while working with the passionate, committed, and vibrant workforce of DepEd.
Submit your resumé now and be part of the DepEd family!
READ: List of 2019 DepEd Scholarship Advisories
2020 DEPED SPES APPLICATION FORM 2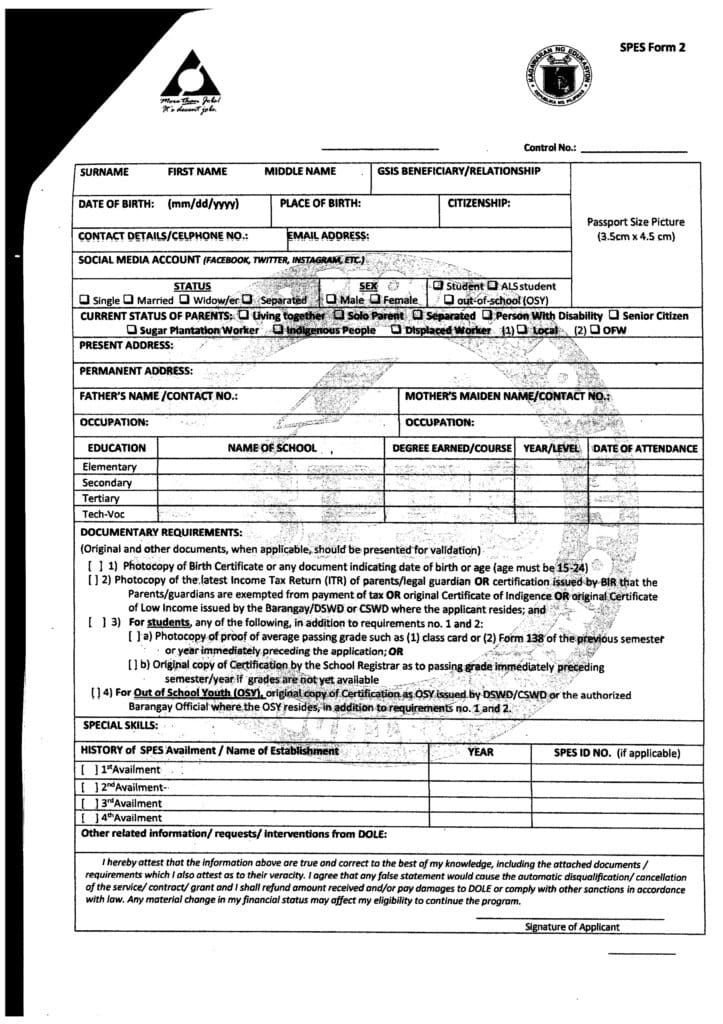 Note: As agreed during the implementors meeting set by DOLE siblings are not encouraged to apply to give others a chance for the slot. For inquiries, you may contact the BLSS-YFD thru Mr. Jonard K. Gabrino at 0907-5299320 or (02)637-98-14 or at blss.yfd@deped.gov.ph.