Last Updated: August 27, 2021
In compliance with the Data Privacy Act of 2012 or R.A. 10173, TeacherPH hereby issues this Website Privacy Policy for the users of the TeacherPH Website.
TeacherPH ("us", "we", or "our") operates https://www.teacherph.com/ (the "Site"). This page informs you of our policies regarding the collection, use, and disclosure of Personal Information we receive from users of the Site.
We use your Personal Information only for providing and improving the Site. By using the Site, you agree to the collection and use of information in accordance with this policy.
Definitions
Service: Service is the https://www.teacherph.com/ website operated by TeacherPH
Personal Data: Personal Data means data about a living individual who can be identified from those data (or from those and other information either in our possession or likely to come into our possession).
Usage Data: Usage Data is data collected automatically either generated by the use of the Service or from the Service infrastructure itself (for example, the duration of a page visit).
Cookies: Cookies are small pieces of data stored on your device (computer or mobile device).
Data Controller: Data Controller means the natural or legal person who (either alone or jointly or in common with other persons) determines the purposes for which and the manner in which any personal information are, or are to be, processed. For the purpose of this Privacy Policy, we are a Data Controller of your Personal Data.
Data Processors (or Service Providers): Data Processor (or Service Provider) means any natural or legal person who processes the data on behalf of the Data Controller. We may use the services of various Service Providers in order to process your data more effectively.
Data Subject (or User): Data Subject (or User) refers to an individual whose personal, sensitive personal or privileged information is processed by the organization. It may refer to officers, employees, consultants, and clients of this organization.
Background
Republic Act No. 10173, also known as the Data Privacy Act of 2012 (DPA), aims to protect personal data in information and communications systems both in the government and the private sector.
It ensures that entities or organizations processing personal data establish policies, and implement measures and procedures that guarantee the safety and security of personal data under their control or custody, thereby upholding an individual's data privacy rights. A personal information controller or personal information processor is instructed to implement reasonable and appropriate measures to protect personal data against natural dangers such as accidental loss or destruction, and human dangers such as unlawful access, fraudulent misuse, unlawful destruction, alteration, and contamination.
To inform its personnel of such measures, each personal information controller or personal information processor is expected to produce a Privacy Manual. The Manual serves as a guide or handbook for ensuring the compliance of an organization or entity with the DPA, its Implementing Rules and Regulations (IRR), and other relevant issuances of the National Privacy Commission (NPC). It also encapsulates the privacy and data protection protocols that need to be observed and carried out within the organization for specific circumstances (e.g., from collection to destruction), directed toward the fulfillment and realization of the rights of data subjects.
The Data Privacy Act of 2012
Implementing Rules & Regulations
Information Collection and Use
We collect several different types of information for various purposes to provide and improve our Service to you.
Types of Data Collected
Personal Data
While using our Service, we may ask you to provide us with certain personally identifiable information that can be used to contact or identify you ("Personal Data"). Personally identifiable information may include, but is not limited to:
Email address
First name and last name
Cookies and Usage Data
We may use your Personal Data to contact you with newsletters, abandoned cart emails, marketing or promotional materials, and other information that may be of interest to you. You may opt-out of receiving any, or all, of these communications from us by following the unsubscribe link or instructions provided in any email we send.
Personal data collected via our contact form is automatically purged after 90 days.
Usage Data
We may also collect information on how the Service is accessed and used ("Usage Data"). This Usage Data may include information such as your computer's Internet Protocol address (e.g. IP address), browser type, browser version, the pages of our Service that you visit, the time and date of your visit, the time spent on those pages, unique device identifiers and other diagnostic data.
Tracking and Cookies Data
We use cookies and similar tracking technologies to track the activity on our Service and hold certain information.
Cookies are files with a small amount of data that may include an anonymous unique identifier. Cookies are sent to your browser from a website and stored on your device. Tracking technologies also used are beacons, tags, and scripts to collect and track information and to improve and analyze our Service.
You can instruct your browser to refuse all cookies or to indicate when a cookie is being sent. However, if you do not accept cookies, you may not be able to use some portions of our Service.
Examples of Cookies we use:
Session Cookies. We use Session Cookies to operate our Service.
Preference Cookies. We use Preference Cookies to remember your preferences and various settings.
Security Cookies. We use Security Cookies for security purposes.
Advertising Cookies. Advertising Cookies are used to serve you with advertisements that may be relevant to you and your interests.
Use of Data
TeacherPH uses the collected data for various purposes:
To provide and maintain our Service
To notify you about changes to our Service
To allow you to participate in interactive features of our Service when you choose to do so
To provide customer support
To gather analysis or valuable information so that we can improve our Service
To monitor the usage of our Service
To detect, prevent and address technical issues
To provide you with news, special offers and general information about other goods, services and events which we offer that are similar to those that you have already purchased or enquired about unless you have opted not to receive such information
When you purchase from us, we'll ask you to provide information including your name, billing address, shipping address, email address, phone number, credit card/payment details, and optional account information like username and password. We'll use this information for purposes, such as, to:
Send you information about your account and order
Respond to your requests, including refunds and complaints
Process payments and prevent fraud
Set up your account for our store
Comply with any legal obligations we have, such as calculating taxes
Improve our store offerings
Send you marketing messages, if you choose to receive them
If you create an account, we will store your name, email, and phone number, which will be used to populate the checkout for future orders.
We generally store information about you for as long as we need the information for the purposes for which we collect and use it, and we are not legally required to continue to keep it. For example, we will store order information for 5 years for tax and accounting purposes. This includes your name, email address, and billing and shipping addresses.
We will also store comments or reviews if you choose to leave them.
Retention of Data
TeacherPH will retain your Personal Data only for as long as is necessary for the purposes set out in this Privacy Policy. We will retain and use your Personal Data to the extent necessary to comply with our legal obligations (for example, if we are required to retain your data to comply with applicable laws), resolve disputes, and enforce our legal agreements and policies.
TeacherPH will also retain Usage Data for internal analysis purposes. Usage Data is generally retained for a shorter period of time, except when this data is used to strengthen the security or to improve the functionality of our Service, or we are legally obligated to retain this data for longer time periods.
Transfer of Data
Your information, including Personal Data, may be transferred to — and maintained on — computers located outside of your state, province, country or other governmental jurisdiction where the data protection laws may differ from those from your jurisdiction.
If you are located outside the Philippines and choose to provide information to us, please note that we transfer the data, including Personal Data, to Singapore and South Korea where our servers are located, and process it there.
Your consent to this Privacy Policy followed by your submission of such information represents your agreement to that transfer.
TeacherPH will take all steps reasonably necessary to ensure that your data is treated securely and in accordance with this Privacy Policy and no transfer of your Personal Data will take place to an organization or a country unless there are adequate controls in place including the security of your data and other personal information.
Disclosure of Data
Disclosure for Law Enforcement
Under certain circumstances, TeacherPH may be required to disclose your Personal Data if required to do so by law or in response to valid requests by public authorities (e.g. a court or a government agency).
Legal Requirements
TeacherPH may disclose your Personal Data in the good faith belief that such action is necessary to:
To comply with a legal obligation
To protect and defend the rights or property of TeacherPH
To prevent or investigate possible wrongdoing in connection with the Service
To protect the personal safety of users of the Service or the public
To protect against legal liability
Security of Data
TeacherPH takes all reasonable steps to protect the information provided via the Services from loss, misuse, and unauthorized access, disclosure, alteration, or destruction. However, no Internet or email transmission is ever fully secure or error-free.
Although we make good faith efforts to store the information collected on the Service in a secure operating environment that is not available to the public, we cannot guarantee the absolute security of that information during its transmission or its storage on our systems.
While we attempt to ensure the integrity and security of our network and systems, we cannot guarantee that our security measures will prevent third-party individuals from illegally obtaining access to this information. We do not warrant or represent that your information will be protected against, loss, misuse, or alteration by third parties. No method of transmission over the Internet, or method of electronic storage, is 100% secure, however. Therefore, we cannot guarantee its absolute security.
Organization Security Measures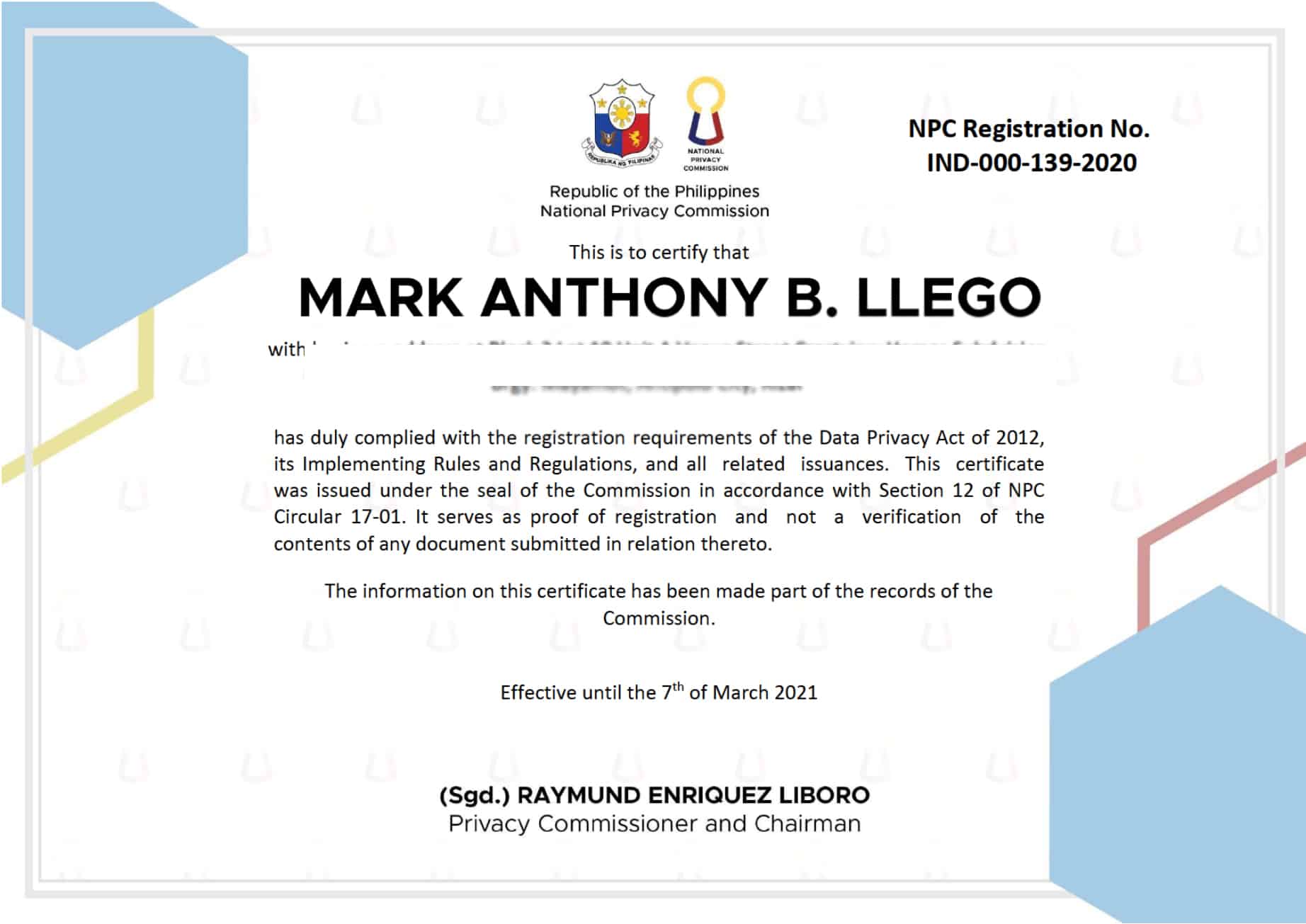 Data Protection Officer (DPO)
The designated Data Protection Officer is Mr. Mark Anthony Llego, who is concurrently serving as the President of the organization.
Functions of the DPO, COP and/or any other responsible personnel with similar functions
The Data Protection Officer shall oversee the compliance of the organization with the DPA, its IRR, and other related policies, including the conduct of a Privacy Impact Assessment, implementation of security measures, security incident and data breach protocol, and the inquiry and complaints procedure.
Conduct of trainings or seminars to keep personnel, especially the Data Protection Officer updated vis-à-vis developments in data privacy and security
The organization shall sponsor mandatory training on data privacy and security at least once a year. For personnel directly involved in the processing of personal data, management shall ensure their attendance and participation in relevant training and orientations, as often as necessary.
Conduct of Privacy Impact Assessment (PIA)
The organization shall conduct a Privacy Impact Assessment (PIA) relative to all activities, projects, and systems involving the processing of personal data. It may choose to outsource the conduct of a PIA to a third party.
Recording and documentation of activities carried out by the DPO, or the organization itself, to ensure compliance with the DPA, its IRR and other relevant policies.
The organization shall sponsor mandatory training on data privacy and security at least once a year. For personnel directly involved in the processing of personal data, management shall ensure their attendance and participation in relevant training and orientations, as often as necessary.
Duty of Confidentiality
All employees will be asked to sign a Non-Disclosure Agreement. All employees with access to personal data shall operate and hold personal data under strict confidentiality if the same is not intended for public disclosure.
Breach and Security Incidents
A Data Breach Response Team comprising of five (5) officers shall be responsible for ensuring immediate action in the event of a security incident or personal data breach. The team shall conduct an initial assessment of the incident or breach in order to ascertain the nature and extent thereof. It shall also execute measures to mitigate the adverse effects of the incident or breach.
The organization shall regularly conduct a Privacy Impact Assessment to identify risks in the processing system and monitor for security breaches and vulnerability scanning of computer networks. Personnel directly involved in the processing of personal data must attend training and seminars for capacity building. There must also be a periodic review of policies and procedures being implemented in the organization.
The organization shall always maintain a backup file for all personal data under its custody. In the event of a security incident or data breach, it shall always compare the backup with the affected file to determine the presence of any inconsistencies or alterations resulting from the incident or breach.
The Head of the Data Breach Response Team shall inform the management of the need to notify the NPC and the data subjects affected by the incident or breach within the period prescribed by law. Management may decide to delegate the actual notification to the head of the Data Breach Response Team.
The Data Breach Response Team shall prepare detailed documentation of every incident or breach encountered, as well as an annual report, to be submitted to management and the NPC, within the prescribed period.
For more info on how we protect your data, please read our Security Policy.
Protected Rights
In accordance with the Data Privacy Act of 2012, the users of this service have the following rights:
Right of Information. Right to be informed whether a user's personal information shall or have been processed. This website policy declaration is a manifestation of your right to information.
Right of Access. We store your information for as long as needed and necessary. You may have reasonable access to your personal information if it is still covered or within our retention period.
Right to Dispute and Rectification. You have the right to object to any error or inaccuracy on your personal data and have them corrected.
Right to Data Portability. If your data is stored digitally, you can receive the same copy and transmit that to another.
Right to Restrict Processing. You have the right to have your data blocked, removed, or destroyed if inaccurate, outdated, or no longer serving its original purpose, subject to the legitimate exercise of said rights under the DPA and its IRR.
Right to File A Complaint. You have the right to file a complaint about the processing of your personal information. You, or anyone acting legally on your behalf if you are indisposed, have the right to seek redress if your personal data were illegally obtained or unlawfully processed.
To know the full text of your rights under DPA, you may read it here.
If you wish for your personal data and account to be removed from our system, please contact us. Upon initiation of the request, you will receive a confirmation to complete the deletion.
Inquiries and Complaints
Data subjects may inquire or request information regarding any matter relating to the processing of their personal data under the custody of the organization, including the data privacy and security policies implemented to ensure the protection of their personal data. They may write to the organization at support@teacherph.com and briefly discuss the inquiry, together with their contact details for reference.
Complaints shall be filed in three (3) printed copies, or sent to support@teacherph.com. The concerned department or unit shall conform with the complainant its receipt of the complaint.
Service Providers
We may employ third-party companies and individuals to facilitate our Service ("Service Providers"), to provide the Service on our behalf, to perform Service-related services, or to assist us in analyzing how our Service is used.
These third parties have access to your Personal Data only to perform these tasks on our behalf and are obligated not to disclose or use it for any other purpose.
Analytics and Security
We may use third-party Service Providers to monitor and analyze the use of our Service.
Ads
Ads appearing on this Website may be delivered to users by advertising partners, who may set cookies.
These cookies allow the ad server to recognize your computer each time they send you an online advertisement to compile information about you or others who use your computer.
This information allows ad networks to, among other things, deliver targeted advertisements that they believe will be of most interest to you.
This Privacy Policy covers the use of cookies by TeacherPH and does not cover the use of cookies by any advertisers.
Payments
We may provide paid products and/or services within the Service. In that case, we use third-party services for payment processing (e.g. payment processors).
We will not store or collect your payment card details. That information is provided directly to our third-party payment processors whose use of your personal information is governed by their Privacy Policy. These payment processors adhere to the standards set by PCI-DSS as managed by the PCI Security Standards Council, which is a joint effort of brands like Visa, Mastercard, American Express, and Discover. PCI-DSS requirements help ensure the secure handling of payment information.
The payment processors we work with are:
Links to Other Sites
Our Service may contain links to other sites that are not operated by us. If you click on a third-party link, you will be directed to that third party's site. We strongly advise you to review the Privacy Policy of every site you visit.
We have no control over and assume no responsibility for the content, privacy policies, or practices of any third-party sites or services.
Use by Children
If you are a child under 13, show this Privacy Policy and Terms of Use to your parent or legal guardian. Do not use TeacherPH without parental consent. If you are a parent or legal guardian of a child under the age of 13, who may access or use the Service, you hereby give your express consent for that child to use the Service. In cases where teachers or schools ask students to use the Service, TeacherPH relies on the school or teacher to obtain and provide appropriate parental consent to collect personal information, such as email addresses and names from students under 13 before creating accounts. Failure to obtain and provide parental or legal guardian consent may result in the deletion of accounts created by students under 13.
Account Deletion
Users may delete their user account at any time. If a user deletes his or her account, the user's Email address and user's account-related information (such as name, username, email, orders), and the Content which solely belongs to the user will be deleted immediately.
Collected Information in Backups
This Service performs automatic backups as a service to its users. The backups contain copies of all collected information. When users delete their TeacherPH account and thereby delete associated information, their collected information will not be removed from TeacherPH's backups. Instead, their collected information will be removed in the event that TeacherPH website is restored from a backup. Backups may be retained for up to 3 months after being created.
Effectivity
The provisions of this Privacy Policy are effective this 16th day of August 2021, until revoked or amended by this company, through a Board Resolution.
Changes to This Privacy Policy
We may update our Privacy Policy from time to time. We will notify you of any changes by posting the new Privacy Policy on this page.
We will let you know via email and/or a prominent notice on our Service, prior to the change becoming effective and update the "effective date" at the top of this Privacy Policy.
You are advised to review this Privacy Policy periodically for any changes. Changes to this Privacy Policy are effective when they are posted on this page.
Contact Us
If you have any questions about this Privacy Policy, please contact us:
By visiting this page on our website: https://www.teacherph.com/contact/
READ MORE: