Attached is the letter from Melanie Libatique and List of DepEd Central Office Trunk Lines, content of which is self-explanatory for the information and guidance of all concerned.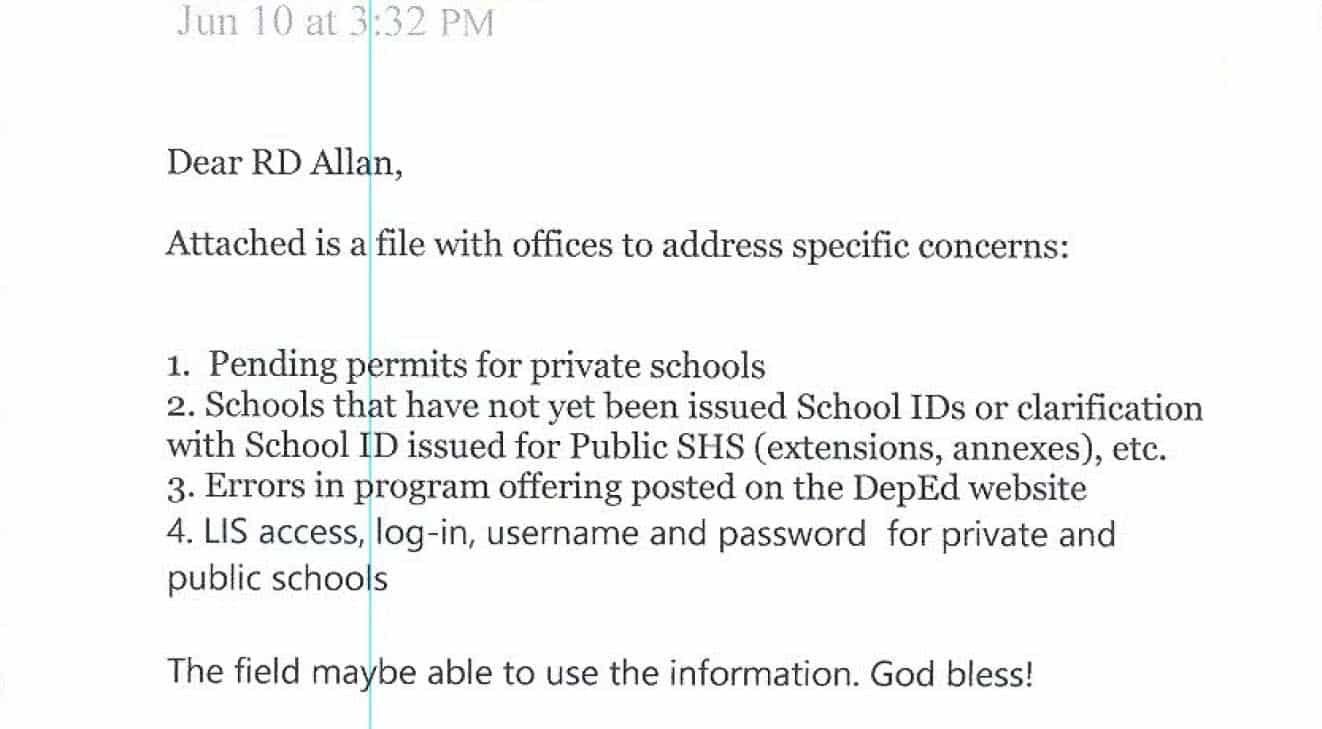 Attached is a file with offices to address specific concerns:
Pending permits for private schools.
Schools that have not yet been issued School IDs or clarification with School ID issued for Public Senior High School (extensions annexes), etcs.
Errors in program offering posted on the DepEd website
LIS access, login, username and password for private and public schools.
No.
Type of School
Permit Issued
School ID Given
Posted on Website
Access to LIS
Office-in-Charge
1.
Private Issue: LIS
Yes
Yes
Yes
None / Unclear
User Support Division (USD) under the Information and Communications Technology Service (ICTS)

(02) 636-4878
0922-410-4603 (Sun)
0939-436-1390 (Smart)
0977-771-2285 (Globe)
Email: icts.usd@deped.gov.ph
2.
Private Issue: School ID
Yes
None / Unclear
No
None / Unclear
Educational Management Information System Division (EMISD) under Planning Service
(02) 638-2251
(02) 635-3958
3.
Private Issue: Permit
None
None / Unclear
No
None / Unclear
National Task Force (NTF) under the Bureau of Curriculum Development (BCD)

(02) 636-5172
Email: shsqueries@gmail.com
4.
Private Issue: Name not on website
Yes
Yes
No
N/A
Office of the Asst. Sec for Curriculum and Instruction

(02) 636-6547
(02) 631-8495
5.
Public Issue: School ID
N/A
None / Unclear
Yes
None / Unclear
Educational Management Information System Division (EMISD) under Planning Service

(02) 638-2251
(02) 635-3958
6
Public Issue: Errors in posted Program Offering
N/A
Yes
Yes
Yes
Zyra Cruz
SHSTA Team
zyra.cruz@deped.gov.ph
7.
Public Issue: Username and password
N/A
Yes
Yes
None / Unclear
User Support Division (USD) under the Information and Communications Technology Service (ICTS)

(02) 636-4878
0922-410-4603 (Sun)
0939-436-1390 (Smart)
0977-771-2285 (Globe)
Email: icts.usd@deped.gov.ph
READ: Use of Assigned DepEd Website for Oplan Balik Eskwela Operations