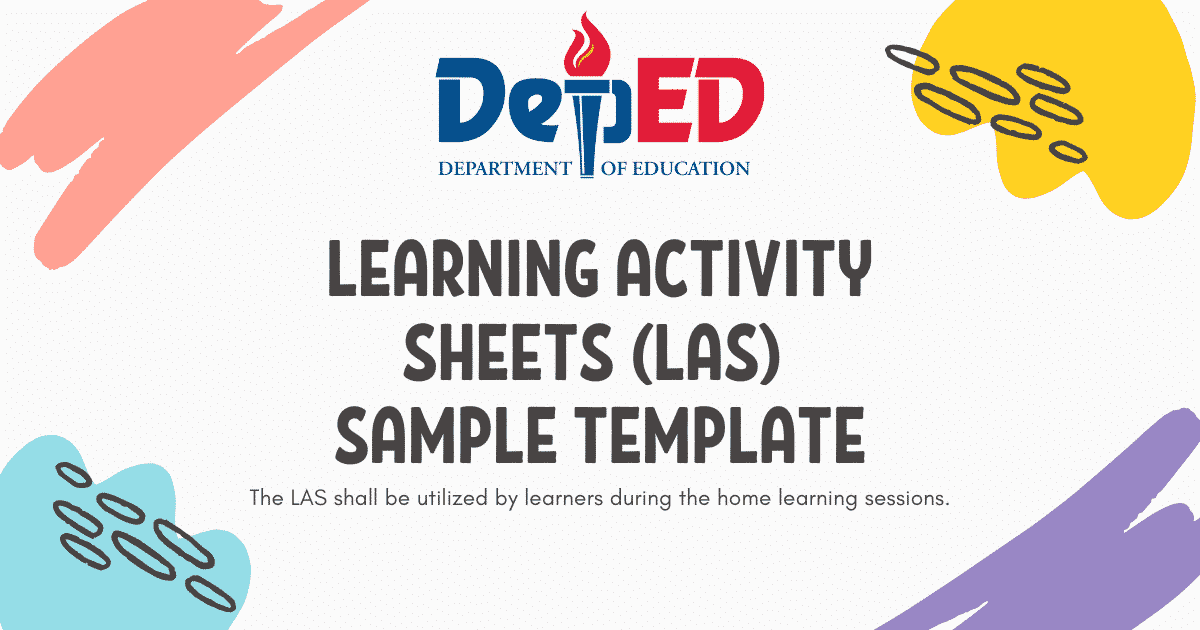 Relative to the implementation of new normal for the incoming School Year 2020-2021, the development of the Learning Activity Sheets (LAS) shall be based on the Most Essential Learning Competencies (MELC) issued by the Central Office. The uniformed template for the Learning Activity Sheets (LAS) is attached below.
Key stage 1 (Grades 1-3) learning areas shall be prepared by their own respective SDOs based on their MTB used as Methods of Teaching (MOT). Preparation of the Key Stage 2 (Grades 4-6), and Key Stage 3 (Junior HS) and Key Stage 4 (Senior HS) shall be based on the agreed distribution per grade levels. Grade level assignments and timelines of submission are attached below.
The LAS shall be utilized by learners during the home learning sessions.
DepEd Sample Template for Learning Activity Sheets (LAS)
SUBJECT (Uppercase and Bold)
Name of Learner/Pangalan:
Grade Level/Lebel:
Section/Seksiyon:
Date/Petsa:
LEARNING ACTIVITY SHEET/GAWAING PAGKATUTO
Title
Background Information for Learners/Panimula (Susing Konsepto)
(Brief discussion of the lesson, if possible cite examples)
Learning Competency with code/Kasanayang Pampagkatuto at koda
Directions/ Instructions / Panuto
Exercises / Activities / Pamaraan
Guide Questions (if necessary)
Rubric for scoring/Rubrik sa Pagpupuntos (if necessary)
Reflection / Pangwakas
References for learners/Mga Sanggunian
Answer Key/Susi sa Pagwawasto
Prepared by/Inihanda ni:
Name of writer/Pangalan ng may akda
GRADE LEVEL ASSIGNMENT RE LEARNING ACTIVITY SHEETS
| Activities to be Undertaken | Activities to be Undertaken |
| --- | --- |
| GRADES 1-3 | All subjects except MTB shall be contextualized by each SDO according to their MTB. |
| GRADE 4 | All subjects shall be contextualized. ALS and Special Curricular Programs shall also be contextualized Start of contextualization shall be done once CO issues DepED Order for MELCS and other requirements |
| GRADE 5 | |
| GRADE 6 | |
| GRADE 7 | |
| GRADE 8 | |
| GRADE 9 | |
| GRADE 10 | |
| GRADE 11 | |
| GRADE 12 | |
| | |
LAC shall cover one week activities, however, this will depend on the needs and conditions of the learners.
Reference:
ESTELA L. CARINO, EdD, CESO IV
Director IV/Regional Director