May 2, 2019
DepEd Memorandum No. 56, s. 2019
NATIONAL TRAINING OF TRAINERS ON THE K TO 10 CRITICAL CONTENT IN ARALING PANLIPUNAN, MUSIC, ARTS, PHYSICAL EDUCATION AND HEALTH, AND EDUKASYON SA PAGPAPAKATAO
To:
Undersecretaries
Assistant Secretaries
Bureau and Service Directors
Regional Directors
Schools Division Superintendents
Public and Private Secondary School Heads
All Others Concerned
The Department of Education (DepEd), through the Bureau of Curriculum Development will conduct the National Training of Trainers (NTOT) on the K to 10 Critical Content in Araling Panlipunan (AP), Music, Arts, Physical Education, and Health (MAPEH), and Edukasyon sa Pagpapakatao (EsP) in May 2019. This is in line with Republic Act No. 10533 otherwise known as Enhanced Basic Education Act of 2013 and the Implementation of the K to 12 Basic Education Program. The schedule of the conduct of the NTOT in AP, MAPEH, and EsP is as follows:
Activity
Schedule
Venue
NTOT in EsP
May 5-11, 2019
Andana Resort
NuevaValencia
Guimaras Province
NTOT in AP
May 19-25, 2019
Iloilo City
NTOT in MAPEH
May 24-30, 2019
Legaspi City, Albay
The NTOT aims to build the capacity of trainers to conduct the Mass Training of Teachers (MTOT).
The participants in the activity are DepEd teacher-trainers and supervisors to be selected and recommended by the regional directors. Only those who completed the NTOT shall serve as MTOT trainers.
The chief trainers in EsP will arrive on May 5, while the participants in the said activity are expected to arrive on May 6, 2019. Participants for AP are expected to arrive in Iloilo City on May 19, 2019. Participants for MAPEH are expected to arrive in Legaspi City on May 24, 2019.
Training costs, which cover board and lodging, traveling expenses of the management staff, resource persons, honoraria of resource persons, supplies and materials and other incidental expenses shall be charged to 2019 Human Resource Development Funds, while the traveling expenses of the participants shall be charged to local funds, subject to the usual government accounting and auditing rules and regulations.
The NTOT trainers nominated by the regions shall be selected based on the following criteria set by the concerned bureaus:
The following documents are enclosed for reference:
| | |
| --- | --- |
| a. Enclosure No. 1 | Training Matrix of the Edukasyon sa Pagpapakatao (EsP); |
| b. Enclosure No. 2 | Training Matrix of the NTOT on Araling Partlipunan; |
| c. Enclosure No. 3 | Training Matrix of the NTOT on Music, Arts, Physical Education, and Health; and |
| d. Enclosure No. 4 | List of Chief Trainers. |
Those who served as chief trainers (list enclosed) in the orientation on NTOT shall attend the NTOT of their respective learning areas and shall be included as part of their regional delegation.
Teacher-participants, trainers, and management staff shall be entitled to service credits in accordance with DepEd Order No. 53, s. 2003 entitled Updated Guidelines on the Grant of Vacation Service Credits to Teachers. However, nonteaching personnel, including the management staff shall be provided with Compensatory-Time-Off per Civil Service Commission and Department of Budget and Management Joint Circular No. 2, s. 2004 on Non-Monetary Remuneration for Overtime Service Rendered.
For more information, please contact Isabel A. Victorino, Chief Education Program Specialist, Bureau of Curriculum Development-Curriculum Standards Development Division, 3rd Floor, Bonifacio Building, Department of Education Central Office, DepEd Complex, Meralco Avenue, Pasig City or through email at bed.od@deped.gov.ph or at telephone no. (02) 632-7746, and telefax no. (02) 635-9822.
Immediate dissemination of this Memorandum is desired.
LEONOR MAGTOLIS BRIONES
Secretary
NATIONAL TRAINING OF TRAINERS ON CRITICAL CONTENT IN EDUKASYON SA PAGPAPAKATAO (EsP)
Training Matrix May 5 – 11,2019
Objectives: At the end of the training, the participants are expected to:
a. identify their mastered and least mastered content;
b. explain the concepts, topics and issues;
c. demonstrate mastery and competence in discussing the lessons; and
d. value articulation of correct concepts and its impact to learners.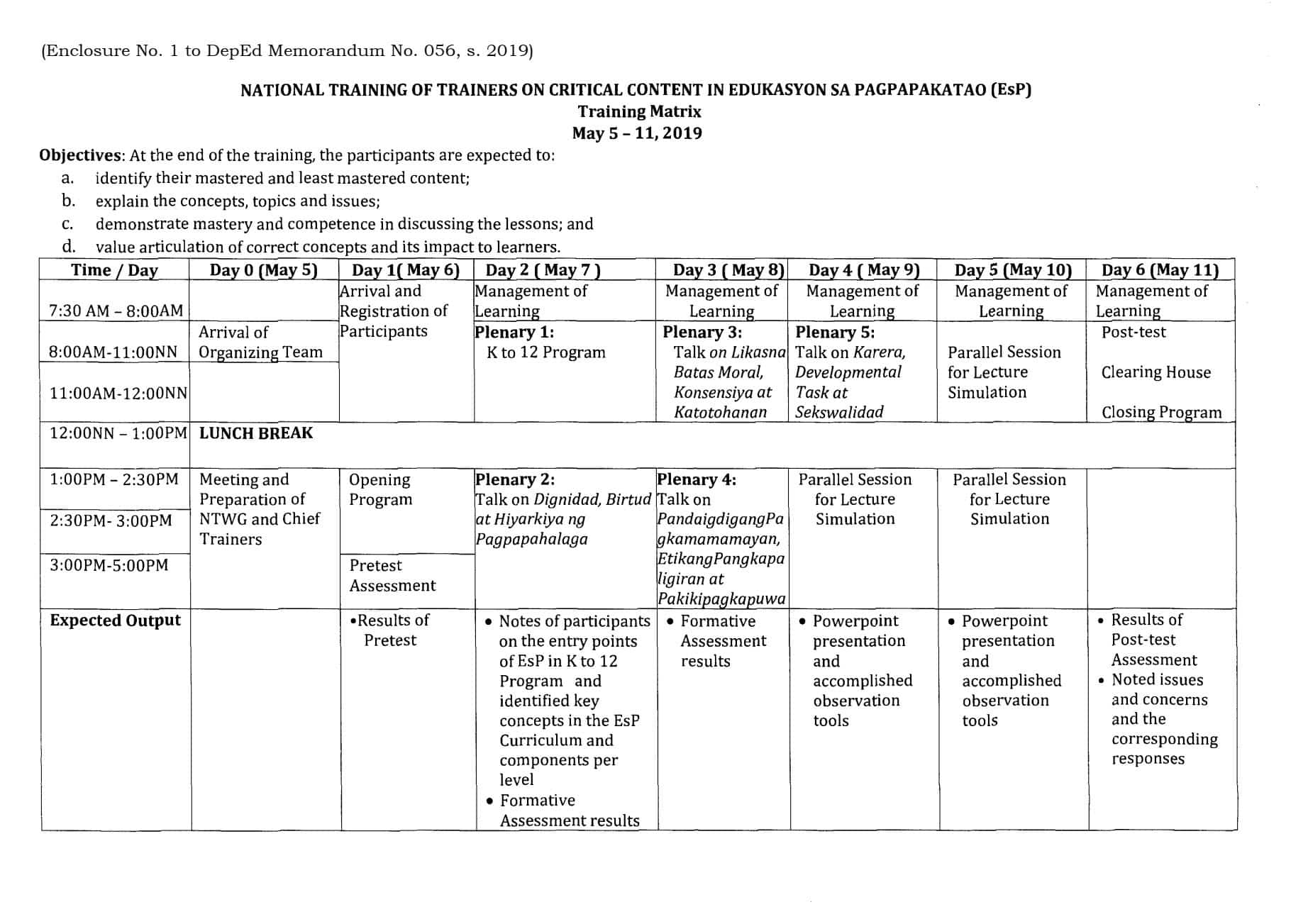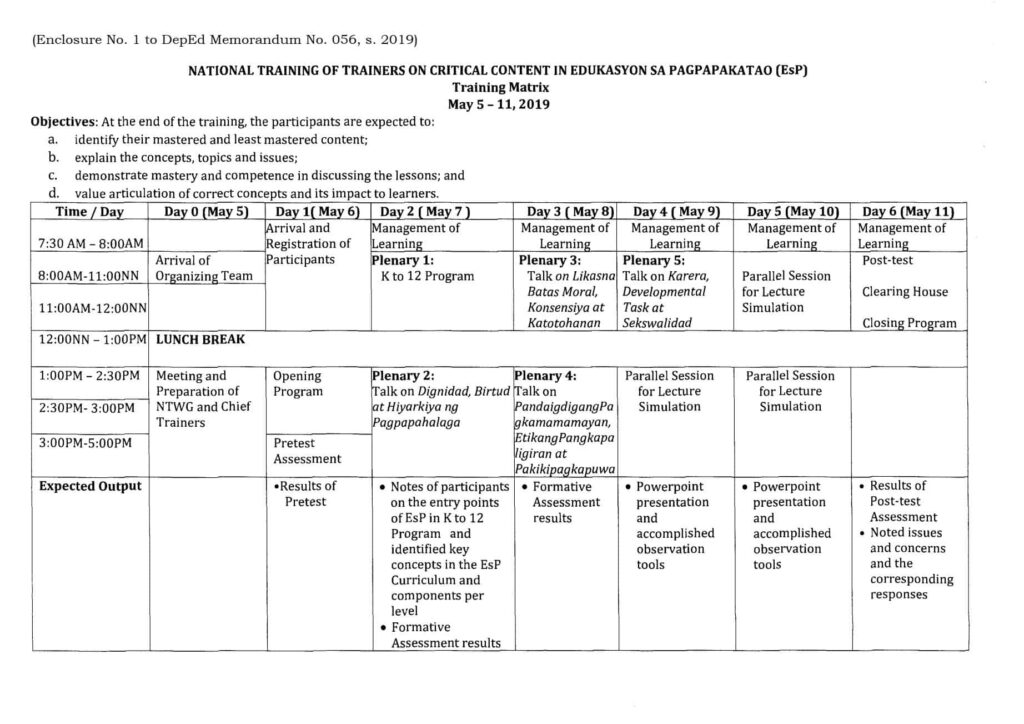 National Training of Trainers in Araling Panlipunan Critical Content
May 19-25, 2019
Iloilo
The activity aims to:
familiarize the participants on the training designs and session guides;
equip the stakeholders with concrete understanding of their Terms of Reference;
share issues, challenges, and best practices in the previous conduct of their regional training of teachers; and
finalize the Regional Implementation Plan.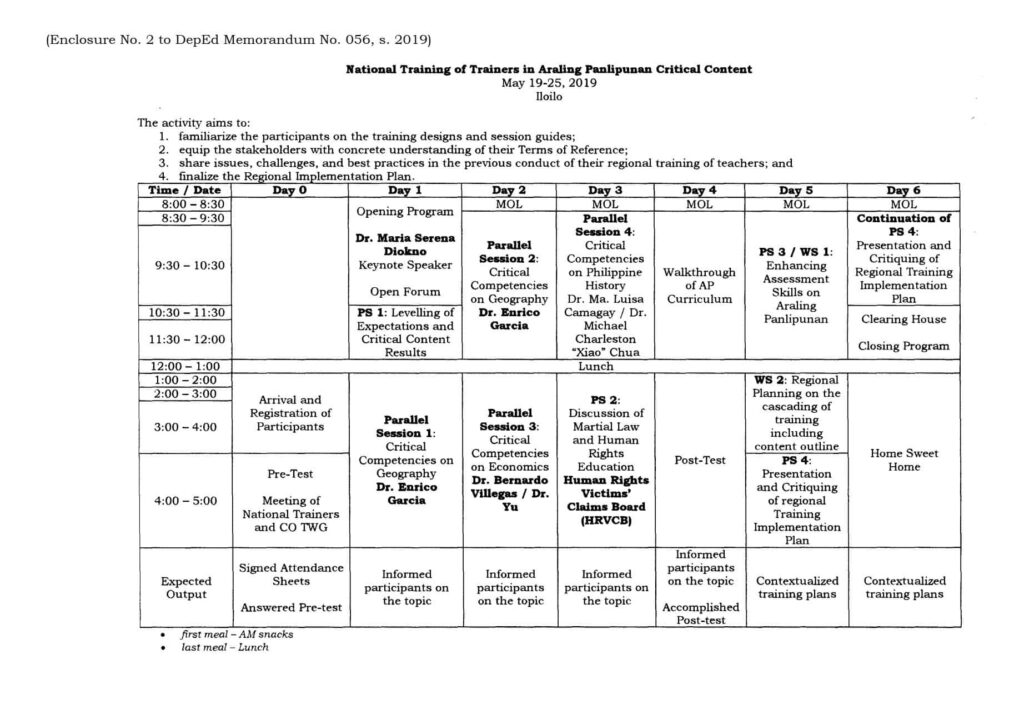 National Training of Trainers of the K to 10 Critical Content in MAPEH
May 24-30, 2019
Legazpi, Albay
The activity aims to:
strengthen the capacity of trainers to support capacity-building in their respective region;
familiarize trainers on the possible platforms in the conduct of the K to 10 Critical Content and session guides; and
simulate the conduct of different sessions.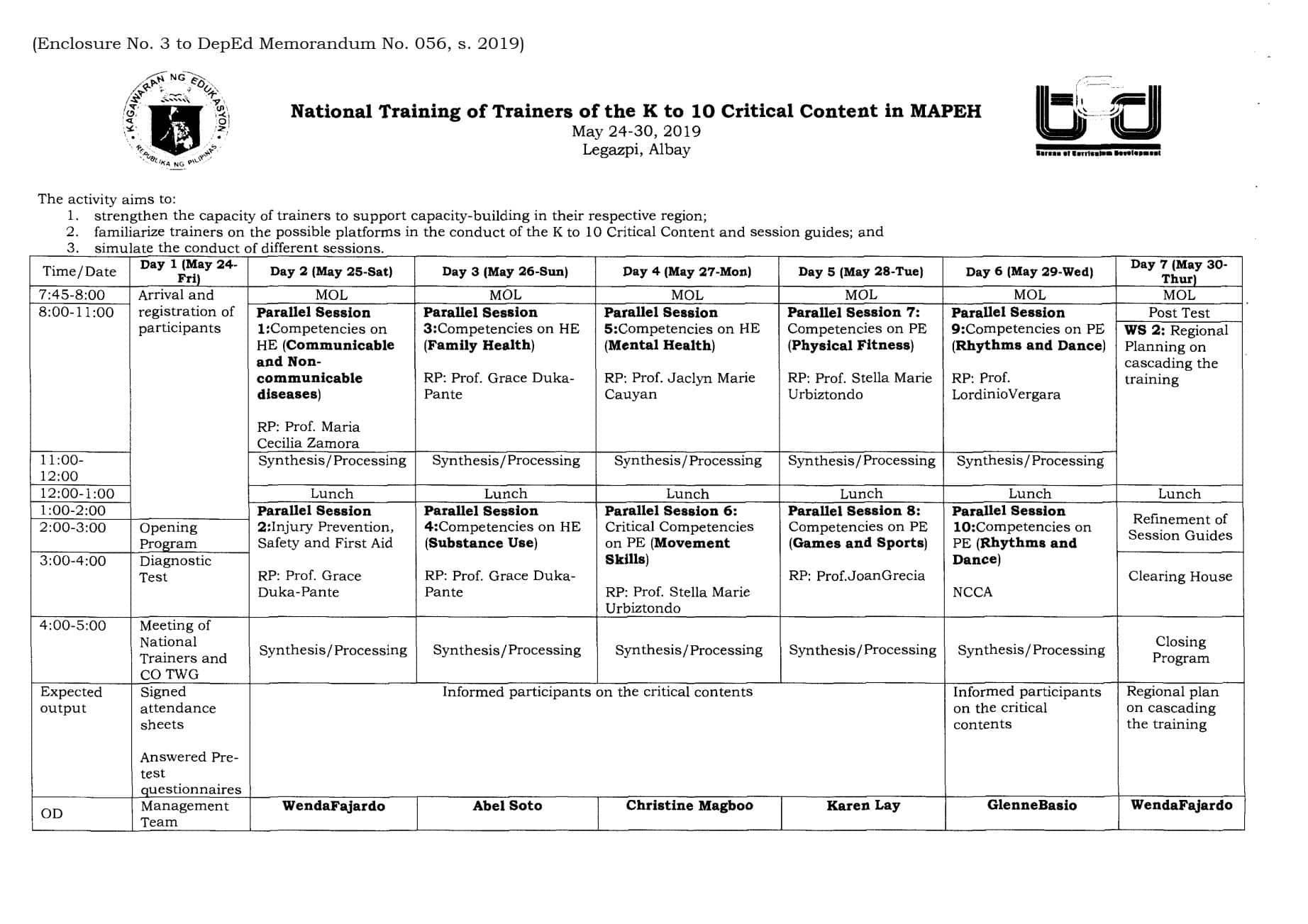 LIST OF CHIEF TRAINERS
Download DepEd Memorandum No. 56, s. 2019 – National Training of Trainers on the K to 10 Critical Content in Araling Panlipunan, Music, Arts, Physical Education and Health, and Edukasyon sa Pagpapakatao