Republic of the Philippines
Department of Education
National Capital Region
DIVISION OF CTIY SCHOOLS
Quezon City
Nueva Ecija St., Bago Bantay, Quezon City
SUMMARY OF EVALUATION
REGISTRY OF QUALIFIED APPLICANTS
SY 2015-2016
Espiritu, Mary Ann P.
Mamalintaw, Evelyn N.
Arcangel, Ronald C.
Nicampo, Menchie
Cabildo, Jocie J.
Duquelies, Romeo V.
Pua, Jacqueline DV
Halang, Mary Ru Lyn C.
Marquez, Melanie
Cabildo, Allyn Almeniana M.
Capinpin, Mary Grace Q.
Masaoy, Lemuel M.
Quilala, Lilibeth
Palle, Apple Joy G.
Baccay, Catalina C.
Vilbar, Roxanne
Tagle, Sharmaine S.
Taong, Rowel B.
Baluyot, Elisa F.
Rivadavia, Lerry S.
Salazar, Jackylyn P.
Aleluya, Ginafel G.
Bareo, Maryjoy B.
Analyn Romulo
Arellano, Laila M.
Iglesia, Rose Ann A.
Doctor, Ferissa Joy
Perilla, Lench Ann S.
Lacorte, Darren Dave M.
Avegael S. Aquino
Candelaria, Mercy V.
Miguel, Krezelle Jane B.
Erigayen, Keih Ann P.
Seit, Antonieta B.
Tagacanao, Janeth
Vanessa Rose B.
De Ocampo, Eunice C.
Gretchen Jane M. Tamamac
Fabia, Grace G.
Dina C. Rodulfo
Boston, Haidee M.
Sareno, Roda Mae M.
Villasis, Pops F.
Procy P. Nacido
Toni Cecilia E. Anastacio
Labalan, Erlinda B.
Sumayang, Anna Marie L.
Balbuena, Elynglan S.
Lopez, Genelyn E.
Joddie Mae Castro
Rubo Rodgie Dacudo
Noriluz T. Palaganas
Pamintuan, Ann Mariel L.
Constantino, Lalaine Y.
Meraveles, Maidee B.
Oja, Mary Cris C.
Busar Purisima L.
Tapiru, Rosemarie G.
Madrona, Mechelle S.
Furuc, Lailanie P.
Alcantara, Diana Marie H.
Taeza, Stephen A
Baltazar, Christine Ann
Ani, Caltyn May R.
Miguel, Relina A.
Barrientos, Lara Venus C.
Jungco, Jayryl V.
Mery Grace R. Lalata
Cabales, Remelyn P.
Borabo, Elena
Suguitan, Regine A.
Lanipa, Diana C.
Seraspe, Darlyn Joy H.
Serra, Marilou B.
Salazar, Lady Dianne C.
Luengas, Ryna N.
Almendarez, Glady Mae S.
Tenorio, Ruby-An S.
Pineda, Yoradyl S.
Ordonez, Joan S.
Dianito, Alfredo P.
Arganda, Ruby B.
Sapadilla, Muriel S.
Mary Grace Lumabi
Perez, Jimuel H.
Read: DepEd Quezon City 2016 Ranking of Teacher I Applicants / DepEd Quezon City Assignment Order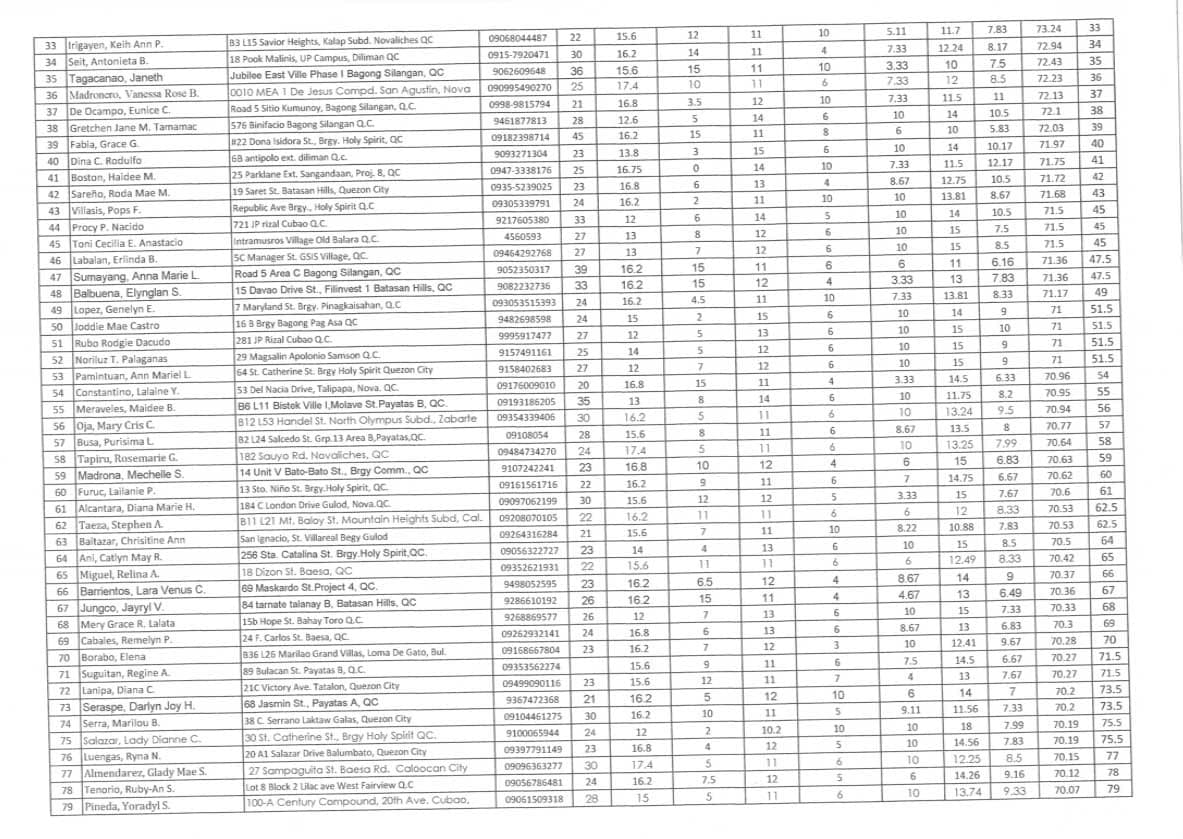 ---
Republic of the Philippines
Department of Education
National Capital Region
DIVISION OF CTIY SCHOOLS
Quezon City
Nueva Ecija St., Bago Bantay, Quezon City
SUMMARY OF EVALUATION
REGISTRY OF QUALIFIED APPLICANTS (KINDER)
SY 2015-2016
Mistola, Erika M.
Licuanan, Kathleen G.
Gallo, Jeanne T.
Haban, Clarissa T.
Avenir, Mary Ann A.
Borras, Mary Kristine D.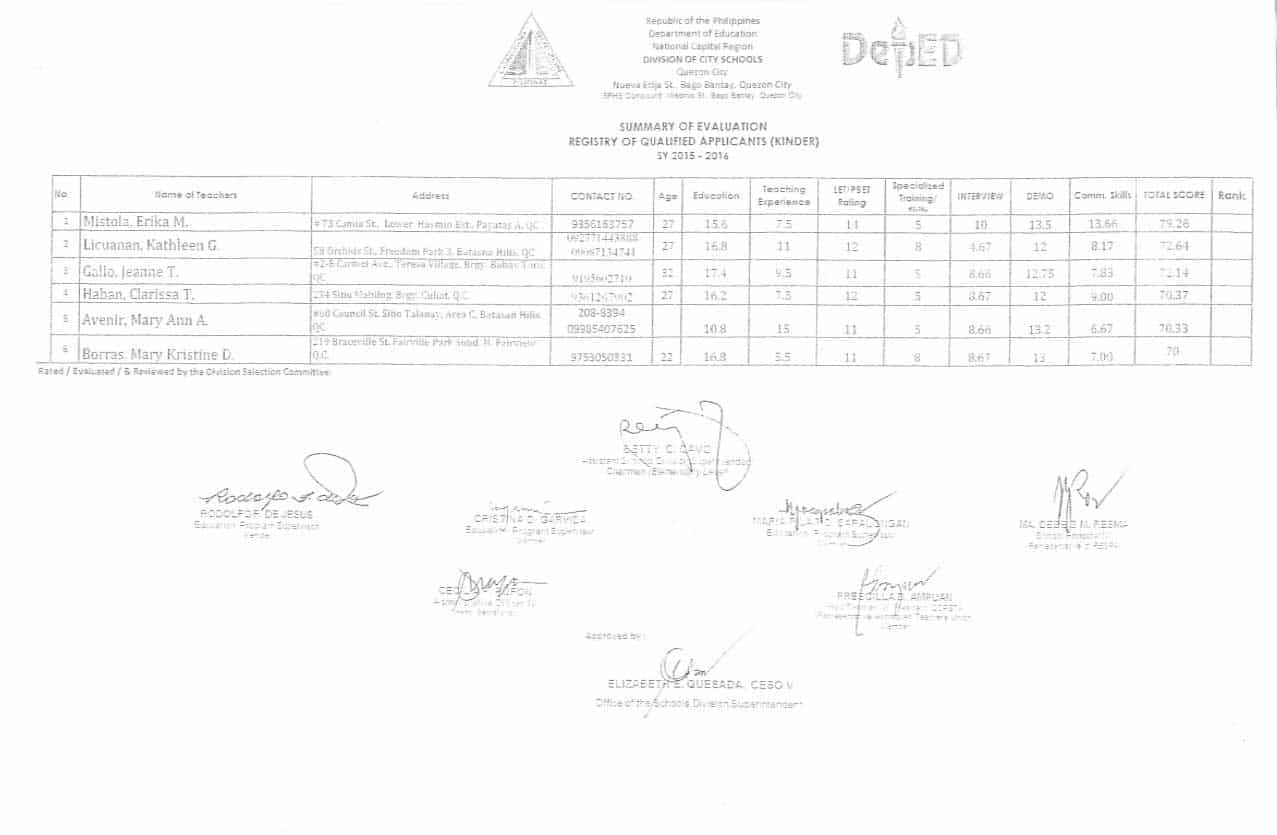 Read: DepEd National Capital Region (NCR) Division Offices Contact Information