The Philippine High School for the Arts (PHSA), a government-run special secondary school for young artists, is conducting the 2022 Annual Nationwide Search for Young Arts Scholars (ANSYAS), hence it is now accepting applications for full scholarships to a special K to 12 Secondary Education for School Year (SY) 2023-2024.
The program aims to identify and develop artistically gifted and talented children to become artists of excellence in the fields of ballet and folk dance, creative writing, music, theater, and visual arts.
Applicants must be Filipino citizens who can meet the following requirements:
a. Outstanding ability in dance (folk or ballet), music (instrument and voice), creative writing, theater, and visual arts;
b. Grade six pupil this SY 2022-2023 in public or private school;
c. Proficient in oral and written language (English and Filipino);
d. Good health condition; and
e. Willing to study in a boarding school.
The successful applicants will be awarded a full scholarship, which includes a free tuition fee, board and lodging, monthly stipend, individualized classes with master teachers, and a chance to represent the country in international competitions, arts festivals and exchange programs. The scholarship is renewable every year upon satisfaction of both academic and non-academic requirements in the K to 12 curriculum.
Interested applicants may directly send their accomplished application forms and other requirements by mail to the Annual Nationwide Search for Young Arts Scholars Committee, Philippine High School for the Arts, Mt. Makiling, Los Banos, Laguna 4031, or email phsa.ansyas@gmail.com. The PHSA Scholarship Application Form is enclosed.
The deadline for submission of the application is on November 30, 2022.
The PHSA will announce the specific final dates and schedule of screening and audition on its Facebook page wvizw.facebook.com/phsa.edu and website www.phsa.edu.ph.
For more information, please contact Ms. Josefina B. Guillen, Project Development Officer at mobile number 0926-808-9308 or email at jopinay4u@yahoo.com, or Mr. Jeffrey C. Walet, Project Development Assistant, and Ms. Ma. Cristina M. Padua, Regional Coordinator at mobile number 0917-866-3097 or email phsa.ansyas@gmail.com.
PHSA Scholarship Application Form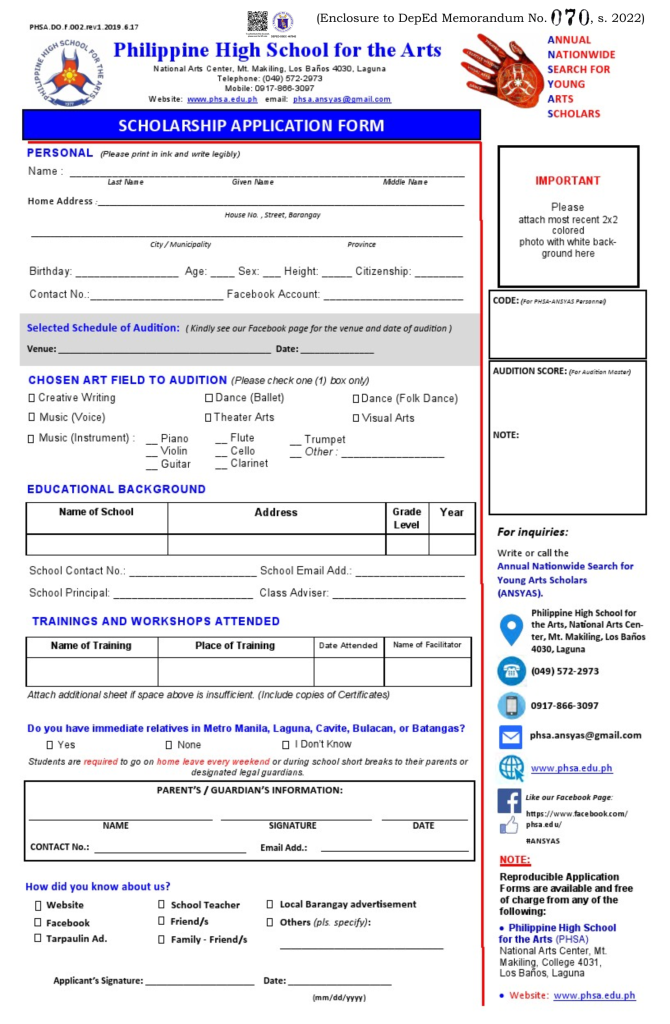 Annual Nationwide Search for Young Arts Scholars (ANSYAS)