The Physical Science Core subject is composed of two major scientific fields, Chemistry and Physics.
Inside, the teachers can come across Physical Science lessons, including the formation of the most ancient elements in the universe, chemical composition of household and personal care products, and the understanding of the Cosmos.
While the topics to be covered are rather extensive across disciplines, the Writing Team has ensured to tailor fit the materials to the basic education level. In the writing workshops, all Writers have considered different circumstances inside the senior high school classroom. As final note to the users, the Chemistry part covers all competencies and the Physics part covers half of the competencies, which are all quality sample lessons. The Writing Team hopes that this Teaching Guide be able to help the teachers in ensuring quality content and strategy in teaching Physical Science.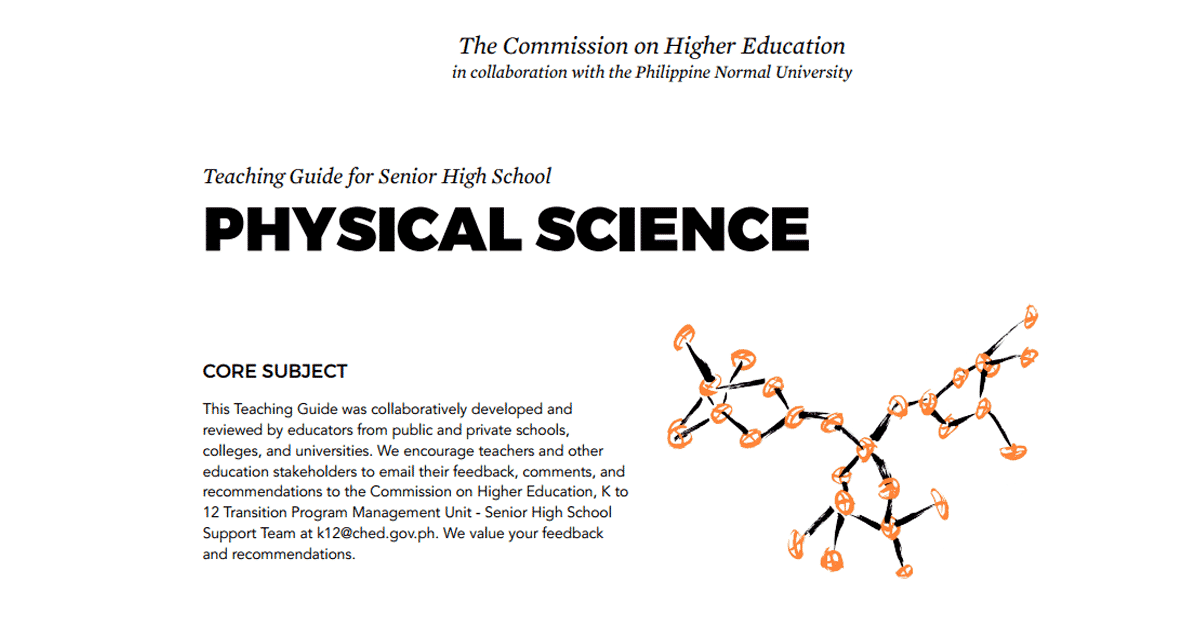 ---
Earth Science is a Core Subject taken in the first semester of Grade 11. This learning area is designed to provide a general background for the understanding of the Earth on a planetary scale. It presents the history of the Earth through geologic time. It discusses the Earth's structure and composition, the processes that occur beneath and on the Earth's surface, as well as issues, concerns, and problems pertaining to Earth's resources.
Implementing this course at the senior high school level is subject to numerous challenges with mastery of content among educators tapped to facilitate learning and a lack of resources to deliver the necessary content and develop skills and attitudes in the learners, being foremost among these.
In support of the SHS for SHS framework developed by CHED, these teaching guides were crafted and refined by biologists and biology educators in partnership with educators from focus groups all over the Philippines to provide opportunities to develop the following:
Saysay through meaningful, updated, and context-specific content that highlights important points and common misconceptions so that learners can connect to their real-world experiences and future careers;
Husay through diverse learning experiences that can be implemented in a resource-poor classroom or makeshift laboratory that tap cognitive, affective, and psychomotor domains are accompanied by field-tested teaching tips that aid in facilitating discovery and development of higher-order thinking skills; and
Sarili through flexible and relevant content and performance standards allow learners the freedom to innovate, make their own decisions, and initiate activities to fully develop their academic and personal potential.
These ready-to-use guides are helpful to educators new to either the content or biologists new to the experience of teaching Senior High School due to their enriched content presented as lesson plans or guides. Veteran educators may also add ideas from these guides to their repertoire. The Biology Team hopes that this resource may aid in easing the transition of the different stakeholders into the new curriculum as we move towards the constant improvement of Philippine education.
Download Physical Science: Senior High School SHS Teaching Guide