The Department of Education (DepEd) is now accepting applications for the Special Program for the Employment of Students (SPES) 2017.
The SPES is a program created under Republic Act 7323, series of 1999, as amended by Republic Act 9547 which seeks to encourage employment during summer, through incentives granted by the Department of Education and the Department of Labor and Employment (DOLE).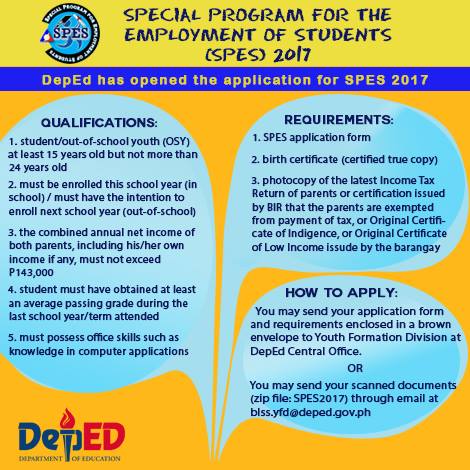 Qualifications for acceptance as a SPES 2017 trainee:
Students/out-of-school youth who are at least 15 years old but not more than 24 years old;
He/she must be enrolled this school year (in-school) or if not, must have intention to enroll next school year (out-of-school);
The combined annual net income of both parents, including his/her own income, if any, must not exceed P143,000;
Students must have obtained at least an average passing grade during the last school year / term attended.
Applicants must possess office skills (priority will be given to those with computer-related skills)
The following requirements must be accomplished:
SPES application form (Please see the attached documents);
Birth certificate / baptismal certificate (certified true copy / NSO);
Income tax returns of both parents. If the parents are non-filers of ITR, (1) an affidavit, certified by the BIR, stating that the annual net income of both parents does not exceed P 143,000, or Barangay Certification as to the economic status of applicant's family, must be produced;
For college students: Recent grades and school registration preferably in the second semester;
For out-of-school youth (OSY): provide grades available before dropping out of school or a certificate of indigence issued by the Barangay, stating where the OSY resides.
HOW TO APPLY:
You may send your application form and requirements enclosed in a brown envelope to Youth Formation Division at DepEd Central Office.
Or
You may send your scanned documents (zip file:SPES2017) through email at blss.yfd@deped.gov.ph
Application is until March 27, 2017.
Special Program for the Employment of Students (SPES) 2017 Application Form:
For inquiries and further details, all concerned may contact the SPES Secretariat of the Office of the Undersecretary for Governance and Operations at (02) 633-53-75 or (02) 637-72-03.