For the information and guidance of all concerned, attached is the OFFICIAL PORTRAIT OF SEC. LEONOR MAGTOLIS-BRIONES Instructions and Guidelines, the contents of which are self-explanatory, for compliance.
---
THE OFFICIAL PORTRAIT OF SEC. LEONOR MAGTOLIS-BRIONES
Instructions and Guidelines
The attached official photographs of the Secretary are taken in two shots;
Standing
Seated
And two renderings;
Full color
Black and White
We shall use these in all our official correspondence and advocacy materials going forward.
For formal requests for the Secretary's portrait from major partners, foundations, and international organizations such as SEAMEO, UNICEF, PLAN International, Save The Children and the like, we forward the one with the flag; both the full color and b & w renderings. We shall let them decide which rendering would fit best with their requirements.
For other Government Agencies (GAs) and our Regional Offices (ROs), Schools Division Offices (SDOs); and public schools, we provide them with the full color shot of the Secretary with the flag.
For the media, magazines, glossies, feature stories, informal articles, messages appended to souvenir programs, yearbooks, etc., and other minor requests for the portrait, we use the one where the Secretary is seated.
For other cases that have not been mentioned, exercise diligence in inquiring the purpose of the request so that we can provide the requesting parties with the appropriate materials. As a general rule, the standing shot where the Philippine and the DepEd flags are used as backdrops are for events, activities and ceremonies with formal and decorous undertones, while the shot where the Secretary is seated are for relaxed, casual and informal affairs.
The JPG files may be used for online dissemination and for printing up to Al-sized paper. Anything bigger than that, especially for large-format printing in tarpaulins, use the TIFF file included in this CD. Refer to the table on the next page for the exact dimensions of A-paper sizes.
Canvass and matte-finished photo paper is preferred over glossies. Canvass and matte last longer than the average glossy paper.
For questions, you may reach the Public Affairs Service—Publications Division (Multimedia Unit) at 1st Floor, MPPD Building, Motorpool Area, Department of Education Central Office Complex, Meralco Ave., corner Capt. Henry Javier, Brgy. San Antonio, Pasig City. Or you may contact us at telephone number: (02) 635-3765.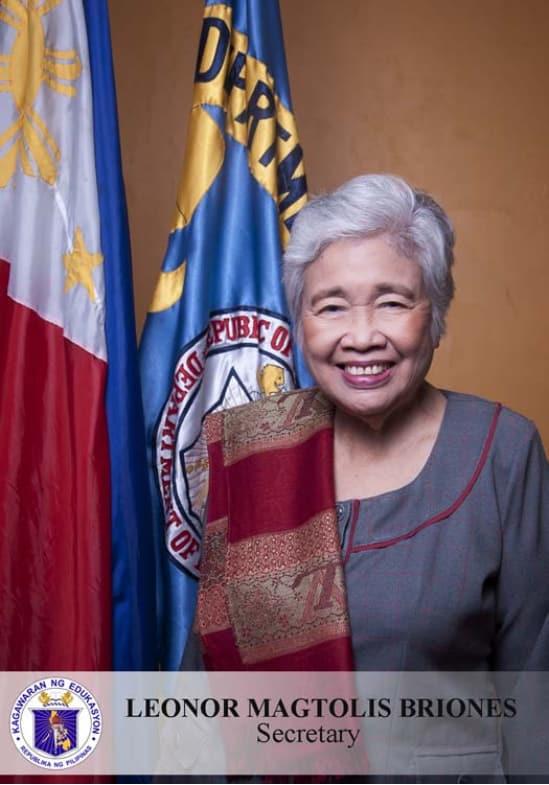 | Paper size | Unit | Dimensions |
| --- | --- | --- |
| A1 | Centimeters | 59.4x84.1 |
| | Feet | 1.949x2.759 |
| | Inches | 23.4x33.1 |
| | Meters | 0.594x0.841 |
| | Millimeters | 594x841 |
| | Yards | 0.65 x 0.92 |
| A2 | Centimeters | 42 x 59.4 |
| | Feet | 1.378x1.949 |
| | Inches | 16.535x23.388 |
| | Meters | 0.42 x 0.594 |
| | Millimeters | 420x594 |
| | Yards | .459 x.65 |
| A3 | Centimeters | 29.7x42 |
| | Feet | 0.974x1.378 |
| | Inches | 11.693x16.535 |
| | Meters | 0.297x0.42 |
| | Millimeters | 297x420 |
| | Yards | 0.325x0.459 |
| A4 | Centimeters | 21x29.7 |
| | Feet | 0.689x0.974 |
| | Inches | 8.268x11.693 |
| | Meters | 0.210x0.297 |
| | Millimeters | 210x297 |
| | Yards | 0.23x0.325 |
| A5 | Centimeters | 14.8x21 |
| | Feet | 0.486x0.689 |
| | Inches | 5.827x8.268 |
| | Meters | 0.148x0.21 |
| | Millimeters | 148x210 |
| | Yards | 0.162x0.23 |
| A6 | Centimeters | 10.5x14.8 |
| | Feet | 0.344x0.486 |
| | Inches | 4.134x5.827 |
| | Meters | 0.105x0.148 |
| | Millimeters | 105x148 |
| | Yards | 0.115x0.162 |
Download High Resolution Portrait of Sec. Leonor Magtolis-Briones: Click Here (Available Soon)
Read: