Department of Education
Office of the Undersecretary
For Regional Operations
ADVISORY
January 6, 2016
TO:
Bureau, Service, and Regional Directors
Schools Division Superintendents
Heads of Public Elementary and Secondary Schools
All Other Concerned
The Ministry of Education of the Republic of Singapore is hosting the 5th International Conference on Teaching and Learning with Technology (iCTLT) 2016 with the theme "Future Ready: Inspire, Connect, Tranform" on March 28-31, 2016 in Singapore.
The objectives of the international conference are to:
a) provide thought leadership and champion the effective use of technology for 21st century learning;
b) gather policy makers, school leaders, middle managers, teacher leaders and researchers to engage in sharing their insights, practices, experiences and research studies on harnessing technology for 21st century learning;
c) envision and share emerging trends, pedagogical use of cutting-edge technology and innovative use of established technology for learning and teaching; and
d) deepen understanding of the key tenets of the 4th masterplan for ICT in Education.
The conference will be bringing together education leaders, researchers, classroom practitioners and industry leaders locally and across the Asia-Pacific region and around the world.
The general information, tentative schedule, and related documents are enclosed in this advisory in Annexes A to D. Registration and other details can be accessed through the website at http://www.ictlt.com not later than February 29, 2016. For further inquiries and clarifications, kindly email Ms. Theresa Chu at theresa chu@moe.gov.sg or call at (65)
Immediate dissemination of and appropriate action for this Advisory is desired.
RIZALINO D. RIVERA
Undersecretary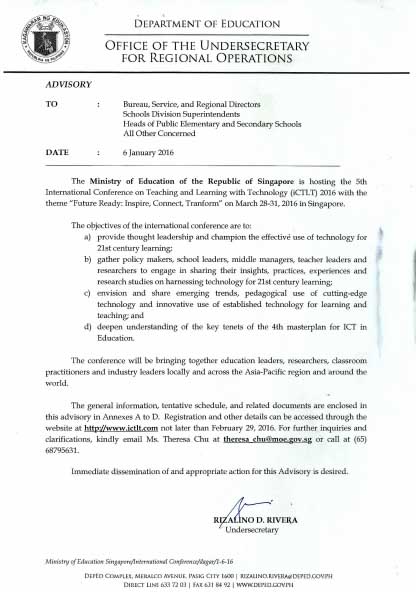 Read: Online Certificates in Teaching English to Young Learners (TEYL) and Teaching English to Speakers of Other Languages (TESOL) at the Anaheim University