April 26, 2019
DepEd Memorandum No. 50, s. 2019
DEPED NATIONAL UNIFORMS FOR TEACHING AND NON-TEACHING PERSONNEL FOR SCHOOL YEAR 2019-2020
To:
Undersecretaries
Assistant Secretaries
Bureau and Service Directors
Regional Directors
Schools Division Superintendents
Public Elementary and Secondary School Heads
All Others Concerned
The Department of Budget and Management (DBM) has issued Budget Circular No. 2019-7 dated March 26, 2019 entitled Release of Funds for the Second Quarter of FY 2019 which includes the Grant of Uniform/ Clothing Allowance (U/ CA) to Civilian Government Personnel on April 2019.
In view of this, the Department of Education (DepEd) announces that the National Uniforms for Teaching and Non-Teaching Personnel for School Year (SY) 2019-2020 shall remain the same as that of SY 2016-2017.
The prescribed official uniform designs are stipulated m the DepEd Memorandum (DM) No. 84, s. 2016 entitled Additional Guidelines on the DepEd National Uniforms for Teaching and Non-Teaching Personnel.
The annual clothing and uniform allowance in the amount of Six Thousand Pesos (P6,000) shall be released, to all personnel, subject to existing accounting and auditing rules and regulations, and upon the release of the Notice of Cash Allocation from DBM.
Immediate dissemination of this Memorandum is desired.
ANNALYN M. SEVILLA
Undersecretary
Officer-In-Charge
READ: 2019 DepEd National Uniforms for Teaching and Non-Teaching Personnel (Official Design)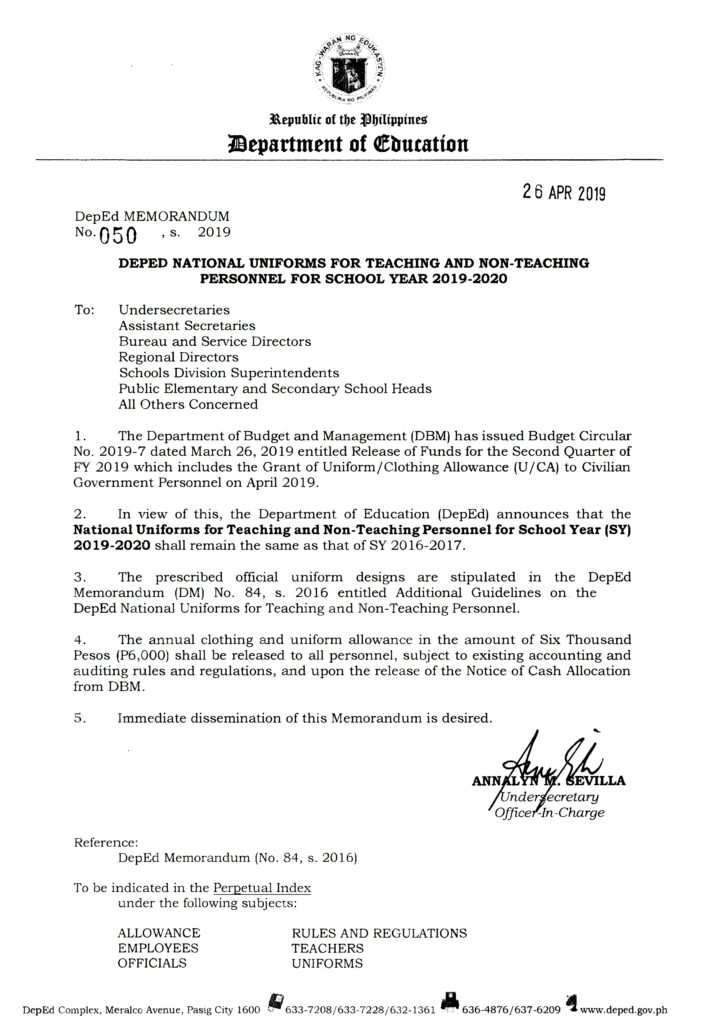 Download DepEd Memorandum No. 50, s. 2019 – DepEd National Uniforms for Teaching and Non-Teaching Personnel for School Year 2019-2020