What are Annotations?
Self-reflection, explanation, or presentational mark-up attached to/ written on a document, artifact, or Means of Verification (MOV); see reflection notes.
What are the Artifacts?
All documents that provide evidence of quality instruction (e.g. lesson plan, instructional materials, etc.) which may be used as means of verifying the attainment of Key Result Areas (KRAs).
What is Assessment?
The process of gathering, documenting and organizing in measurable terms, knowledge, skills, attitudes, and values to determine how much they attain the KRAs. The process of determining the relevance, worth or value of documents and evidence.
What is the Assessment Phase?
Any of the stages in the portfolio assessment process: preassessment, assessment and post-assessment.
What is the Assessment Process?
A set of procedures or stages in evaluating a portfolio to determine the merits of its contents.
What is Authenticate?
Rater and Ratee affix their signatures to verify, prove or confirm that the contents/documents of an RPMS Portfolio are valid and genuine copies of the original.
What is Career Growth?
Developmental progression as teachers develop, refine their practice, and respond to the complexities of educational reforms.
What are Career Stages?
The different phases in one's teaching career which starts from being a Beginning, to Proficient, to Highly Proficient and to Distinguished teacher.
What are Clarifications?
Definitions or explanations of some terms included in the level descriptions of the Classroom Observation Tool (COT) Rubric.
What is Classroom Context?
The setting or environment where the teaching-learning process takes place. It also points to all the factors which may affect the teaching-learning process in the classroom.
What is Classroom Observation Tool – Results-based Performance Management System (COT-RPMS)?
A subset of the full Classroom Observation Tool used for RPMS for Teachers.
What is Content Knowledge?
Competencies that teachers are expected to master for them to teach efficiently and effectively.
Wha are the Competencies?
Knowledge, skills and behavior that individuals demonstrate in achieving results. Competencies shall uphold the DepEd's core values. They represent the way individuals define and live the values. (DepEd Order No. 2, s. 2015, p. 6) .
What is the Demonstration Teaching?
Showcasing the Master Teachers' teaching-learning practice either in their own classrooms which may be attended by their colleagues or in a formal demonstration festival in school, district or division.
What are the Features of Practice?
Specific classroom practices, which may characterize a particular level in the COT Rubric.
What is the Inter-Observer Agreement Exercise?
A discussion among observers to arrive at a final rating. This occurs during the post-observation process and involves the use of the Inter-Observer Agreement Form.
What is the Learning Context?
The teaching/learning situation, environment and all the factors in which learners learn from instruction.
What is Lesson Plan?
The teacher's detailed description of the steps a teacher will take to teach a particular topic. This includes the following: Detailed Lesson Plan (DLP), Weekly Lesson Log (for Alternative Learning System classes) and Indigenized Lesson Plan (for Indigenous Peoples Education classes).
What is Mid-year Review?
The Portfolio assessment process usually conducted in November to identify the areas that a teacher needs to improve in preparation for the year-end evaluation.
What are the Objectives?
The specific tasks that an office and/or individual employee needs to do to achieve the major final outputs under the key result areas. (DepEd Order No. 2, s. 2015, p. 2). They also refer to a specific result that a teacher aims to achieve within a time frame and with available resources.
What are the Outcomes?
The results achieved and/or the products developed as a result of the instructional process. In the RPMS, outcomes refer to the results of the teacher performance of their duties and responsibilities.
What is Observation?
A classroom observation, usually for 50-60 minutes.
What is the Observation Notes Form?
A form used by the observer(s) during the classroom observation.
Who are the Observers?
School Heads, Assistant Principals, Head Teachers, Master Teachers who conduct the classroom observation for RPMS. This is provided in DO 2,s 2015.
What is Performance?
The action or process of carrying out or accomplishing tasks, duties, and responsibilities.
What is Performance Data?
The rating that a teacher garnered from the portfolio assessment.
What are the Performance Indicators?
An exact quantification of objectives, which shall serve as an assessment tool that gauges whether a performance is positive or negative (DepEd Order No. 2, s. 2015).
What is the Philippine Professional Standards for Teachers (PPST)?
A set of professional standards for teachers that operationalizes teacher quality aspects of the K to 12 reform and elaborates teacher lifelong learning. It contains 37 performance indicators per career stage. It provides an acceptable common language for professional discussions among teachers and other concerned stakeholders.
What is Portfolio Organization?
It is a systematic arrangement and presentation of documents done to facilitate the rater's assessment process.
What is the Post-Assessment Phase?
A portfolio assessment conducted at the end of the school year.
What is the Post-Observation?
The concluding phase of the classroom observation process during which observers assign individual ratings, undertake the inter-observer agreement exercise and make recommendations to improve a teacher's performance.
What is the Pre-Observation?
The preliminary phase of the observation process in which teachers and observers prepare for the observation.
What is Professional Development?
The continuous process of acquiring new knowledge and skills that relate to a teacher's personal development, profession, job responsibilities, or work environment.
Who are the Ratee?
The individual teacher who is rated. They are the teachers from all career stages who submit their Portfolios as evidence of their teaching performance. (DepEd Order No. 2, s. 2015, p. 2).
Who is the Rater?
Maybe the school head, assistant principal, headteacher, master teacher who evaluates the Portfolio presented by the Ratee.
What is Reflection Notes?
The insights or realizations that teachers write as a result of careful introspection on events, discussions, decisions and/or actions they make. Reflections notes may be attached to an MOV, written as marginal notes or appended in the form of journal entries.
What is Reflective Thinking?
Critical self-reflection on one's own teaching-learning process. It helps develop higher-order thinking skills. For teachers, reflective thinking aids them in improving their teaching practice because it allows them to note classroom experiences, critically evaluate them, relate new knowledge and insights to prior understandings and apply their insights to improve their teaching practice.
What is the Results-based Performance Management System (RPMS)?
DepEd-contextualized SPMS. It is an organization-wide process of ensuring that employees focus work efforts towards achieving DepEd vision, mission, values, and strategic priorities. It is also a mechanism to manage, monitor and measure performance, and identify human resource and organizational development needs (DepEd Order No. 2, s. 2015, p. 3).
What are the RPMS Tools?
Assessment instruments used to ensure quality teacher performance at different career stages.
What is a Teacher Portfolio?
Purposeful compilation of documents that display teacher's achievements, classroom performance, teaching practices, student evaluation, actions that are used as evidence for midyear and year-end assessment.
What is Teaching Practice?
A teacher's manner or habit on the delivery of instruction. This includes everything that a teacher does to achieve learning. It reflects the teachers' knowledge, skills, values and attitudes as they perform their duties and responsibilities in teaching.
What is Teaching Competencies?
Competencies intended for teachers (DepEd Order No. 2, s. 2015, p. 6). They pertain to the knowledge, skills, and behavior expected of teachers for them to realize their duties and responsibilities efficiently and effectively.
What is the Year-End Evaluation?
Assessment of Teacher Portfolio conducted during Phase 3 of the RPMS Cycle to rate the performance of Ratees.
Why does DepEd have PPST-based RPMS?
DepEd has PPST-based RPMS to adhere with the Civil Service Commission's Memorandum Circular No. 6 series of 2012 mandating all government agencies to have a Strategic Performance Management System (SPMS).

In 2017, DepEd adopted the Philippine Professional Standards for Teachers (PPST) through D.O. 42, s. 2017. With the demand that RPMS be aligned with PPST, PPST-based RPMS was developed.
How can the RPMS help us in our profession?
The RPMS was designed with the intent of improving teacher quality. It aims to align performance targets and accomplishments with the PPST.

As you can see here, in RPMS, teachers are provided with Key Result Areas (KRA), which are the general outputs or outcomes that are expected of them. These KRAs are aligned with the Domains under the PPST.

Furthermore, the objectives under each KRA were based on the indicators of high-quality teaching practices as stated in the PPST.
So, let me get this straight..RPMS and PPST are different?
Correct! RPMS is just one of the many DepEd systems that have been aligned with PPST so far. Other HR systems will also be aligned eventually.
How many types of Means of Verification (MOV) are there?
There are two types, namely, Main MOV and supporting MOV. Main MOV refers to the non-negotiable MOV needed to demonstrate the achievement of the objectives.
How about supporting MOV?
Supporting MOV are documents submitted with the Main MOV. You just have to submit one for each Main MOV.
What are the acceptable MOV for the RPMS?
Shown here in the table are the possible MOV that can serve as evidence for each objective.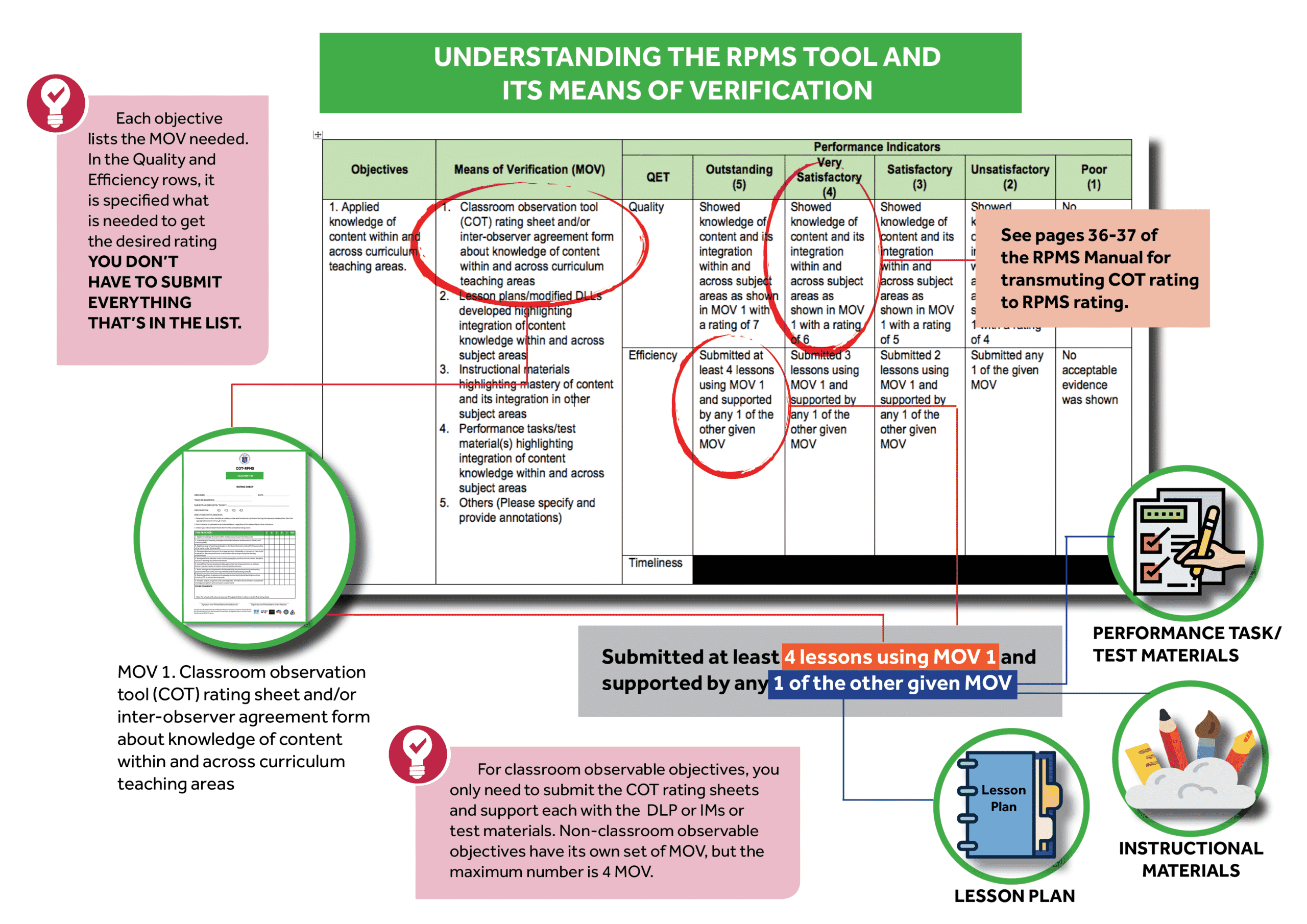 The number of required MOV seems to be overwhelming. How many do I need to submit in order to get an "outstanding" rating?
You could receive an "outstanding" rating with as few as 24 documents. Please check this table for reference.
We are ALS and SPED Teachers. Is the MOV also applicable to us?
The MOV listed are generic and can be adapted for either ALS or SPED teachers. For example, one of the evidence mentioned in the RPMS is the daily lesson plan, but in lieu of it, ALS teachers can use the weekly lesson plan.
Can I discuss the result of my self-assessment with the principal or other school heads?
Other people, including the principal, are not allowed to see the result of your self-assessment. However, you can discuss with them your Individual Development Plan (IDP) based on the SAT result.
How is classroom observation used in the RPMS Cycle?
In the RPMS Cycle, teaching practice is assessed against the indicators of the PPST.
Who are the possible observers for my classroom observation?
According to DepEd Order No. 2, s. 2015, the School Heads, Master Teachers, Head Teachers, and Department Head Teachers can conduct classroom observation.
Can a Teacher-in-Charge (TIC) also observe my class?
Yes, as long as he/she was officially designated by the Schools Division Superintendent.
Can a TIC observe the class of a teacher whose rank is higher?
Yes, it is included in their roles and responsibilities, as mandated by DepEd.
How about Supervisors?
The Supervisors may observe any teacher at actual classroom teaching, but the results of their observation will not form part of the MOV for RPMS as indicated in DepEd Order No. 2, s. 2015.
Are all RPMS objectives classroom observable?
No. Nine (9) objectives out of 13 are classroom observable for Proficient Teachers.

1. Applies knowledge of content within and across curriculum teaching areas.
2. Uses a range of teaching strategies that enhance learner achievement in literacy and numeracy skills.
3. Applies a range of teaching strategies to develop critical and creative thinking, as well as other higher-order thinking skills.
4. Manages classroom structure to engage learners individually or in groups, in meaningful exploration, discovery and hands-on activities within a range of physical learning environments.
5. Manages learner behavior constructively by applying positive non-violent discipline to ensure learning-focused environments.
6. Uses differentiated, developmentally appropriate learning experiences to address learners' gender, needs, strengths, interests, and experience.
7. Plans, manages and implements developmentally sequenced teaching and learning processes to meet curriculum requirements and varied teaching contexts.
8. Selects, develops, organizes and uses appropriate teaching and learning resources including ICT to address learning goals.
9. Designs, selects, organizes and uses diagnostic, formative and summative assessment strategies consistent with curriculum requirements.

For highly proficient teachers there are 5 objectives that are classroom observable.
What happens if I did not meet the rating/level expected of me based on my career stage?
You and your mentor/coach (e.g. School Head, Head Teacher, Department Head, and/or Master Teachers) will come up with a Developmental Plan to improve your performance.
In a classroom observation, should all indicators in the RPMS be observed?
For each observation, there are different sets of prescribed indicators that have to be evaluated when observing Proficient teachers.
How about teachers in the Highly Proficient level?
They just have 5 indicators and every indicator is needed to be observed 4 times.
My fellow observers have different ratings after finishing our classroom observations. How do we determine the final rating?
Discuss and agree among yourselves what rating to give the observed teacher based on reasonable and consensual judgment. The final ratings should not be the average of the ratings that had been given.
My observers have given me a COT rating of NO (Not Observed). What is my RPMS rating?
You will receive an RPMS rating of 1 for Quality since no acceptable evidence was shown.

Also, a COT rating of 3 is given an RPMS rating of 1 for Teachers I-III as the teacher was not able to demonstrate acceptable behavior during observation expected of Teacher I-III.

Similarly, a COT rating of 4 is given an RPMS rating of 1 for Master Teachers I-IV.
Now, are you ready for the RPMS?
Yes! We are now ready! Thank you for your clarification.
How do you compute the corresponding RPMS Rating of your COT Rating?
1. Identify the corresponding rating in the RPMS 5-point scale for each COT rating.
2. Get the average of the total RPMS rating.
3. Determine the final rating for Quality based on the Adjectival Rating Equivalences.
4. Input the numerical equivalent of the adjectival rating as the rating for Quality in the IPCRF.