May 02, 2019
DepEd Memorandum No. 51, s. 2019
FOURTH CLUSTERED ASSEMBLIES OF PUBLIC SECONDARY SCHOOL HEADS
To:
Undersecretaries
Assistant Secretaries
Bureau and Service Directors
Regional Directors
Schools Division Superintendents
Public Secondary School Heads
All Others Concerned
1. The National Association of Public Secondary School Heads Inc. (NAPSSHI) will hold the Fourth Clustered Assemblies of Public Secondary School Heads with the theme, Convergence in Educational Leadership Towards International Linkages Sustaining the Passion for a Liberating Education, on the following dates and venues:
Cluster
Date and Venue
Visayas and Mindanao
May 16-18, 2019
Grand Xing Imperial Hotel
Iloilo City
Luzon
May 21-23, 2019
Baguio Teachers Camp
Baguio City
2. The activity aims to continually upgrade the leadership competence of school heads (SHs) in managing the opportunities and challenges in sustainable quality basic education for all.
3. The topics to be discussed during the assembly shall focus on:
a. fiscal management,
b. curriculum delivery,
c. school facilities improvement,
d. strategic plan,
e. public sector unionism for SHs,
f. education laws and policies,
g. anti-substance abuse,
h. contextualizing nationalism and patriotism for learners,
i. school-based management, and
j. updates on school management.
4.) The program of activities is enclosed.
The participants in this activity are as follows:
a. public secondary school heads, school heads of integrated schools, assistant SHs, other SHs who may wish to benefit from the activity;
b. chiefs of Curriculum and Learning Management Division (CLMD), Education Support Service Division (ESSD), Curriculum Implementation Division (CID,) and School Governance and Operations Division (SGOD);
c. Senior Education Program Supervisors (SEPSs), Education Program Supervisors (EPSs) and Public Schools District Supervisors (PSDSs) in the schools division office; and
d. head teachers and master teachers.
5. Attendance of the participants shall be on official business. Working committee members and staff are expected to be at the venue at least one day before the start of the activity.
6. A registration fee of Six Thousand Pesos (P6,000) shall be charged to each participant to cover accommodation, meals, kit, honoraria of speakers and other incidental expenses chargeable to Human Resource Training and Development (HRTD) Funds, and school Maintenance and Other Operating Expenses (MOOE), Special Education Fund (SEF), local funds, and any other sources subject to the usual accounting and auditing rules and regulations.
7. Arrival and registration of participants will be on the first day of the conference.
8. The first meal to be served will be breakfast on Day 1 and the last meal will be lunch on Day 3.
9. For more information, please contact Atty. Domingo Alidon, Officer-in-Charge, Department of Education Employee Associations Coordinating Office (DEACO), through alidondomingp@gmail.com or telephone no. (02) 635-2456, or Dr. Roland L. Dela Cruz, Secretariat Head, National Association of Public Secondary School Heads Inc., Mariano Marcos Memorial High School, Dr. Carreon St., Sta. Ana, Manila through napsshi2019@gmail.com ot telephone no. (02) 564-2893, or mobile phone nos. 0977-826-0560, 0933-941-5591, or 0908-892-7948.
10. Immediate dissemination of this Memorandum is desired.
LEONOR MAGTOLIS BRIONES
Secretary
National Association of Public Secondary School Heads Inc. (NAPSSHI) Fourth Clustered Assemblies of Public Secondary School Heads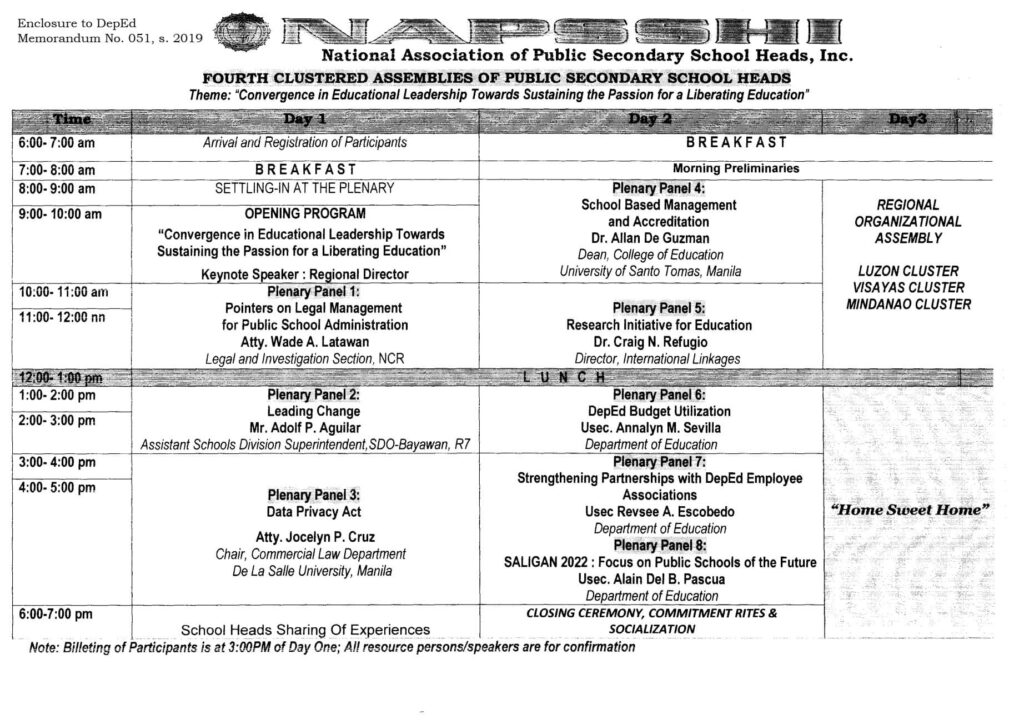 Download DepEd Memorandum No. 51, s. 2019