Republic of the Philippines
DEPARTMENT OF EDUCATION
Region X – Northern Mindanao
DIVISION OF MALAYBALAY CITY
Purok 6, Casisang, Malaybalay City
Telefax: (0880 or 088) 413-0094 email: depedmlblycity@gmail.com
February 22, 2016
DIVISION MEMORANDUM No. 79, s. 2016
1. Pursuant to DepEd Order No. 9, s, 2016, this Office hereby announces the receipt of applications of Elementary Teacher I applicants to the School Screening Committee from March 1-7, 2016 as indicated in the enclosed Schedule of Activities . Attached as enclosure A.
2. As provided in the enclosed DepEd Order No. 7, s. 2015 (inclosure B), an applicant shall submit to the Elementary School Head a hand written application supported by the following documents:
CSC Form 212 (Revised 2005) in two copies with the latest 2″ x 2″ ID picture – Click to Download
Certified photocopy of PRC professional identification Card
Certified photocopy of ratings obtained in the Licensure Examination for Teachers/Professional Board Examination for Teachers
Certified copy of transcript of records
Copies of service record, performance rating and school clearance for those with teaching experience
Certificates of specialized training, if any
Certified copy of the Voter's ID and and/or any proof of residency as deemed acceptable by the School Screening Committee
NBI Clearance
Omnibus certification of authenticity and veracity of all documents submitted, signed by the applicant (form attached herein)
3. The Kindergarten Volunteer Teachers should submit a duly certified copy of their contract of service. While ALS Instructional Managers/Facilitators should submit a certified photocopy of the contract of service signed by the LGU and a certification of the services rendered signed by the PSDS.
If any of these documents are not submitted, the School Selection Committee may refuse acceptance of the application.
All documents submitted shall be duly authenticated by Ms. Florabelle R. Porras, Adminstrative Officer IV- Records Unit
The Committee shall issue a certification to the applicant that it has received the application specifying the documents that have been submitted in support of the application.
4. In order to standardize the evaluation and the selection of Kindergarten and SPED Teacher-applicants, the educational qualifications stipulated in the enclosed DepEd Order No. 9, s. 2016 entitled "Reinforcement of DepEd Order Nos. 7 and 22, s. 2015 as the Hiring Guidelines for Kindergarten to Grade 10 Teaching Positions".
5. Further, you are directed to observe the schedule of activities in the selection process set by the this office as a timetable.
6. This Memorandum shall be posted in the Division/District/School Bulletin Boards for information and guidance of all concerned.
7. For immediate dissemination and strict compliance.
Sgd.
EDILBERTO L. OPLENARIA, CESO V
OIC – Schools Division Superintendent
---
Enclosure A:
SCHEDULE OF ACTIVITIES IN THE SCREENING AND EVALUATION OF ELEMENTARY TEACHER I APPLICANTS
February 29, 2016 – Orientation of the Division Selection Committee on DepEd Order No. 7, s. 2015
March 1, 2016 – Orientation of Elementary Teacher I applicants @Aglayan Central School; 9:00 am
March 1-7, 2016 – Submission of documents by teacher applicants to the School Screening Committee
March 8-9, 2016 – Submission of documents by the School Screening Committee to the Division Selection Committee
March 10-18, 2016 – Evaluation of documents of Teacher Applicants by the Division Selection Committee
March 13, 2016 – Tentative schedule of the administration of the English Proficiency Test by the Division Selection Committee
March 21-31, 2016 – Conduct interview and demonstration teaching by the Division Selection Committee
April 8, 2016 – Submission of the RQA to the Office of the Schools Division Superintendent
April 15, 2016 – Posting of the Registry of Qualified Applicants
Enclosure B: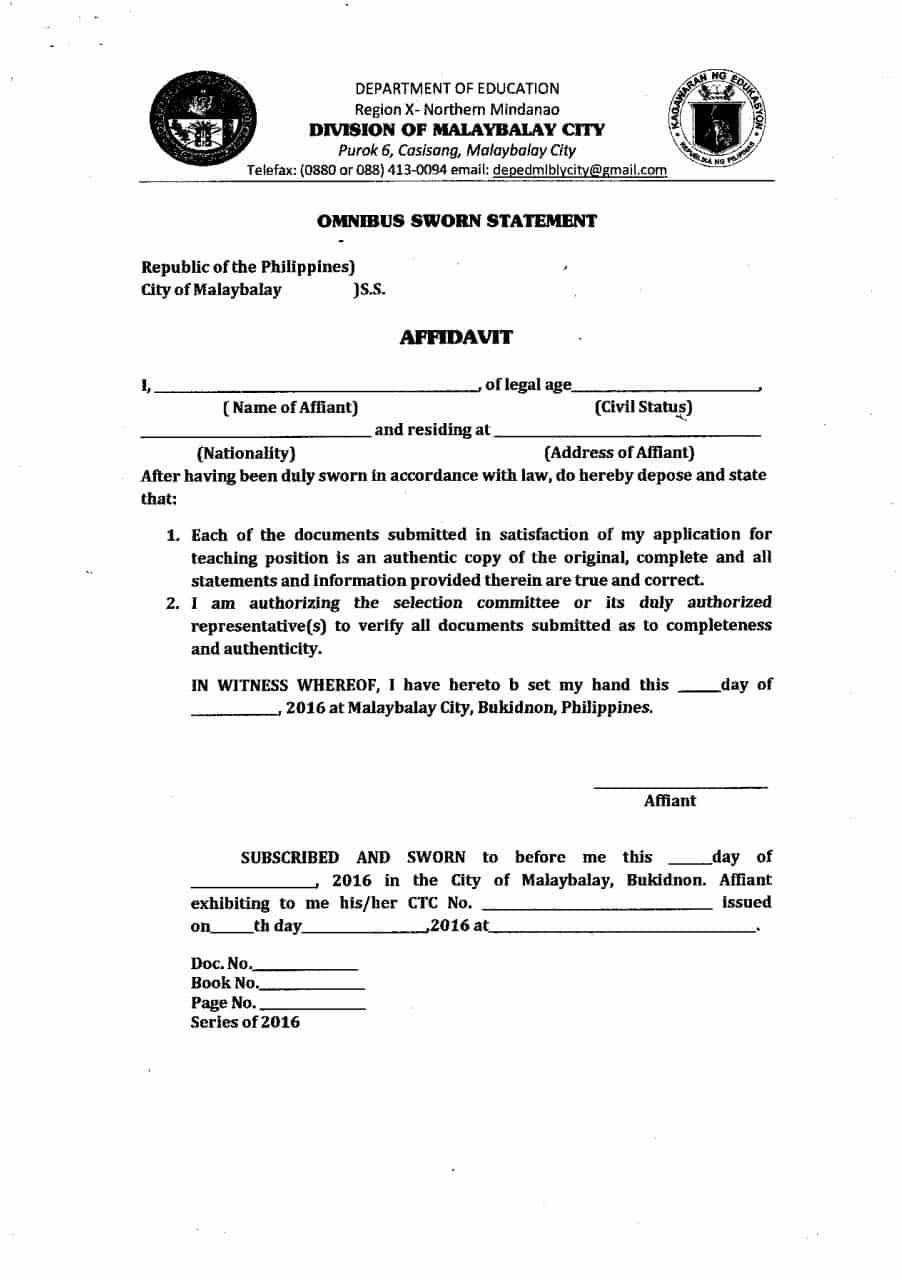 Useful Links: