Disclaimer: The views, opinions and positions expressed by the author and those providing comments on these article are theirs alone, and do not necessarily reflect the views, opinions or positions of TeacherPH or any employee thereof.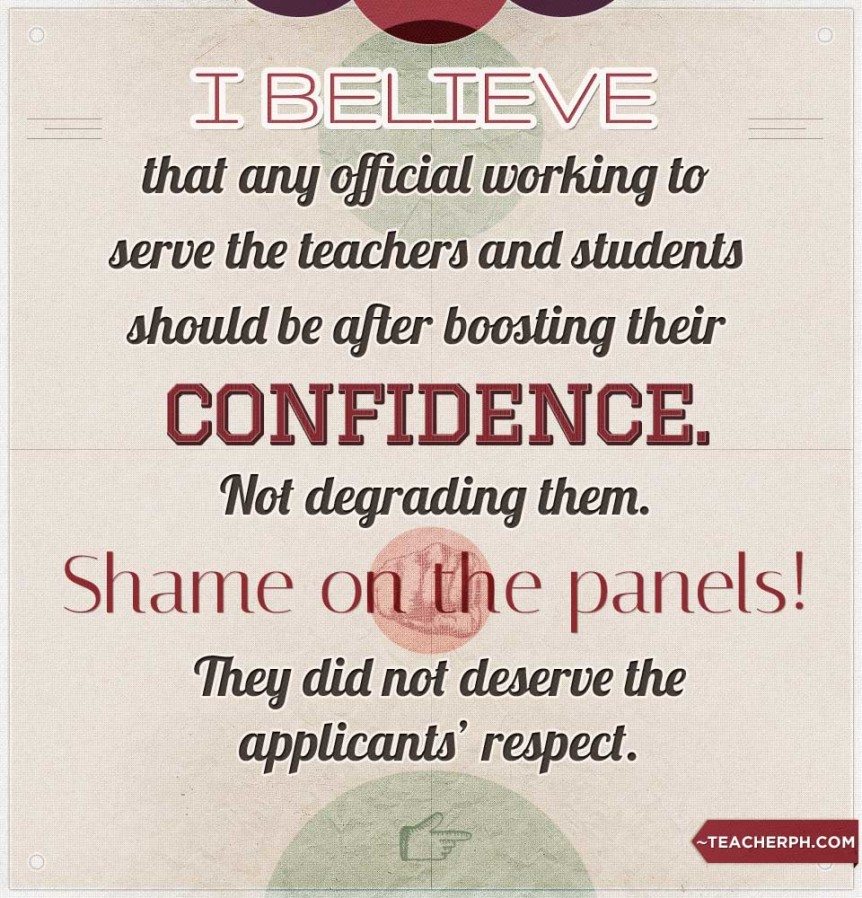 Updates:
Read: How do I apply for a teacher position?
Read: DepEd Online Application System Frequently Asked Questions
Read: DepEd Hiring Guidelines for Teacher I Positions Effective School Year 2015 – 2016
Read: DepEd Hiring Guidelines for the Remaining Teaching Positions SY 2015-2016
So who is to blame? The Government? The Department? Or the System?
ADMIT IT. Most of the EDUCATION GRADUATES are from the poor and middle class families.
So why do we apply for jobs? Why do we choose to work in a government institution?
BECAUSE WE WANT A REGULAR INCOME! WE WANT SECURITY! WE WANT A DECENT SALARY!
Why do we want these?
BECAUSE WE ONLY HAVE VERY LITTLE. WE ARE POOR. WE NEED TO WORK. PRACTICALLY SAYING, WE WANT TO WORK IN PUBLIC SCHOOLS NOT JUST FOR OUR PASSION AND PROFESSIONAL GROWTH BUT ALSO FOR THE HUNGRY MOUTHS WE HAVE TO FEED!
Unfortunately, the voices of the aspiring professional teachers are not often heard. The Department of Education neglects us. We suffer from a very flawed hiring process.
YES. I AGREE.
THAT THE HIRING PROCESS OF THE DEPARTMENT OF EDUCATION FOR TEACHER 1 IS TOTALLY FLAWED!!!
I've been a licensed teacher since 2012 and started my career in a private school. I have been teaching for two years and I admit that I envy my friends and my former co-teachers who are now working in the public schools. They earn more than I and they enjoy a lot of benefits.
So, I just decided to apply to a public school.
I did and experienced the following:
1. Collect the necessary documents, certificates and government ID's for the completion of my requirements. It cost me a lot and ate most of my precious time! I think the government makes it hard for the poor to get the necessary papers they need to apply for a job. These documents should be given for free or if not, they should charge a very low price to the citizens.
And it took me a long time to process these unnecessary shits that the SCHOOL AND THE DIVISION'S OFFICE won't probably check! Why did I say that they don't scrutinize and check each of them? Because my friend, who now works in a public school faked her barangay clearance and certificate of residency for her to get hired in the school she applied for, yet, she got in!
2. WAIT FOR A LONG TIME FOR THE INTERVIEW AND DEMO ONLY TO FIND OUT THAT MY TEACHING SKILLS WILL NOT REALLY BE ASSESSED WELL. So this is what happened, it took two months for the school administrator to call and inform us that I had to appear at the division's office for the demo and interview. I found out that it was going to be a "division-wide" ranking so hundreds of teacher applicants in the whole division came to the office just to secure their application only to find out that the interview and demo teaching were cancelled. This left us disappointed since most of us travelled for more than three hours just to get there and of course to save money, we needed to stay at the cheapest hotels in the city. The next day, hundreds of teachers again appeared at the office and formed a long queue for their names to be listed down on the attendance sheet. Of course, since there were hundreds of us waiting for our turn, the other applicants were asked to come back the other day which made them enraged! They had been in the city for a day and had spent their money for a night of stay at the hotel and there they were again…. Finding themselves in the same situation they were in the last day.
THEY COULD HAVE DIVIDED THE APPLICANTS TO GROUPS BEFORE THEY ASKED THEM TO APPEAR AT THE OFFICE. THAT COULD HAVE SAVED THEIR MONEY, TIME AND EFFORT!
I was very fortunate because our group was called on that very day. So when we entered the room, we were asked to answer a specific question and introduce ourselves. In front of the other applicants. Our answers could be heard and it was obvious that those who do not know how to answer and what to answer to the question given to us could get some ideas from those who volunteered to give their answers first. Then I felt even more surprised when the one who volunteered to answer first was asked to leave the room telling her she's done. When we asked about the demo teaching, THE PANEL SAID THAT "THAT WAS IT!" They have already graded her demo teaching skills.
"HELL! WHAT? HOW CAN YOU GRADE SOMEONE'S TEACHING SKILLS WITHOUT EVEN GIVING HER A CHANCE TO DO THE DEMO TEACHING? HOW CAN YOU ASSESS HER TEACHING SKILLS IN TWO MINUTES OF SPEAKING IN FRONT OF THESE APPLICANTS? HOW CAN YOU ASSESS HER TEACHING ABILITY IN JUST TWO MINUTES? THE DEPARTMENT OF EDUCATION HAS GIVEN YOU RUBRICS TO GRADE THE APPLICANTS BUT WHERE ARE THOSE RUBRICS? WHY ARE YOU SETTING YOUR OWN STANDARDS? WHY AREN'T YOU FOLLOWING THE HIRING GUIDELINES?
Some of the applicants were also embarrassed by the panels demoralizing them. In my opinion, it is not right to turn down someone in front of everyone. Especially if he/she is a teacher since it makes them lose their confidence. I believe that any official working to serve the teachers and students should be after boosting their confidence. Not degrading them. Shame on the panels! They did not deserve the applicants' respect.
I can say that this system of screening and judging the ability of teacher applicants is ROTTEN. It is very obvious that this institution is not organized and it prevents the mobility of teachers nationwide.
3. WORRYING.
What saddens me the most is that we don't have an assurance and it leaves us thinking whether we'll get hired or not. It's a tough competition especially now that a new DEPED order was just released stating that an applicant should score 70 points to get qualified for a teaching position! AND THIS IS SUCH A BIG JOKE!
They also encourage us all to accomplish the online application and they seem to have introduced a new process of hiring which left us puzzled.
"Are we going to be interviewed again? Will we repeat the demo?"
OH! SHAME! This just made this application more stressful!
My friend in Cebu, who has been trying to get employed in a public school for four straight years told me he is not being informed about the status of his application and the division's always fails to provide them the results of the teachers' ranking. IT LEAVES HIM CLUELESS AND DISAPPOINTED. Imagine the money, time and effort spent!
To My Fellow Teacher Applicants:
You are probably worrying about the future. I am not surprised, because the system is broken, the government officials are not held responsible for any performance markers, ie, applicants should be given timescales for decisions and decisions should be given within so many days. Although the methodology of collecting information should be revised so that all the information for the necessary documentation should be provided on application. Our Union should be campaigning for a streamlined and efficient system. We should also campaign for the residency rules to be reviewed. This department gravely and unfairly hamper the mobility of teachers, and also hassle teachers.
– Aviator 😉