August 09, 2017
DepEd Memorandum No. 134, s. 2017
CONDUCT OF HARMONIZED GENDER AND DEVELOPMENT GUIDELINES WORKSHOP FOR TRAINING PROGRAM IMPLEMENTERS AND ORIENTATION ON THE PREVENTION OF VIOLENCE AGAINST WOMEN AND CHILDREN
To:
Undersecretaries
Assistant Secretaries
Bureau and Service Directors
Regional Directors
Schools Division Superintendents
All Others Concerned
1. The Department of Education (DepEd), through the National Educators Academy of the Philippines (NEAP) Central Office will conduct the Harmonized Gender and Development Guidelines Workshop for Training Program Implementers and Orientation on the Prevention of Violence Against Women and Children. This is pursuant to Executive Order No. 273 entitled Approving and Adopting the Philippine Plan for Gender-Responsive Development, 1995-2025 and Republic Act No. 9710 otherwise known as the Magna Carta of Women (MCW).
2. The clustered activities, with corresponding dates, venues, and participating regions/office, are as follows: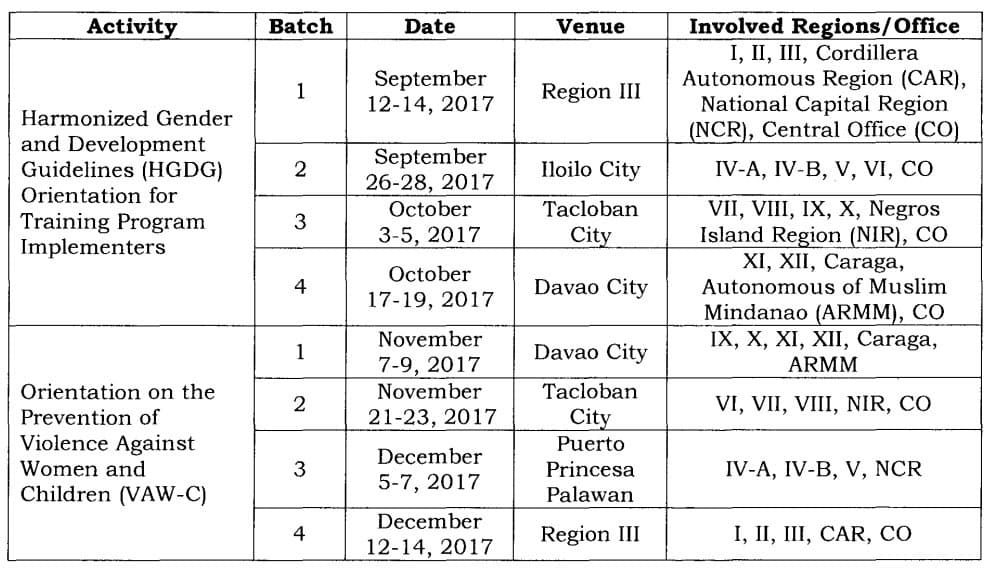 3. The Orientation-Workshop aims to:
a. Activity 1
explain, familiarize and capacitate participants on the use of HGDG checklist to promote gender responsive programs, projects and activities;
b. Activity 2
discuss and promote gender awareness and VAW-C, identify the different forms of VAW-C and Sexual Harassment, and how to address gender issues.
4. The regional office (RO) will select their participants to the aforementioned activities ensuring representatives from the RO and selected schools division offices (SDOs) while the CO participants will be selected by their respective heads of offices. Breakdown of the expected number of participants per activity, per region and/or office is provided in the enclosure. The ROs shall ensure that participants to the Orientation on the Prevention of VAW-C have not undergone similar training.
5. Participants to the HGDG Orientation are requested to bring their 2017-2018 official projects or activities.
6. Participants are expected to be at the venue at 3:00 p.m. on Day 0 (a day before the start of the activity). First meal to be served will be p.m. snacks on the same day, and the last meal will be a.m. snacks of the day after the activity. The activity dates are exclusive of travel time. The names of the participants per activity shall be submitted to NEAP Office, two weeks before the scheduled activity.
7. Expenses relative to the aforementioned activities including board and lodging of management staff/secretariat, resource persons (RPs), facilitators, and participants, professional fees of the RPs, contingency, supplies and materials and other miscellaneous expenses, including the travel expenses of the RPs, facilitators, and management staff/secretariat shall be charged to 2017 Human Resource Training and Development (HRTD) Funds. While the traveling expenses of the participants shall be charged to local funds, subject to the usual accounting and auditing rules and regulations.
8. For more information, all concerned may contact either Ms. Maria Elena B. Deacosta or Mr. Noel Dorado of the National Educators Academy of the Philippines (NEAP), Department of Education (DepEd) Central Office, Room 216, 2nd Floor, Mabini Building, DepEd Complex, Meralco Avenue, Pasig City at telefax no. (02) 633-7207 or through email addresses: maelenadacosta@yahoo.com or wellnho06@yahoo.com.
9. Immediate dissemination of this Memorandum is desired.
LEONOR MAGTOLIS BRIONES
Secretary
Read: DM 133, s. 2017 – 2017 National Competition for Storybook Writing for Kindergarten to Grade 3 Teachers