By virtue of Proclamation No. 953, s. 2015, this Friday, January 30, 2015, has been declared a national day of mourning. All public institutions and military installations, are instructed to lower the Philippine flag to half-mast in honor of the members of the Philippine National Police Special Action Force that fell during an armed encounter in Maguindanao last Sunday, as well as a sign of solidarity with their families.
The necrological service will be led by President Benigno S. Aquino III on the national day of mourning. It will be held at Camp Bagong Diwa, Taguig, at 10:00 a.m.
The remains of the members of the PNP Special Action Force arrived Thursday morning at Villamor Air Base in caskets draped with the Philippine flag. This was done in recognition of and to honor their service to the nation.
The national flag may be used to cover the caskets of the honored dead, as recognized by the state.
When positioning the flag, the white triangle must be at the head of the casket, while the blue field must cover the right side. To prevent the flag from falling off, a black band may be wrapped along the side of the casket.
Before lowering the casket, the flag must be folded and handed to the heirs of the deceased. The national flag must not be lowered into the grave or be allowed to touch the ground.
The Half-Mast Rule
The flag must be raised to the top of the pole before it is lowered to the half-mast position; and before it is lowered for the day it must be raised to the top again.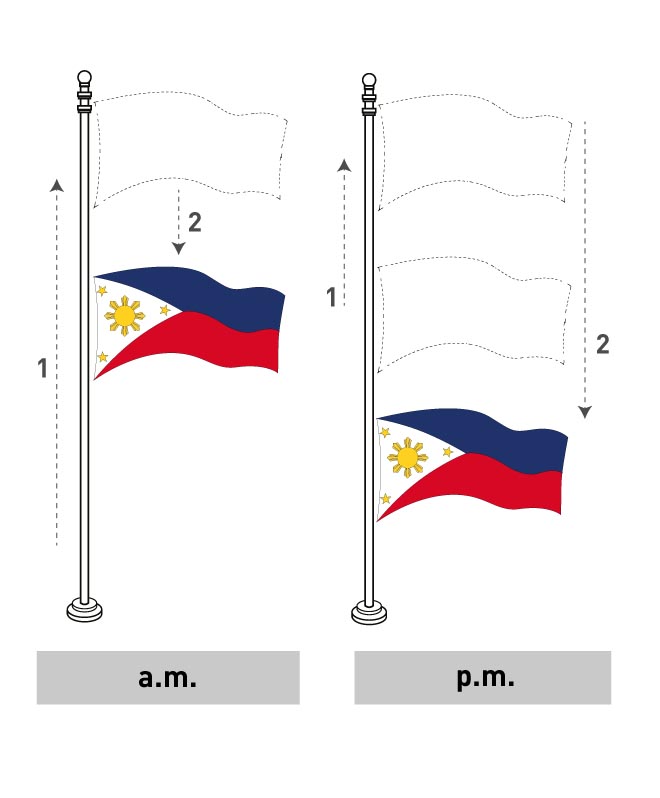 *The national flag is flown at half-mast on national days of mourning, or during the anniversaries of heroes, national calamities, or international solemnity, as ordered by the president.
[line]
These are the names and faces of the Philippine National Police-Special Action Force's fallen heroes. They were killed in Mamasapano town in Maguindanao last Sunday during a clash with Moro Islamic Liberation Front (MILF) members and Bangsamoro Islamic Freedom Fighters (BIFF). The elite cops' mission was to serve arrest warrants to two suspected terrorists—Malaysian Jemaah Islamiyah leader Zulkifli bin Hir also known as Marwan and Filipino bomb maker Abdulbasit Usman.
Postscript:
Not because 44 heroes gave their lives for their country and people. It was their calling, it was their choice, it was their privilege, it was their destiny. National Day of Mourning for a country without leadership, a president without courage, a government without direction. National Day of Mourning for a people long suffering at the altar of political leadership amass with corruption, of heartless, conscienceless and brainless officials. National Day of Mourning for the simple fact that tomorrow after the last taps' echoes have faded into the night, everything will be forgotten until the next blood of heroes flows again.
You fought well and you died defending us. We shall not fail you, our fallen heroes.