The Department of Education (DepEd) releases DepEd Memorandum No. 48, s. 2021 dated August 02, 2021, titled 2021 BRIGADA ESKWELA IMPLEMENTING GUIDELINES.
2021 Brigada Eskwela Implementing Guidelines, Slogan and Activities
The Department of Education (DepEd), in its commitment to ensure that education must continue amidst the challenges and uncertainties of face-to-face classes brought by Coronavirus Disease 2019 (COVID-19), shall formally open School Year (SY) 2021-2022. Pursuant to Republic Act No. 11480, the President, upon the recommendation of the Secretary, has approved SY 2021-2022 to open on September 13, 2021.
In preparation for the opening of classes, the Brigada Eskwela Program shall be implemented from August 3 to September 30, 2021 with focus on collaboration and strengthening partnership engagements that complement DepEd efforts to implement the Basic Education Learning Continuity Plan (BE-LCP) and to ensure the delivery of quality basic education notwithstanding the COVID-19 Pandemic.
The slogan of Brigada Eskwela, Bayanihan para sa Paaralan shall be adopted as the theme for this year to emphasize the country's collective efforts in promoting collaboration for safe living and addressing social issues and concerns in schools, at homes, and in the community.
The National Kick-off Program shall be held on August 3, 2021 to be hosted by the Schools Division of Tagum City in Region XI. Regional Offices (ROs) and Schools Division Offices (SDOs) may hold their own virtual kick-off ceremonies during the Brigada Eskwela Kick-off Week from August 4 to 7, 2021 to launch the Brigada Eskwela in their respective areas after the national kick-off program.
The implementation of Brigada Eskwela shall comply with the required health standards, which include following social distancing measures and practicing proper hygiene consistent with the Inter-Agency Task Force on Emerging Infectious Diseases (IATF) health protocols, Department of Health (DOH) health standards, local and national quarantine rules, and all other relevant protocols as detailed in DepEd and DepEd Task Force COVID-19 issuances.
The traditional concept of Brigada Eskwela, which involves physical cleaning, painting, repainting, and doing minor repairs, will still not happen during the Brigada Eskwela implementation period this year. However, considering the schools are being used in the preparation of the learning packets, including the picking up and returning of the same by the parents, physical cleaning and disinfection may be allowed during the two weeks before the opening of classes in public schools, depending on the prevailing local risk classification and community quarantine guidelines. If allowed, the schools shall strictly comply with protocols on social distancing and implement precautionary measures consistent with the IATF health protocols, DOH protection protocols, local quarantine rules and all other relevant protocols provided in DepEd and DepEd Task Force COVID-19 issuances.
The Brigada Eskwela activities shall focus on preparations and highlight partnership initiatives that complement the BE-LCP among other efforts. This will ensure that quality basic education will continue despite the challenges posed by COVID-19 situation. Details of the implementation are provided in Enclosure No. 1 of this Memorandum.
The schedule of activities for the 2021 Brigada Eskwela shall be as follows:
Activity
Schedule
National Brigada Eskwela Media/ Online Kick-off Program
August 3, 2021
Regional/Division Kick-off Program
During BE Kick-off Week on August 4 to 7, 2021
Brigada Eskwela Implementation and Monitoring of Schools
August 3 to September 30, 2021
Submission of Brigada Eskwela Accomplishment Reports
By Schools Divisions: October 30, 2021
By Regions: November 30, 2021
Brigada Eskwela Awards
January to February 2022
Teaching personnel are entitled to earn vacation service credits arising from their active involvement as member of the school Brigada Eskwela working committees and/or voluntary services in the Brigada Eskwela activities. Teachers shall earn a one-day service credit for accumulated eight hours of services as committee member or volunteer in the school preparation and partnership engagement activities, but not to exceed the total of ten days' service credits. For further details on the granting of service credits to teachers, please refer to DepEd Order No. 53, s. 2003 titled Updated Guidelines on Grant of Vacation Service Credits to Teachers, particularly on Item No. 1-d sub-items d and k and Item. No. 1-f, which contain relevant provisions on the grant of service credits.
The Brigada Pagbasa, as part of Brigada Eskwela, is an after-school reading program that envisions bringing together education partners and experts to help all learners read and become functionally literate. The Brigada Pagbasa will serve as a platform to synergize efforts and resources to address education-related challenges especially on literacy and numeracy. It will also create opportunities for all stakeholders to contribute possible solutions to the current gaps in the country's education system, especially in equipping the learners with 21st century skills.
In preparation for the implementation of Brigada Pagbasa, the Division Partnership Focal Persons are encouraged to conduct an inventory of school reading programs with partnership components that may be part of Brigada Pagbasa. The detailed guidelines for the implementation of Brigada Pagbasa shall be provided in a separate issuance.
The School Heads shall ensure that all donated items classified as property, Plant and Equipment are properly recorded in the book of accounts as stipulated in DepEd Order No. 82, s. 2011 titled Guidelines on the Proper Recording of all Donated Properties. The documents required to support the recording in the book of accounts are as follows:
a. Inventory Custodian Slip for donated properties with value below P15,000.00 (Enclosure No. 3); and
b. Property Acknowledgment Receipt for donated properties above P15,000.00 (Enclosure No. 4).
For more information, please contact the
Brigada Eskwela
External Partnerships Service
Ground Floor, Mabini Bldg.,
Department of Education Central Office
DepEd Complex, Meralco Avenue, Pasig City
Telephone Numbers: (02) 8638-8637; (02) 8638-8639
Email Address: externalpartnerships@deped.gov.ph
Immediate dissemination of this Memorandum is desired.
READ MORE:
Reminders for School Heads in the Implementation of 2021 Brigada Eskwela
2021 Brigada Eskwela School Safety and Preparedness Guide
2021 Brigada Eskwela Logo
DepEd Memorandum No. 48, s. 2021 – 2021 Brigada Eskwela Implementing Guidelines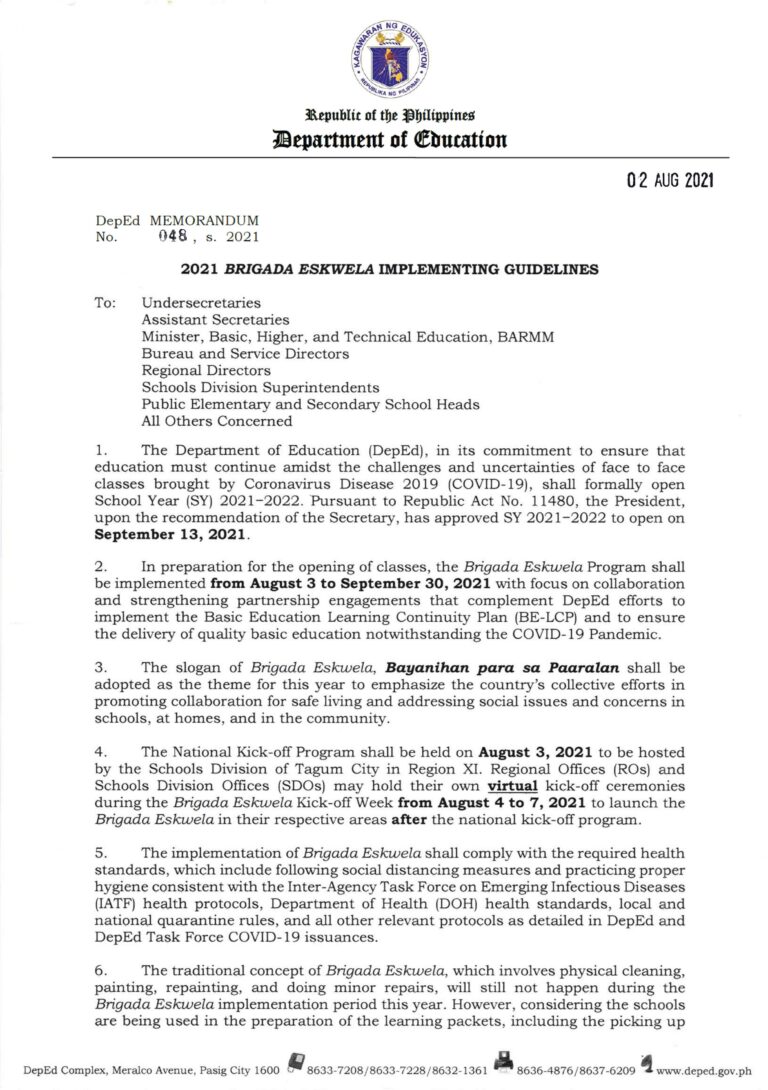 READ:
2022 Brigada Eskwela Theme, Logo, Forms, and Downloadable Collaterals