Attached herewith is Aide Memoire dated June 05, 2020, from Alain Del B. Pascua, Undersecretary for Administration, DepEd Executive Committee, relative to School Furniture 8-Year Replacement Program: Compliance With the Mandatory Neutral School Desks Law, Readiness for Information Technology Devices, and Flexibility to Address Social Distancing.
School Furniture 8-Year Replacement Program: Compliance With the Mandatory Neutral School Desks Law, Readiness for Information Technology Devices, and Flexibility to Address Social Distancing
The implementation of the School Furniture Program of the Department of Education (DepEd) aims to address the seat requirements of the schools and provision of Teacher's Table and Chair. This also includes the provision of new sets of furniture for newly constructed school buildings and the replacement of old and unserviceable units that are still being used by schools due to lack of availability of school seats.
The School Furniture Program as a sub-component of the Basic Education Facilities Fund (BEFF) has an increasing annual allocation trend for the last ten (10) years as shown in this graph.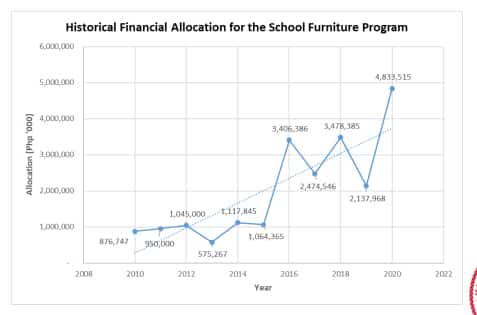 However, while allocation increases, the unit price of the furniture also changes through time. Likewise, from the usual armchairs that the Department has been procuring since 2010, it shifted to a "1 table, 2 chair" set starting 2018 following the recommendation of the Curriculum and Instruction Division (CID) and consultations of the Office of the Undersecretary for Administration (OUA) with teachers nationwide for a more interactive learning process inside the classroom.
The "1 table, 2 chair" setup is adopted to address two other factors. One is the need for more flexibility, multiple layouts, and appropriateness for furniture to be moved and organized for greater collaboration of the learners, such as the face-to-face group arrangements. The second is the need for wider platform for computer tablets and laptops usage and safety. These two factors cannot be adequately addressed by the armchairs, even if they are neutral, so the decision to have tables and chairs.
DepEd's Digital Rise Program would be bringing computer tablets and laptops to classrooms, no longer in computer laboratories, so that information and communications technology (ICT) are used as common daily tools and equipment in the learning and teaching process.
Prior to the adoption of the new school furniture design, DepEd's Education Facilities Division (EFD) has been allocating 2 units per 45 sets of armchair or 4 % of armchairs for those left-handed. But the uncertainty of actual numbers of lefthanded learners per classroom and per school would always result to either lack of, or oversupply of left-handed armchairs. This imbalance is one of the reasons that prompted the Department to study the adoption of neutral school furniture.
The new school furniture was further strengthened thru the passage of Republic Act No. 11394 titled "Mandatory Provision of Neutral Desks in Educational Institutions Act" signed into law by President Rodrigo Roa Duterte on August 22, 2019 mandating the obligatory provision of neutral desks to all students. The new law is a solid support to implement DepEd's five-year replacement plan. As per the law, neutral desk means a table or an armchair that is suitable for both right-handed and left-handed students, the exact description and intention of DepEd's new tables and chair furniture set.
However, in view of the recent policy of the Inter-Agency Task Force on COVID19, adjustment of classroom seats configuration as well as the new classroom layout must be made to comply with the requirement for social distancing. In accordance with the said policy, the DepEd must abandon its newly introduced "1 table, 2 chair setup," but will instead adopt a "1 table, 1 chair" arrangement beginning June 2020.
School Furniture Program Accomplishments
From 2017-2019, the department has programmed the procurement of 3.49 Million seats in priority schools nationwide. To date, 2.67 Million seats were alread delivered and the rest are still on the stage of production and delivery.
| Year | Targets (Seats) | Delivered (Seats) | Remarks |
| --- | --- | --- | --- |
| FY2019 (2-Seater Table and Chairs) | 429,475 | 214,737 | Ongoing Delivery |
| FY2018 (2-Seater Table and Chairs) | 698,307 | 502,757 | 195,550 sets of 2-Seater T&C w/ 8,502 sets of TTC for delivery |
| FY2017 Fund (Armchairs) | 2,367,956 | 1,954,150 | 413,806 Armchair w/ 9,243 sets of TTC & 1,966 set of working T&S for delivery |
| Total | 3,495,738 | 2,671,644 | |
T&C – Table and Chair; TTC – Teacher's Table and Chair
Types of Materials Used for the School Furniture Program
The DepEd has been implementing the different types of materials for school furniture following the standard specifications set by the Department. This is to ensure that different types of industries making furniture will be able to participate in the procurement process.
Under the Special Provision of General Appropriations Act (GAA) for the School Furniture Program, the Department shall allocate funds for the National Federation of Persons with Disabilities (NFPWD), Cooperatives of PWD and other Regular Cooperatives manufacturing furniture. Similarly, Executive Order No. 879 s. 2010 mandates the Department to implement a portion of its School Furniture Program using engineered bamboo as the basic material.
Historical Cost of School Furniture
In 2017, the cost of an armchair was P900.00. The "1 table, 2 chair" set costs P4,800.00. In a classroom setup, the cost of school furniture under the old design is P44,500.00 (45 armchairs, 1 teacher table and chair), while the new design costs P 114,400.00 per classroom (23 tables, 46 chairs, and 1 teacher table & chair). This design cost 39 % higher than the old.
However, beginning June 2020, the classroom furniture set-up will be "1 table, 1 chair" in compliance with both the new law and the social distancing amidst COVID-19 and future pandemics. While the current situation will dictate a
total of 20 sets of "1 table, 1 chair" classroom following 1-meter social distancing, the program will still procure 45 sets to enable the readiness of the classrooms when vaccines have been provided in the near future and the 1-meter social distancing is lifted or adjusted. In the current situation when only 20 sets will be used, the remaining sets will act as barriers to enforce the social distancing measure.
The cost per set is P2,500. For 45 sets with 1 set of teachers table and chair, the total will be Pl 16,500.
| Year | Specification | Unit Cost (Php) | No. of Set per Classroom | Total Cost per Set Including Teacher Table and Chair |
| --- | --- | --- | --- | --- |
| 2010-2017 | Armchair | 900 | 45 | 44,500 |
| 2018 | 1 table 2 chair set | 4,800 | 23 | 114,400 |
| 2019 | 1 table 2 chair set | 4,800 | 23 | 114,400 |
| 2020 | 1 table 1 chair set | 2,500 | 45 | 116,500 |
Remaining Requirements for School Furniture
Based on SY2019-2020 BEIS and the 2019 National School Building Inventory, a total of 21,491,753 total seats are available in all public elementary and secondary schools nationwide. Further, for the same school year, a total of 22,567,750 enrollment was recorded. Thus, at the macro level analysis, as of 2019, a total of 1,075,997 seats are still lacking in some schools. However, on a per school analysis of requirements, a total of 3.8M seats are still needed by different schools.
The school furniture needed for new classrooms and new buildings have already been incorporated in the school building budget together with solar roof panels. Such requirement is no longer included in this proposal.
What is not factored here is the school furniture for school buildings which will be donated in the future as these donations do not usually include school furniture. A policy will be recommended that donations should include not only school furniture but solar roof panels as well.
Strategic Plan to Address the Requirements
In 2018, DepEd, under its School Building Program, has already proposed a five-year replacement plan to replace existing armchairs in existing classrooms with the "1 table, 2 chair" set design, but the approved funds allotted for school furniture are not enough for this.
Since there are 707,600 existing classrooms at the end of 2017, the five-year plan intends to replace 18,199,305 existing armchairs per year. This would cost about P9,253,325,520.00 per year for the next 5 years, or a total of P46,266,677,600.00. This is on top of the regular allocation for school furniture for new classrooms. If we start this in 2020, we can have all armchairs replaced by 2025.
We have to scrap this plan and introduce an 8-year school furniture replacement plan with the new "1 table 1 chair" setup.
For the next eight years, starting 2021, the DepEd plans to totally close the requirements for school furniture from 2021-2022 and replace all existing non-neutral desks in accordance with the law for a period of 8 years at 12% replacement per year. The table summarizes the requirement.

An appropriation of about P12 billion for 2021, and P13.2 billion for 2022 is recommended to start the 8-year school furniture replacement program.
ALAIN DEL B. PASCUA
Undersecretary
Aide Memoire on the School Furniture 8-Year Replacement Program: Compliance With the Mandatory Neutral School Desks Law, Readiness for Information Technology Devices, and Flexibility to Address Social Distancing