Once upon a time, I met these trolls…
They were naughty and hard to handle at first. There were times when they made me mad because they wouldn't listen to any of my instructions. There were times when they made me angry because of their dirty classroom and there were times when they made me yell to death because of their talkative mouths. I almost gave up. But…. Well…. Thanks God I found out that I just needed to adjust.
It was my first time to teach Filipino students since I taught Koreans and Russians in my first job. The school didn't give me advisory class which made me different from all my co-teachers. Among them, I was the only one who didn't know how it feels to have a dear advisory class whom you could support when there were school tournaments or whatever events in school.
I felt lonely then. There were times when I envied my co-teachers because they received some surprises on their birthdays, they had these what they called sons and daughter to look after on flag ceremonies and first Friday masses and etc.
Then one day, this section, asked me if I could join them in the bus on the day of their field trip. When I asked,
"why me?",

they said, "We want you. You're crazy!".
And so they did everything to convince the senior teacher to have me as one of their guides in the bus.
Their wish was granted. It all began there.

While we were on the journey, I was able to talk to them. They told me bout their life stories and everything. I came to know them more.
Family problems, LOVE LIFE, broken friendships and etc.
And so the days passed and I became like their life adviser. Some of them even talked to me personally to seek for advice. And some of them showed the love letters they made for their crushes. Most especially, the boys! Imagine that!
I felt like I was getting closer and closer to them.
THE CONTEST. ENGLISH MONTH.
Before the year ended, I was diagnosed of a severe sickness which I decided not to mention to anyone. I was not allowed to eat most foods, was not allowed to talk too much and was not allowed to work a lot. The doctor advised me to take a rest.
But I just couldn't leave these kids.
It was December and everybody was busy preparing for the English month celebration. These kids had to join a contest. I knew they had a high chance of winning because I saw their talent. But they were lacking of idea so like a superhero, I provided everything. I worked extra. I worked with them. Sacrificing my precious one-hour break time just to make sure they were doing well on their practices.
My health was at risk. I almost lost my voice. And my patience.
THE VICTORY
THEY WON. WOW.
And the word "THANKS". That word! Oh! What a joy!
That simple word made me burst in to tears.
It was all worth it.
AFTER THE CONTEST
You know the feeling that you did everything for a person just to lift them up but after that, he/she doesn't want to listen to you?
"MGA WALA KAYONG KWENTA! HINAYAAN KONG MAWALA BOSES KO AT LAGNATIN NG ISANG LINGGO PARA LANG MANALO KAYO, TAPOS HINDI KAYO MAKIKINIG?"
That shook them into silence.
I made it. A week without talking to them.
Then there was a surprise.
And everything was okay again.
CHALLENGES
WOW! I couldn't believe it! I just realized that I have already learned to love and to care for these kids. I knew then they were my favourite! For most people, it's not good to hear a teacher saying that he/she has a favorite but well.. yeah…. These kids were the most special for me. they won my heart just by being themselves. The won my heart by their sweetness, by their kindness and by their sincere love.
But
A THING THAT SUCKS ATTACKED ME.
AND I KNEW THAT WOULD BE THE FIRST AND LAST YEAR I WAS GOING TO SPEND WITH THESE KIDS.
I couldn't stay.
This disease was killing me. Softly. Oh….so….softly.
Fever, sleepless nights, stress, bad students, frustrating things… all of these came to me. The kids felt the changes. I tried to hide it. I got angry most of the time. Blaming them for everything. Blaming their irresponsibility. They noticed it.
The first rose that was given to me.
Fever, sleepless nights, stress, bad students, frustrating things… they won't stop coming to me!
Life sucked!
I was angry most of the time.
Then one day, I burst out. I walked out of the room. Someone did something.
It was not a big deal.
But I was at rage.
For days, I didn't talk to them.
The school year was about to end. I knew I couldn't stay in the school anymore.
So I took pics with the other kids as a remembrance.
But not with them.
I was still angry.
Seeing the pics with the other kids on Facebook,
They got jealous.
And they made a big plan.
OPERATION I SURPRISE SI MA'AM
I won't tell you anymore how they did it. One thing is for sure. They made me happy. I was the happiest person on Earth last March 17, 2014.
#paperflowers (they made paper flowers for me)
#mameypose (we invented a pose that's only for us. It's a secret. A naughty secret.)
But it wouldn't end there. Here's our last pic together:

THEN. THAT WAS IT.
I LEFT THE SCHOOL.
ANOTHER SCHOOL YEAR STARTED.
BUT THEY DIDN'T FORGET ME.
SEE…
THEY STILL VISITED ME at home…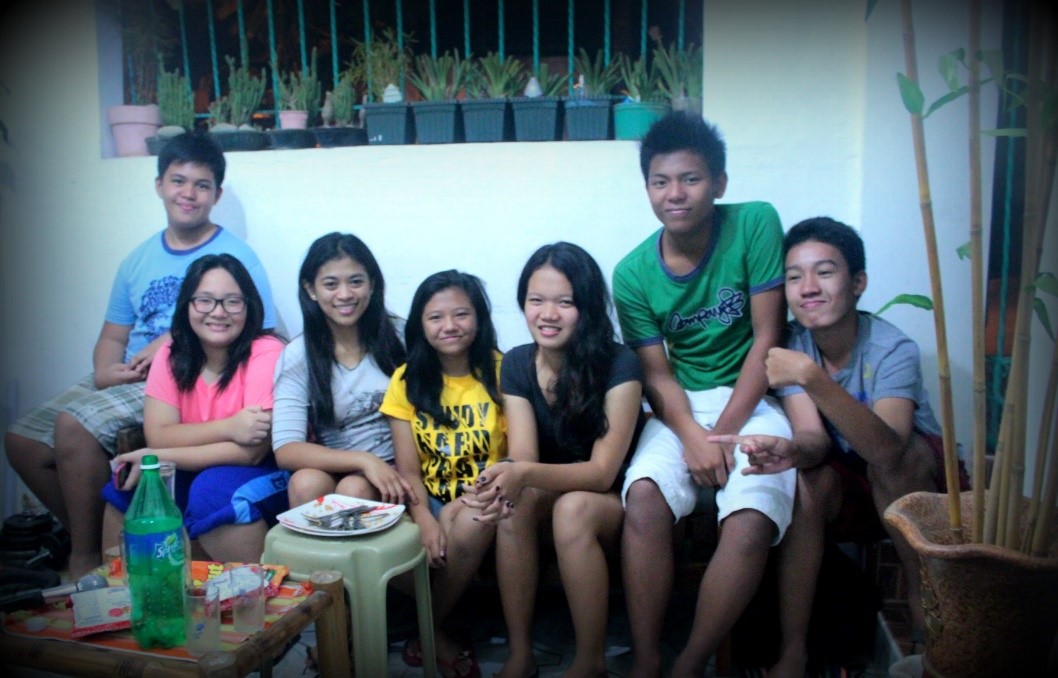 And they didn't forget me on my birthday:
 I got sick.
They found out.
Since I didn't want them to see me in poor condition, I asked them to give me space… which they did.
They stopped visiting.
But started flooding my inbox with good news and encouraging messages.
They still send me messages.
They still ask for advices.
They still tell me their complains.
They still cry like a kid to me.
They still call me like their mom.
These kids… ARE MY TREASURE.
They are the best prize I've got from teaching.