"No doubt that it's a clear act of plagiarism, and we want to warn those who are planning to follow their action." This is the only thing Mark Anthony Llego could say during the last conference the TeacherPH team had.
Recently, he, along with the other writers of TeacherPH found out that numerous articles of our site were plagiarized.
"It was heartbreaking. Working for so many days and having sleepless nights to come up with those articles only to find out that some people who are just after money copied it claiming it as theirs."
Before the discovery of such plagiarized articles, Sir Mark has made Google turned down and blocked sites that were publishing plagiarized articles mostly coming from TeacherPH. These sites were:
https://depedtambayanph.blogspot (dot) com
https://depedlps.blogspot (dot) com
https://www.depedtambayanph (dot) org
https://www.depedtambayanph (dot) net
https://www.depedclick (dot) com
https://www.depedcommunity (dot) com
The site DEPEDCOMMUNITY(DOT)COM, allegedly copying the articles of TeacherPH, claiming them as their write-ups, is owned by a couple (REDACTED) and (REDACTED). They are DepEd teachers.
Upon checking their blogging site, it has been confirmed that some of the articles posted on their sites were not just copied from TeacherPH but also from the biggest news sites in the country like Rappler, GMA News, Philippine Star, and Manila Bulletin.
"It's so sad that they are teachers, yet, they don't know how to follow the code of ethics of their said profession. I believe that educators should set as a model of honesty and integrity, but by plagiarizing and by maliciously posting the other's works on the blogging site they claim as their own, they failed to do so. I wonder how can they teach such good values to their students when they can't follow it?"
Sir Mark added when asked how he felt about the acts of the (REDACTED) couple. According to him, he first reached out to the couple and asked them to take down those copied articles, but his efforts were wasted as the couple aggressively denied that those articles are of their own and that they will never remove them from their site.
They were even making threats and claiming that they did not do anything wrong.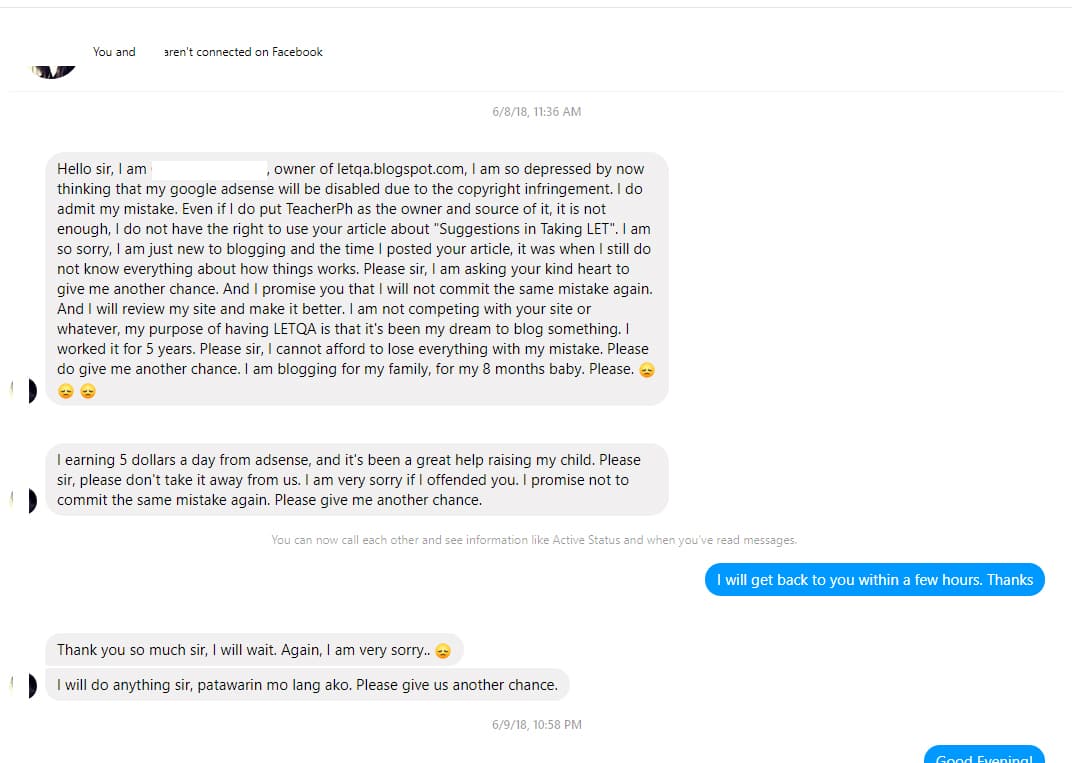 TeacherPH has been very kind to the numerous bloggers who had copied its articles before, reaching out in a proper way as to make peace and give starting bloggers out there a chance to play the game fair but the couple has been so close-minded only thinking about their income without playing fair.
DepEd community is urged to keep using plagiarism checker free available on the internet to secure their original content from plagiarists. The copyright strike is a rightful right of the author and the content producer to make sure no one goes away with your original idea.
OFFICIAL STATEMENT: PLAGIARIZED WORKS OF DEPED COMMUNITY
Below is the complete official statement of Mark Anthony Llego, the founder of TeacherPH regarding the acts of plagiarism of Mr. and Mrs. (REDACTED):
"TeacherPH has been around for more than five years. In those years of service to all the educators around the country, our site has produced numerous articles and entries most of them are contributed by different teachers who willingly shared their passion for writing, and it is just fair for them to be recognized for their works but unfortunately, this couple, (REDACTED) and (REDACTED), greedily claimed their works, our works, as theirs. They just all made us feel like we've been stepped on.
Our site has been generating income, but our website is not just meant for that. It always crafted with the passion for helping others while recognizing the knowledge and talent of our writers, giving them the chance to use our platform to publish their works. We are very strict in checking the submitted entries of our contributors and writers, making sure that they are following the rules on writing and the guidelines we set. We primarily make sure that our writers DO NOT PLAGIARIZE.
These plagiarists who deliberately and habitually copy numerous articles from different sites like TeacherPH, which are the primary source of information on the web nationwide, are merely after the money that they can generate through posting these stolen articles, which are commonly searched on Google. We will make sure that they will get what they deserve, and we will give justice to our writers whose works were copied.
The goal of TeacherPH is not just to spread information about different circumstances relevant to the present system of the field of education but also to keep the public aware of the wrongful acts like this. We will never tolerate such illegal doing."