Taking the 2018 Principals' Test/NQESH? Let's put your name in the list of passers! Allow us to help you through TeacherPH.
Spend your vacant time reviewing with us anytime, anywhere! Our site and android application is accessible anytime you need it. We'll provide answers to your questions and give solutions to your problems regarding the examination.
THE BENEFITS OF JOINING THE 2018 PRINCIPALS' TEST ONLINE REVIEW
Since National Qualifying Examination for School Heads (NQESH) begun, many are aspiring to become School Heads all over the country. However, due to the busy schedules and overwhelming school duties and responsibilities, they cannot devote time to review and prepare themselves for this eligibility.
Even when there are available reputable Review Centers within their places in the provinces or cities outside Metro Manila, the duration is very short. Some will be offering 4, 5 or 6 day sessions at a costly price. Although mock tests are given, most of the sessions are lecture type and the discussions are not so comprehensive. Well, I do not discourage principal-aspirants to enroll on those because if they have the money, then there is nothing wrong to participate on that.
Thus, the creation of Principals' Test Online Review is the answer to the problem of time management because of the flexibility of the time to be devoted by the reviewee. Since there are downloadable materials, any member could read personally all materials, mock tests, and even watch provided videos in the groups. Once they connect online to the Facebook account through the threads and the additional group chats per domain, they can read, participate, post questions, and learn more from the sharings of the members. As a common thing in education, learning becomes meaningful through shared discussions on concepts, theories, and acceptable practices. Situations for decision-making are backed up and clarified through existing DepEd Orders, Government Issued Memorandum Circulars, and legal bases. With all of these, the knowledge gained is more of the practical rather than purely theoretical.
Critical thinking is developed by teaching reviewees how to do the Stem Analysis which is very crucial in any time-pressured national examinations like the Principals' Test/NQESH. This is the key to teach the member the technique of elimination among the choices.
So if, teachers, master teachers, and head teachers really want to become school heads themselves and time is the constraint for them to review, then 2018 Principals' Test Online Review which will open on June 11, 2018 (Batch 4), then register now and avail our early bird rates.
WHO ARE WE AND WHAT IS OUR AIM?
We are a team of educators with proven capabilities of sharing our expertise in the field of education. Committed to give our services, especially to the public school teachers who would like to take their job to the next level, we joined together to come up with a wide-ranging and efficient materials that will provide excellent knowledge and experience to those who aspire to become school heads or principals.
We believe that the participation of every educator in all educational endeavors especially in leadership and management, advances the goals of the whole country's educational system. Our aim is to help the aspiring school heads and principals to prove their leadership and management abilities. Believing that they play a key role in improving the school communities in the country, we'd like to share to them the knowledge a school head or a principal must have and the core values that they must help instill to the teachers and to the community players of the next generation, the students of today.
OUR SERVICES:
We provide extensive and comprehensive review for the 2018 Principals' Test. The review period runs up to three months prior to the examination.
Our online tutorial and discussions through social media group are always active and available. The reviewees can interact and can share their knowledge to one another easily. This way, they can learn more and can have an access to all the necessary information one must have before taking the 2018 Principals' Test.
We have a carefully selected materials and digital technology resources which are used to enable you to access academic connections and resources while also encouraging new ways of thinking.
Our downloadable resources are located in our webpage.
We give series of questions to and explanations to the correct answers.
Our face-to-face review with our dynamic coaches will soon be available.
WHY CHOOSE US?
We are committed to providing you a wonderful online review experience. We have professional coaches and professors who provide meaningful questionnaires, lectures and updates about the Principals' Test. Having paved our way in coaching program since 2016, we've produced graduates who have gone on to become professional, successful, and well-respected principals all over the Philippines.
We believe in providing the highest level of coaching and service in order to foster individual growth and future success, and therefore constantly work to improve the quality of our courses, materials, and staff. Every day, we strive to carry on that mission by promoting triumph through education, cultural sensitivity, and empowerment through knowledge.
WE ARE HERE TO:
make regular review possible for the professional teachers who can't afford attending a daily or weekly reviews because of busy schedules
provide help to the aspiring principals who live far from different review centres in Metro Manila and in the big cities of Visayas and Mindanao.
FEATURES:
Principals' Test Online review is designed to help and prepare the 2018 Principals' Test examinees to answer problems and questions that will be asked in the exam itself. It has three main components: Online Lectures, Android Application/Mobile review and Online questionnaires with a MOCK test before the examination date.
Decision Tree
We teach you exclusive, reasoning skills that help you answer passing-level questions correctly and master the test.
Comprehensive Review
We focus on content-in-context and passing level questions to give you everything you need to pass—the first time.
Realistic Practice
Our Qbank and Question Trainers emphasize alternate-item question types and give you realistic practice in an Principals' Test-style interface.
Downloadable & Printable Resources
Be ready to experience the unlimited access to the files, reading materials, and discussions of making members act and decide as if they are already School Heads in their respective schools.
Repeat Guarantee
If you are taking the exam for the first time and do not pass the 2018 Principals' Test, you are entitled to a free 1-month repeat of your online enrollment.
Bonus Materials
Want to go further? We have you covered, with android application, bonus materials, and recommended resources.
ONLINE REVIEW COVERAGE:
Passing the Principals' Test in December 17, 2017 is AVERAGING per cluster that should at least be 70% in each cluster.
Coverage Cluster A
The SH as a leader in the curriculum implementation
Pioneering school programs, and benchmarking
Dispute settlement and cases
Child Friendly School (CFS), Child Protection Policy, and Anti-bullying (DO 42, s. 2012, DO 18, s. 2015,
VMG
Kinds of Leadership and relations
Coverage Cluster B
Curriculum leadership
K to 3 ELNP
The school and the relationship to the community
CIP
SH roles as defined by RA9155 and RA 10533
Assessment
Lesson Planning
Special programs and interest
Alternative Delivery Mode (ADM)
Classroom management and discipline
Personal safety
Communication skills, Official correspondence
SSP
Ethical leadership and other forms
Antisickness awareness campaigns and programs, vaccination, deworming
SWAT, WINS, CICL
Cluster C
The SH as a fiscal manager
FMOM, Procurement Law, bidding, MOOE, Liquidation
Canteen management and operations
Repairs, program of works
SBPF, school assets, registry, inventory
SOB, FWP, AIP, SBM, SIP
Generation of funds, bonding officials, money procedures
Promotions, ranking, PSB
Trainings, SLACS
Pedagogical and competence improvement
RPMS, IPCRF, NCBTS-TSNA
Classroom observation
STAR, post conferencing, mentoring, coaching,
Supervisory styles, TQM, succession plan
Scholarships, teacher welfare, RA 4670, Code of Ethics
Stakeholders, PTA and its operation, HRPTA, LGU relation
Brgy Tanod for safety and protection
School-to-industry partnership, work immersion
LA 8 and 9 s. 2017, related DO, memo, policies, CSC MCs, acceptable practices
FEATURED INSTRUCTOR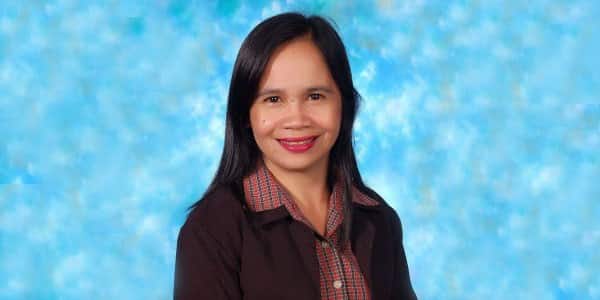 Margarita L. Galias began her career in education as a high school math and physics teacher in Immanuel Lutheran High School in Malabon City and Manila Central University, Caloocan City before serving as a public school teacher in Sorsogon City in 1995. She was a university scholar and graduated cum laude with a bachelor's degree in Education, major in Math-Physics from De La Salle Araneta University. She also holds a master's degree in Management, major in Administration and Supervision from Sorsogon State College. She is now currently employed in Mercedes B. Peralta Senior High School as a classroom teacher and a guidance counselor designate.
REQUIREMENTS:
Access our site and android application anytime and anywhere you want. Let's put your name on the list of passers by paying as low as Php 2,500.00.
Confirm your payment through PSBank deposit or through our trusted money transfer companies such as Cebuana Lhuillier, M Lhuillier, Palawan Pawnshop, LBC (for pickup only) and Western Union. Once the payment is confirmed, you can then start the review with us!
Duration: 90 days (Monday-Friday)
Amount: Php 2500.00
Receiver's Name:
MARK ANTHONY LLEGO
Address: Antipolo City, Rizal 1870
Mobile: 09260211602
Email: teacherph.com@gmail.com
For Bank Deposit:
PSBank (Any branch)
Account Name: Mark Anthony Llego
Account Type: Prepaid
Account Number: 204391000472
Be ready to experience the unlimited access to the files, reading materials, and discussions of making members act and decide as if they are already School Heads in their respective schools.
Review with TeacherPH; review from us; and get the updated version of the android application at a very affordable price!
For verification of the amount and degree of learning by old members, you may ask for their testimonies on how we handle queries, provide resources, and assistance needed. Thank you very much.
OUR OFFICIAL WEBSITE
https://www.principalstest.com/
FREQUENTLY ASKED QUESTIONS
We've answered the most common questions we get from customers just like you. Bookmark this page for future reference and watch for updates.
SEE WHAT OUR CUSTOMERS ARE SAYING ABOUT US
[bs-quote quote="I am very happy and satisfied with their Principals' Test Online Review because I can review wherever I want and whenever I am available. This allows me to study all domains while accommodating my work and other responsibilities. Thus, this Online Review is very cost-effective for me because I don't have to spend money on food, transportation, and other expenses." style="style-11″ align="center" author_name="Jocelyn Talbo" author_job="School Head"][/bs-quote]
[bs-quote quote="Thank you TeacherPH for the very informative online lectures, mock test etcs. I learned a lot even if I didn't have any idea when I started my online review. The best part is that, I was able to review even at the middle of the night after going home from work. I can't thank you enough!" style="style-11″ align="center" author_name="Evangeline Yanto" author_job="School Head"][/bs-quote]
[bs-quote quote="I was not expecting this. Before, I was really struggling in all domains. But after availing this online review from TeacherPH, I easily learned the different techniques which are very useful in all parts of the test. Thank you, TeacherPH for your dedication in helping aspiring principals like us." style="style-11″ align="center" author_name="Rommel Yancha" author_job="Master Teacher"][/bs-quote]
[bs-quote quote="It was my first time to try online review and it worked for me, it felt like I was in a classroom setting all along. Thank you TeacherPH Online Review! I am now one step closer to my dreams." style="style-11″ align="center" author_name="Maria Flor Yangao" author_job="Head Teacher"][/bs-quote]
[bs-quote quote="I chose TeacherPH for two reasons, the first being a personal recommendation from a former colleague, who told me it was a really good online resource and that I should definitely try it out. The second reason struck after I saw the group itself, there were clearly lots of valuable resources to learn from, with a very friendly user interface and the price felt very fair and honest." style="style-11″ align="center" author_name="Jasper Manalo" author_job="Teacher III"][/bs-quote]
[bs-quote quote="Flexible schedule, experienced coaches, and challenging materials – these are powerful tools the TeacherPH online review has offered and helped me to become a School Head. With the online review, I could review right in the comfort of my own home. This is the review that you should take advantage of to ensure success in the Principals' Test" style="style-11″ align="center" author_name="Rebecca Macantan" author_job="School Head"][/bs-quote]
TEACHERPH PRESENT PRINCIPALS' TEST REVIEWEES
Updated: September 29, 2017
NAME
Clemence Panotes
Rose Mary Pascual
Joe Ann Pasion
Edgar Rivera
Chad Santos
Gemmaline Bumanglag
Carlyn Don Padul
Editha Agustin
Larry Castro
Agustina Abellera Dacumos
Sharon Monayao Ganigan
Elma Alog
Rhonie Villahermosa
Elmer Calcaben
Julieta Gomez
Amy Pura Reyes
Rowena Mauring - Abellanida
Jim Celda
Arsenia Dulawan
Liberty Rallestan
Red Rosely Caldetera
Ma. Lila Medea L. Labios
Jaime Sarmiento
Norolyn Saripada
Briniel Galangi
Norma Dacpano Fontanilla
Imelda Obsequio Nalda
Melanie Candelaria Sales
Jocelyn Dejino
Acero, Miguel Jr Mora
Liven Martillana Sanchez
Arlene Joy Alonzaga*
Laila Raper*
Maria Esterlita Modillas
Jun Cortez
Mamerto Ragel Jr.
Cristeta Olea Eisma
Eleanor A. Masul
Mercedes M. Egalam
Analiza Nava Domingo
Maricel Culla
Alma Ventura
Noriel Agascon
Eugenia Certeza
Joel Villoso
Luz Timtim Simpas
Haydee Badillos Andueza
Cecilia Rodriguez Alvarez
Rina F. Romilla
Melvina Salamat Tarcena
Annaliza Dilig Tuazon
Miguel Q. Ibero Jr.
Salve J. Hosain
Mary Jane Cabalbag
Erlinda Valdez
Marlon Basa Fulgencio
Eva Patigdas
Jonas Cristian Merjudio
Morenitta Macaraeg Doria
Lanny Atienza Tolentino
Raquel Vasquez
Fernando Sescon
Mylene Dela Pena Lopez
Samson Javier Barretto
Marilou T. Florida
Lorelie Tubang Padrones
Marife De Guzman
Ella Abayhon
Cliff Mark Perez
Vivian Jimenez Llana
WENCESLAO C. CELIS
Anthony L. Caldona
Kimberly Siloran Macadangdang
Loester Bercasio
Marlyne Asuncion
Gladys Villacorta
Adelle Alcaraz
Menchie Mangla-as Pati
Sherlu Marc Mamaril
Melodie Bueno
Marisol Margate
Crizaldy Macasinag
Leonora Lustre
Verna Managa
Ryan D. Espinosa
Arlene agudo Gepitulan Schots
Marivi Ladines
Jerry Perez
Jin Rino
Antonette I. Radomes
Sherwin Paras
Angela Wong
Alia Nasser
Edwin Siruno Lopez
Yolly Herrera
Marilyn Perez
Doddie Marie Kige-e Licudine-Duclan
Recy Balaquidan
Cris Esteban
Jesson Parale
Leila Yosoya Abayon
Ehmie Plegaria Certeza
Heida Hidalgo Sumawang
Elena Laurel Opena
Leny Hilario
Cresente Glariana
Aisha Garrovillas
Mary Grace Marcos
Gina Alberto
Garry Dubla
Bansoy AlbasinJr
Chung Hyeun Jei Balance
Jonas Reduta Cabacungan
Susan Hernandez Angelo
Jesson Parale
Susan Castro Hernandez
Vilma Santos
Beulah Dela Cruz Goguanco
Anamarie Obaga
Anita Fajelagmago
Alma L. Marasigan
Mani Luis
Elisa N. Lozada
Odette Rigor Gagarin
Ligaya Vente
Malou Leaño Buizon
Rani G Alejo
Carmelita Balantin
Alcomendras Lord Rivas Loyd
Amelia Ragada
Rochelle Crizaldo-Binauhan
Andoy Estrada
Cynthia Castillo Agra
Ivyjoy Pelayo
Ethel Bojos Goron
Everlyn Mendoza
Ofelia Jameri
Dexter Rapanut
Monar Cose
Diana Marchan Doldolea
Roger-Maria Acelo
Marcial Cayme
Roselma Cablinan
Gene Agustin
Christine Guinacaran
Mildred Vidal
Edwin Lucero
Liza M Guda
Lyndon Frias Garcia
Alvin Poquiz
Mitzie Flores
Ronald Drio
Quince Jane S.tingson
Marilou Buizon
Ellen Opena
Carmelita Balantin
Roren Ratac
Zandro Estrada
Proceso Paiton
Fatima C Mananggolo
Proceso Paiton
Lolit Saldivar Felicitas Cleofe
Ailene Doblada Adilog
Cherryl Bravo Lorejo
Heide Sta Maria
Rosie Solis Montoya
Should you have any questions or concerns regarding the above, please do not hesitate to contact us.
---
If you have completed the payment process, please fill out this form completely and accurately. Failure to complete this form in its entirety can result in a delay in establishing your TeacherPH account. You will receive a response within 24 hours. Thank you!
[contact-form to="teacherph.com@gmail.com" subject="2017 Principals' Test Online Review"][contact-field label="Sender's Name" type="name" required="1″][contact-field label="Email" type="email" required="1″][contact-field label="Facebook Account Name" type="text" required="1″][contact-field label="Mobile Number" type="text" required="1″][contact-field label="Address" type="text" required="1″][contact-field label="School and School ID" type="text" required="1″][contact-field label="Payment Method" type="checkbox-multiple" required="1″ options="PSBank Deposit,Cebuana Lhuillier,M Lhuillier,Palawan Pawnshop,LBC Pera Padala,Western Union"][contact-field label="Payment Control Number / KPTN / MTCN / Tracking Number / Deposit Number" type="text" required="1″][contact-field label="Message" type="textarea"][/contact-form]