This is in reference to DepEd Order (DO) No. 007, s. 2019 "School Calendar for School Year 2019-2020," DO No. 11, s. 2018 "Guidelines on the Preparation and Checking of School Forms" and DO No. 2, s. 2020 "Multi-Year Implementing Guidelines on the Conduct of the K to 12 Basic Program End-of-School Year Rites."
As prescribed in DepEd Order No. 007, s. 2019, 203 days shall be the total number of school days that shall be reflected in School Form 9 (SF9), Learner's Progress Report Card.
To determine the Number of Days Present, the actual number of days the learner was present shall be reflected. However, on days that classes were suspended, there is a need to qualify by indicating the number of days classes were suspended and Alternative Delivery Mode (ADM) was undertaken, e.g. 15 days suspended with ADM option. The number of days the learner was absent within the month prior to the class suspensions/Enhanced Community Quarantine (ECQ) period shall be reflected. For purposes of compliance with the required 80 percent attendance of a learner, the total actual absences prior to class suspensions will be the basic consideration. This means that a learner whose percentage of absence (No. of Days Absent/203 days X 100 = Percentage of Absence) is lower than 20 percent shall be deemed to have met the attendance requirement for the school year.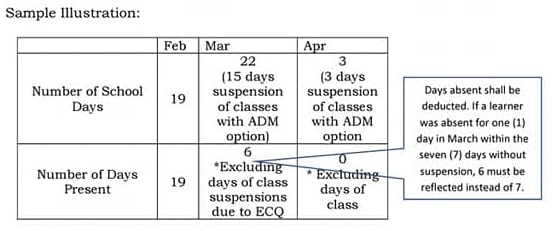 The suspension of classes from March 15 to April 14, 2020, is in compliance with the directives of the President, and the Memorandum issued by the Executive Secretary entitled "Community Quarantine over the entire Luzon and further Guidelines for the Management of the Corona Virus Disease 2019 (COVID-2019, and in accordance with DepEd Memorandum No. 42, s. 2020 entitled "Guidelines on the Alternative Work Arrangements in the Department of Education in Light of the COVID-19 Stringent Social Distancing Measures.
Pursuant to DO No. 007, 2019 and DO No. 002, s, 2020, the date of graduation/moving up that shall be reflected in the diploma/certificate shall be any date between March 30 to April 17, 2020, depending on the date of the actual conduct of the ceremonies. In cases where graduation/moving up ceremonies cannot be held, the date to be reflected shall be April 3, 2020.
For any clarifications or inquiries, please contact the Office of the Director IV, Bureau of Learning Delivery at email address bld.od@deped.gov. ph or through telephone numbers 8636-6540/8637-4347.
READ: DepEd Certificate Generator and User Guide