What will be the reference for the time allotment of the actual classroom teaching loads?
Time allotment of subjects is provided in the Part E of DepEd Order No. 31, s. 2012. These prescribed time allotments shall be used in determining the number of teaching loads of teachers.
DepEd Order on Time Allotment per Learning/Subject Areas
The time allotment for each subject is the minimum period for class interaction. The learning time can be extended to include off-school learning experiences at home or in the community for transfer of learning to real-life situations as provided for in the curriculum. The outputs of such off-school learning experiences are usually in the form of products and performances which shall be monitored and credited accordingly.
a. Mother Tongue is used as a Medium of Instruction (MOI) for Grades 1 and 2 in teaching Mathematics, Araling Panlipunan (AP), Music, Arts, Physical Education and Health (MAPEH) and Edukasyon sa Pagpapakatao (EsP);
b. Mother Tongue is taught as a separate Learning Area in Grades 1 and 2;
c. Filipino, as a Learning Area, is first introduced in Grade 1 during the second quarter (2nd Q)/grading period;
d. English, as a Learning Area, is first introduced in Grade 1 during the third quarter (3rd Q)/ grading period; and
e. Time allotment for the Learning Areas is specified below:
Time Allotment per Learning/Subject Areas Grades 1 and 2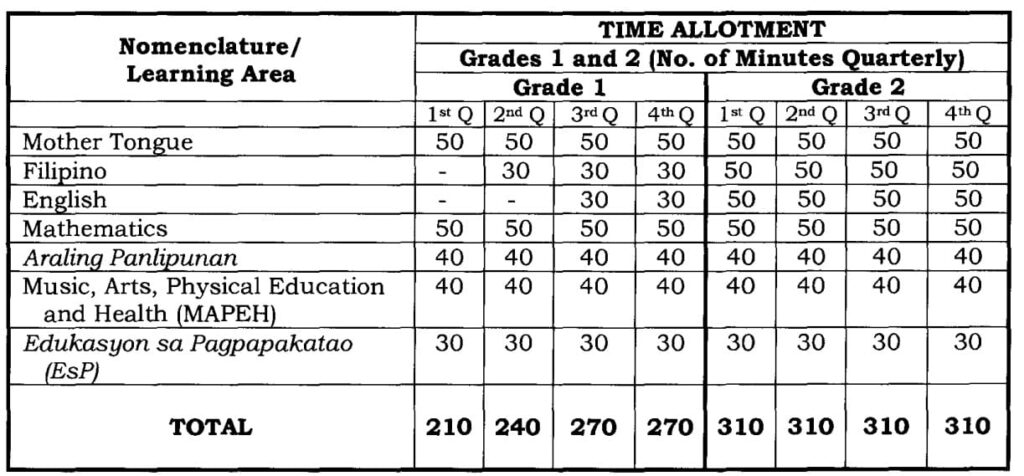 Time Allotment per Learning/Subject Areas Grades 1 to 6 and Grades 7 to 10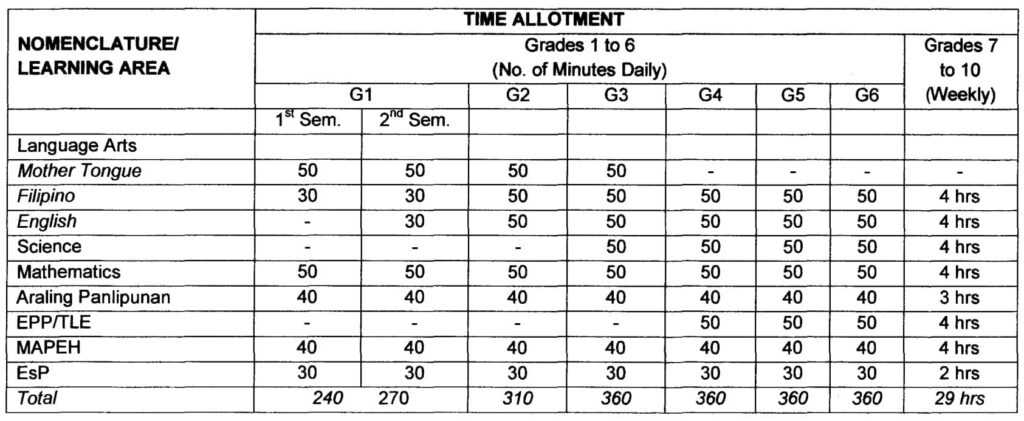 A one-hour period for Homeroom/Guidance Program is provided for the weekly meeting between the teacher-adviser and the class.
However, for grades 7 to 10 a separate period for Independent/Cooperative Learning ranging from two to four hours weekly may be provided as open time for learning in order to give students the option to learn on their own and/or with others those topics, content, or processes that they can handle by themselves. The provision of a separate period for independent and cooperative learning (i.e., on top of their adoption by teachers as a teaching strategy or instructional activity) is an option that schools might wish to consider for classes that can benefit the most from such class programming.
READ: FAQS ON WORKING HOURS OF PUBLIC SCHOOL TEACHERS
DepEd Order No. 31, s. 2012
DepEd Order No. 31, s. 2013