June 05, 2017
DepEd Memorandum No. 106, s. 2017
Conduct of Preliminary Activities Under DepEd Procurement Performance Enhancement Program
To:
Undersecretaries
Assistant Secretaries
Bureau and Service Directors
Regional Directors
Schools Division Superintendents
All Others Concerned
1. The administration of President Rodrigo Roa Duterte allocated P 567.5-Billion to the Department of Education (DepEd) for 2017 financial year. This allocation is 30.1% more than the 2016 allocation of P 345.9-Billion and is likely to increase annually to match international standard on the percentage of GDP allocated to education.
2. This increase in resources will address quality and access to basic education in the Philippines. Significant system reforms are needed if DepEd is to improve financial decision-making processes, evidence-based resource allocations, mechanisms for efficient budget utilization, and the extent to which resources address critical factors affecting the quality of education outcomes.
3. The current DepEd procurement processes and systems need to be enhanced to ensure efficient and effective utilization of allocated funds free from corruption and irregularities. The current procurement systems and processes are observed to be convoluted, time-consuming and have been identified as bottlenecks to delivering quality basic education to Filipino learners.
4. DepEd is keen to get started on breakthrough improvement of its procurement processes and systems. DepEd, through the Office of the Assistant Secretary for Procurement, Project Management and Field Operations, and the Basic Education Sector Transformation (BEST) Program, announces the implementation of the DepEd Procurement Performance Enhancement Program (PPEP) — a program envisioned to strengthen DepEd's management systems and promote good governance by furthering efficiency, transparency, competitiveness, accountability, predictability and legal compliance in its procurement processes and transactions.
5. The Program shall focus on the following objectives:
a. Development and implementation of a streamlined and standardized procurement management systems design, customized to the operations of the DepEd Central Office, the Regional Offices, the Division Offices and the various schools, as may be appropriate. This shall see to it that handbooks/manuals, standard forms and documents and personnel work descriptions are produced and implemented.
b. Professionalization and Capability-Building where procurement officials and personnel are taught and guided under a structured and sustained mentoring and coaching program designed to specifically address policy and operational issues that are encountered in the procurement frontlines.
6. The Project design spans a three year period that would start from a comprehensive assessment of the gaps and issues and ends in the implementation of the manuals/guidebooks. Continuous consultation, mentoring and coaching activities shall be undertaken for the whole duration of the project. However, under the first phase (i.e. AP3 under the BEST Program), the program shall initially undertake orientation, consultation and assessments with the different field offices. This shall hopefully continue until the end of a possible second phase (AP4).
7. The Program shall therefore set off from the conduct of activities (i.e. Orientation, Immersion, Focus Group Discussions, Systems Gaps Analysis and Competency Needs Assessment) involving the various schools division and regional offices in the regions, as follows:
| Regions | Date | Tentative Venue |
| --- | --- | --- |
| Region I and Cordillera Administrative Region (CAR) | June 7-9, 2017 | Baguio City* |
| Region IV-A (CALABARZON) and National Capital Region (NCR) | June 14-16, 2017 | within Metro Manila* |
| Region IV-B (MIMAROPA) and Region V | June 26-28, 2017 | Legazpi City, Albay* |
Note: Final venue shall be announced through an Advisory
8. Confirmation slips must be submitted at least five working days before the scheduled activity to facilitate billeting and meal accommodations and send through telefax no. (02) 633-5313 or email at oas.ppm@gmail.com.
9. No registration fee shall be collected from the participants, however, traveling and transportation expenses will be charged to local Maintenance and Other Operating Funds (MOOE), subject to the usual accounting and auditing rules and regulations.
10. The following documents are enclosed:
a. Enclosure No. 1: Confirmation slips of the participants; and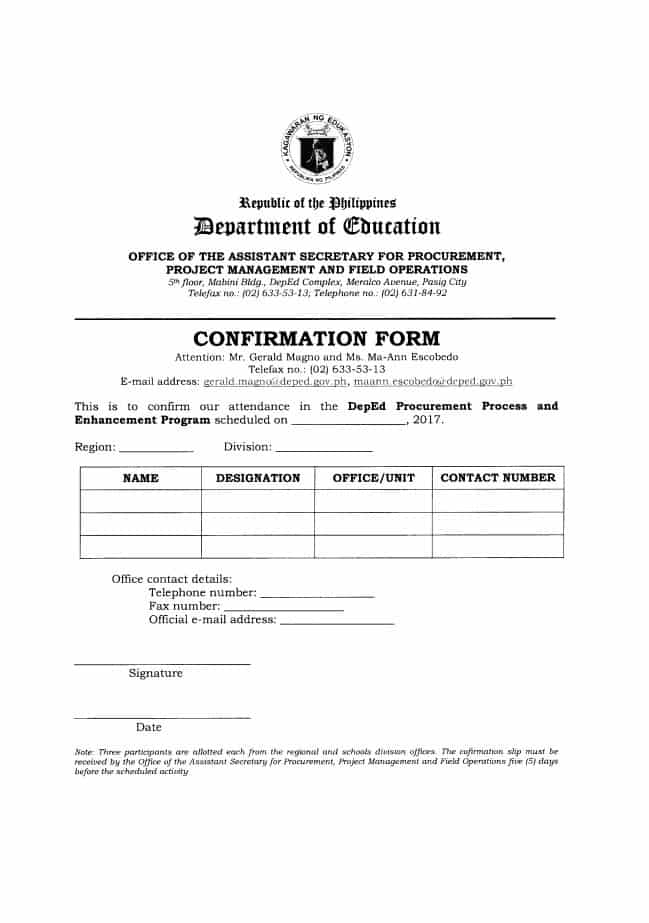 b. Enclosure No. 2: Program of activities
11. For more information, all concerned may contact either Mr. Gerald Magno of the Office of Assistant Secretary for Procurement, Project Management and Field Operations, Department of Education (DepEd) Central Office, DepEd Complex, Meralco Avenue, Pasig City at telephone no. (02) 633-5313 or through email address: gerald.magno@deped.gov.ph or Ms. Ma-Ann Escobedo of the same office at telephone no. (02) 631-84-92 or through email address: maann.escobedo@deped.gov.ph.
12. Immediate dissemination of this Memorandum is desired.
LEONOR MAGTOLIS BRIONES
Secretary
Read: