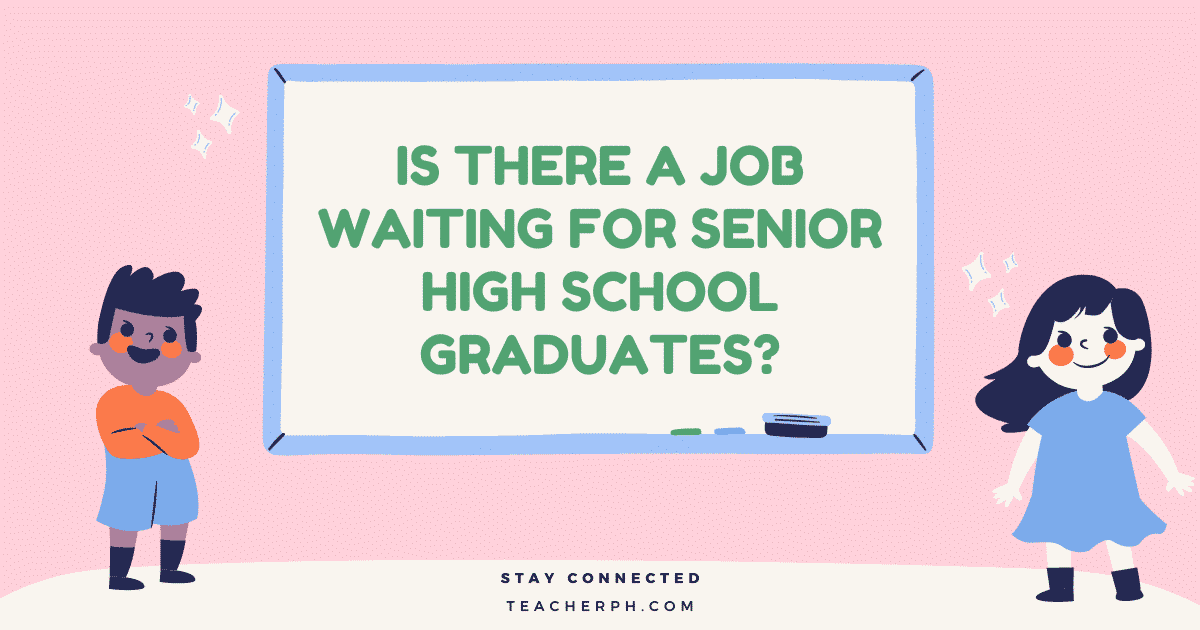 The Enhanced Basic Education Act of 2013 (RA 10533) added two additional years of senior high school in order to align with international benchmarks and offer more training to facilitate the work readiness of students. The Technical-Vocational-Livelihood (TVL) track has been offered to produce high school graduates with employable skills. Under this track, high school graduates would gain skills certificates that would allow them more options: pursuing post-secondary studies such as college education or middle-level skills development courses, as well as apprenticeship programs that could lead to employment or entrepreneurship. These are the objectives that gained massive support for its implementation.
However, after producing three batches of Senior High School graduates, it appears that employability cannot be guaranteed due to several reasons and that substantial time may still be needed for the curriculum implementation to work through. The two studies conducted by Philippine Institute for Development in 2018 and 2020 found that most of the SHS graduates continue with higher education rather than enter the labor market and that the lack of clear labor market advantage of SHS over Grade 10 completers calls for a re-examination of the work preparation component in the SHS curriculum.
The Philippine Business for Education (PBED) claimed that many companies accept only job applicants with at least two years of college education, which potentially excludes SHS graduates. The hesitance to hire SHS fresh graduates was confirmed by the Philippine Chamber of Commerce and Industry'sIndustry's Human Resources Development Foundation Inc. (PCCI HRDF). Private firms believe that the necessary skills and training that industries need are not yet provided by the current SHS program, pointing to the minimum school requirement of 80 hours for work immersion, which is not enough for in-depth exposure of TVL students to skills application and for acquiring soft skills that are necessary for them to land a job, such as communication skills, work ethic, teamwork behavior, leadership skills and correct attitudes and values for the kind of work they are going to be in. These are manifestations that industries are yet to be convinced about what SHS graduates can do before hiring them. Technological skills and soft skills like creativity and problem-solving are the fourth industrial revolution economy's emerging skill needs. Therefore, there is a need to justify the responsiveness of the K to 12 curriculum and the school environment's capacity in preparing graduates for industry needs.
Producing world-class workers does not happen only because of additional two years minus the classrooms and facilities along TVL track necessary to develop practical and industrial skills among our Senior High School graduates especially under TVL track which plays a vital part in their potential employability. Insufficient laboratory rooms, lack of skilled teachers, limited references, and lack of learning modules congruent to the competencies indicated in the Curriculum Guide, delayed and limited MOOE for SHS logistics, lack of related training, lack of networking linkages or partnerships with government agencies, industry and non-government organizations (NGOs) for employment opportunities are unfavorable realities in the course of implementation.
The Department of Education (DepED), Commission on Higher Education (CHED), and Technical Education Skills Development Authority (TESDA) are the government entities involved in crafting the Implementing Rules and Regulations of Republic Act No. 105331. Their participation has a direct impact in facilitating the development of TVL Competencies in relation to the acquisition of practical skills of every Senior High School graduate. Unfortunately, new graduates find it very difficult to find a job because of the perceived incompetence in technical and vocational skills. This happens because there are no industry-based facilities provided for them to have hands-on experience and extensive exposure to the prevailing culture of work. Continued reliance on the Joint Delivery Voucher Program to remediate the problems in facilities and skilled teacher shortage in the public senior high schools may not solve the issue. The billions of funds allocated for this program since FY 2017 could have been used to engage the TVL teachers in the necessary professional and skills development and eventually complete the facilities and equipment that the public schools needed to ensure quality learning delivery.
While it is true that unemployment, in general, is due to the level of preparedness of our economy to accommodate work and that DepEd should not end up bearing full responsibility for every student who fails to land a job, it is disheartening that there is no clear country-wide policy to prioritize Senior High School graduates' entry to employment. For instance, taking and passing the NCII Assessment has been left to parents' discretion. It has not been considered a requirement when it is one of the important information about their competency levels that could surely enhance their employability. With regards to the willingness of the government to demonstrate how they trust our SHS graduates, strong coordination among government and education institutions is yet to be established, for there does not appear even one shared concrete roadmap and coordination among them as of today. As an illustration, only low positions in the local government units (LGUs) can be offered due to existing policies of the Civil Service Commission (CSC), and this can also be expected from the private firms. The study of Orbeta et al. (2018) recommended that the Civil Service Commission (CSC) consider the review of government job positions that require high school graduates, i.e., salary grade level 6 and below and Qualification Standard (QS) and that there is a need to differentiate among SHS graduates, JHS completers, and the old four-year high school graduates and study how to put a premium on SHS graduates. Alignment of strategies and clarity at all relevant levels of government on the development of skills in our workforce is indeed crucial for the success of the Senior High School program.
The Philippines is an archipelago. It has several islands and islets, making it even more difficult for Senior High Schools with fewer resources and branding clout to attract industry partnerships. For this reason, some Grade 12 learners residing in coastal barrios who desire to get a high school diploma are compelled to settle with whatever immersion opportunity is available in the locality to comply with graduation requirements. Another ignored situation are those localities which have low economic activities. How can practical skills be enhanced when internship or apprenticeship is barely realized? These are serious problems worth considering for curriculum and policy adjustment. The promised development of employable competencies among graduates taking TVL courses by the Senior High School program will remain a dream if these challenges are not addressed.
Senior High School promotes emotional preparedness among students to take on the challenges of the workforce. DepEd aimed to produce job-ready graduates. But their practical work experience is not enough to get them hired in multi-national companies that set their standards of skills competence, mental and emotional readiness.
There may be a need to consider and exercise flexibility within our education system to revise the curriculum based on forecasted future industry needs and local demand. A needs assessment has to be conducted regularly so that School Heads are well guided to the kind of specialization under the TVL track that has the highest demand of employment in the local setting. Let us not forget that the learners who opted to take the TVL track are expecting more skills training that may lead them to productivity at work. Yet we put too much pressure by burdening them with mandatory and lengthy research projects and more academic subjects not related to their objective of gaining employment after graduation. Singapore has continually adapted to the evolving skill needs of its economy over the past two decades. Their Teach Less, Learn More program has been implemented to allow teachers to allocate more time to activities that hone the technology and soft skills such as creative and critical thinking (Ong Ye Kung, 2018). In the same manner, Australia, Japan, South Korea, Malaysia, and Thailand have made adjustments to their education policies to include computer science as part of core academic subjects in schools (World Economic Forum, 2018).
There is nothing wrong with all these changes. In fact, change has always been inevitable. People from all walks of life must learn to subscribe to the requirements of a new environment. Let us be realistic and pro-active in initiating ways to realize our dream for our learners to be competitive and competent workers. Addressing problems and coming up with a long-term solution will surely make our Senior High School graduates employed, beaming with pride and competence. In doing so, we can let every Filipino shine in the generation of a knowledgeable and skillful workforce. Only then we can proudly say that our K to 12 Program is a SUCCESS!