The Department of Education (DepEd) will conduct the National Oplan Balik Eskwela (OBE) for School Year (SY) 2022-2023 at the Bulwagan ng Karunungan, DepEd Central Office, DepEd Complex, Meralco Avenue, Pasig City. The Oplan Balik Eskwela (OBE) is a DepEd annual initiative to engage agencies, organizations, and other stakeholders in preparation for the opening of the SY 2022-2023.
Oplan Balik Eskwela is a part of the Department's effort to ensure that learners are well-informed about the educational opportunities available during COVID-19. It aims to address common enrollment-related issues, questions, and concerns. For this school year, Oplan Balik Eskwela will strengthen its synergy with the Department's Brigada Eskwela to engage agencies, organizations, and other stakeholders in contributing to educational needs, particularly at this crucial time.
READ: Oplan Balik Eskwela (OBE) for School Year (SY) 2022-2023
Enrollment Status for School Year 2022-2023
The latest data from the Department of Education (DepEd) revealed that over 16 million students have enrolled for the upcoming school year.
According to data from the Learner Information System (LIS) for School Year (SY) 2022-2023, as of August 5, there are currently 16,029,252 students registered for the upcoming academic year.
Region IV-A continues to have the most enrollees, with 2,367,246, followed by the National Capital Region with 1,870,470 and Region III with 1,570,722.
Kindergarten has the most enrolled students per grade level with 1,060,138, followed by Elementary (Grades 1 to 6) with 7,376,586.
There are 5,179,673 students enrolled in grades 7 through 10 (junior high school) and 2,412,855 students enrolled in grades 11 and 12. (Senior High School).
On July 25, DepEd opened enrollment for public schools. DepEd has announced that enrollment will continue until August 22, 2022, the first day of classes.
DepEd urges parents and guardians to enroll their children in school as quickly as possible.
DepEd schools are implementing various enrollment methods, including in-person, remote, and dropbox enrollment, to ensure everyone's safety.
DepEd stated that learners can now enroll in the Alternative Learning System (ALS) in person or online.
DepEd acknowledged at a recent press conference that the start of classes "will not be without obstacles."
Despite this, the agency remains optimistic that collaboration can overcome these obstacles.
From August 22 to October 31, schools will be permitted to implement blended learning, according to DepEd.
On November 2, 2022, it is anticipated that all schools offering basic education will have transitioned to five days of in-person classes.
Oplan Balik Eskwela (OBE) Social Media Card – Enrollment for SY 2022-2023
Oplan Balik Eskwela (OBE) Gate Tarpaulin 8x6ft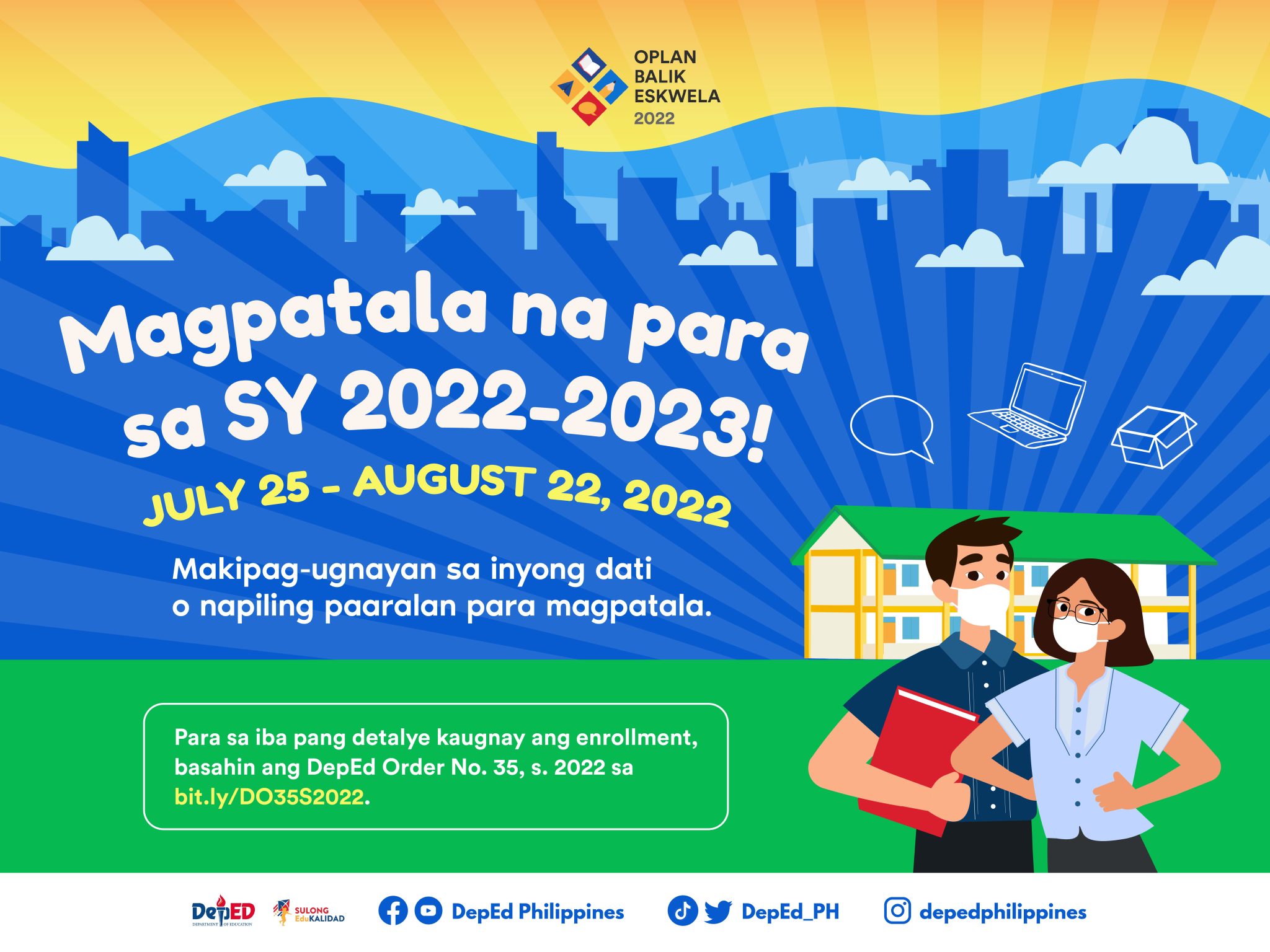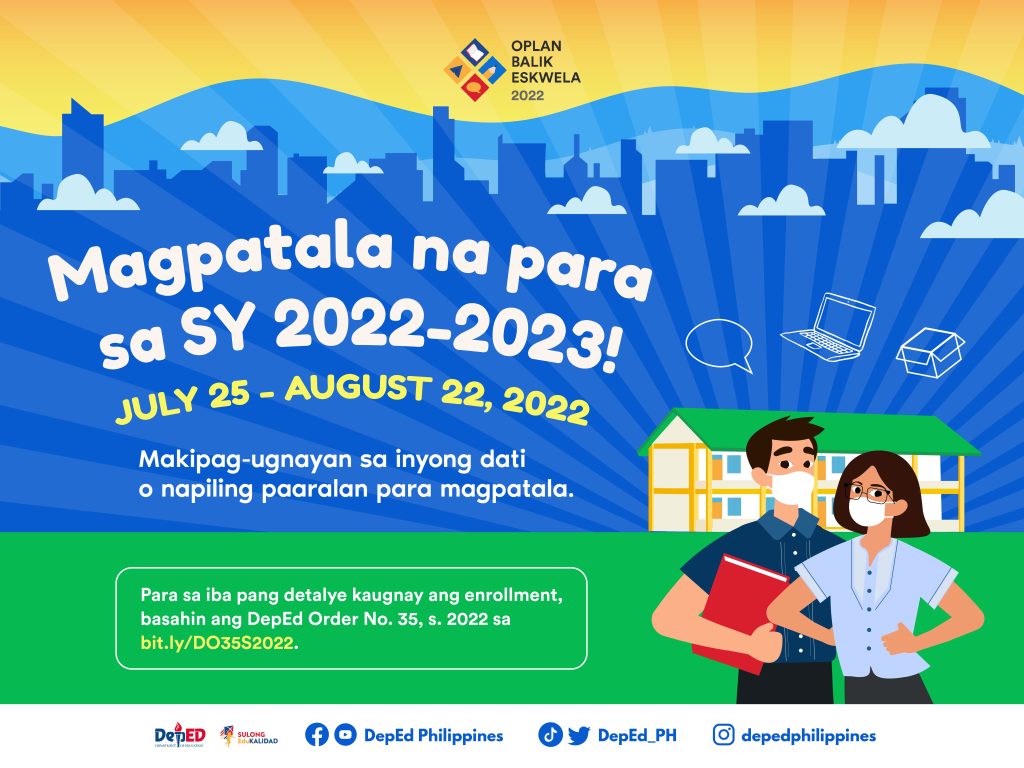 Oplan Balik Eskwela (OBE) Outdoor Tarpaulin 6x4ft
Oplan Balik Eskwela (OBE) Social Media Card for Field – Enrollment for SY 2022-2023
Oplan Balik Eskwela (OBE) Gate Tarpaulin 8x6ft for Field
Oplan Balik Eskwela (OBE) Outdoor Tarpaulin 6x4ft for Field