Reading was the main subject assessed in PISA 2018, so it provides a benchmark against measuring the learning attained across Elementary and Junior High School (JHS) levels.
The impact of students repeating a grade during elementary or secondary level on their reading performance was discussed in our previous article titled "Transition Issues Between Learning Stages in the Philippines."
Declining Performance in Reading From Early Years Into High School
PISA 2018 data shows that 15-year-old students in Grades 9 and 10 who repeated a grade at least once at the elementary level scored at least 52 points less in reading than non-repeaters, while those who repeated a grade at least once in the junior high school level scored at least 71 points less in reading than non-repeaters. This illustrates that reading fundamentals must not have been learned in the early grades.
Another important outcome of the PISA 2018 data analysis showed that more than a third of students (37%) who spent only three years in early childhood programs attained at least Level 2 proficiency in reading.
In comparison, the vast majority (96 percent) of those who spent less than a year in ECEC fell below Level 2. Students who delay entering elementary school seem likelier to score lower on reading than those who entered at the right age.
A vital element of the K to 12 Basic Education Program reform was the use of the mother tongue as the medium of instruction and learning that was introduced through the Mother Tongue-Based Multilingual Education (MTB-MLE) program.
The program was evaluated using adaptations of the Early Grade Reading Assessment (EGRA) tools to assess the reading skills of Grade 3 pupils for SY 2017-2018.
The EGRA tool assessed pupils' foundational literacy skills, which included the following: Identifying names and sounds of letters, identifying initial sounds of words, reading words that are commonly used in their language, reading non-words using their knowledge of phonics, fluently reading and comprehending a narrative text, answering comprehension questions about a short story after listening to it, and writing a dictated sentence following proper writing convention.
The EGRA tool was adapted and translated to five selected mother tongues from different regions in the Philippines from where the data were collected.
The findings provided a baseline of students' reading performance in selected mother tongues (MTs). They provided a pre-cursor to the use of the Early Language Literacy and Numeracy (ELLN) program discussed below.
The main finding of this research was that there were significant regional variations across language groups and subtasks in the EGRA responses for MTB-MLE that require contextualized responses to address causes unique to each region and language group.
This has important implications for teaching reading in early grades and remediation beyond Grade 3 if children do not gain reading proficiency before proceeding to Grade 4.
The ELLN program is specifically targeted toward K to Grade 3 learners with specific objectives that all K to 3 learners will be equipped with (i) fundamental literacy and numeracy skills and (ii) competencies needed for academic success in later key stages.
The assessment of ELLN 2017-18 is shown in Figure 1 and reveals that students are performing at a low proficiency in the subjects designated as English and Filipino.
It is not surprising given that English is introduced in the latter part of Grade 3, but Filipino literacy is also low.
OECD defines reading literacy as understanding, evaluating, reflecting on, and engaging with texts to achieve one's goals, develop one's knowledge and potential and participate in society.
When ELLNA data is further analyzed in terms of mother-tongue, the proficiency levels do not change substantially to those found for English and Filipino (as shown across 18 different mother-tongues reported earlier).
Early Language, Literacy and Numeracy (ELLNA) Mean Raw Scores
Figure 1: Early Language, Literacy and Numeracy (ELLNA) Mean Raw Scores, by Gender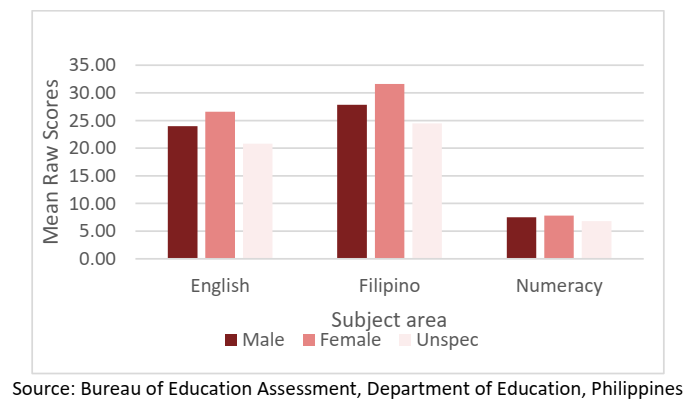 The foundations for reading comprehension were already low for Grade 3 pupils in 2013, and by 2019 the national averages for English and Filipino Oral Reading Fluency had declined by 10.5 and 8.3 percentage points, respectively, as shown in Figure 2.
Oral Reading Fluency in Grade 3 English and Filipino
Figure 2: Oral Reading Fluency in Grade 3 English and Filipino, 2013 and 2019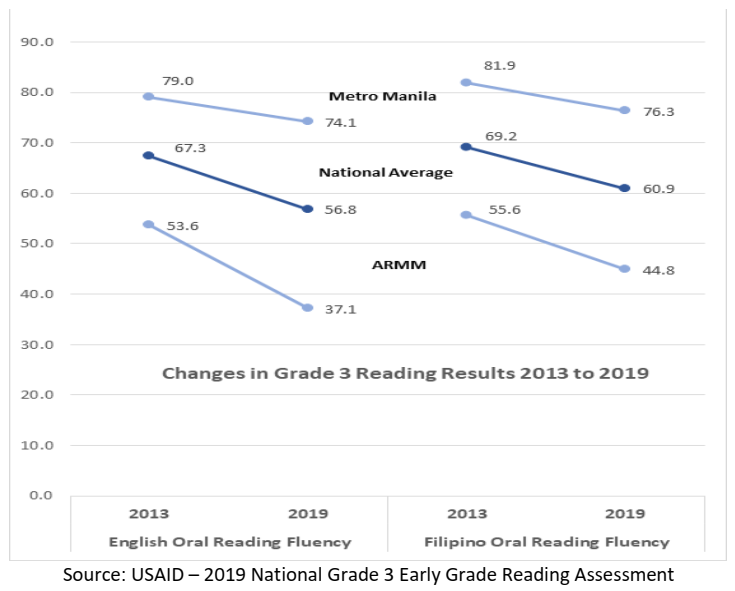 One element of the PISA 2018 assessment related to reading results was a questionnaire to gather student perceptions about their performance and feelings towards school.
Students' Positive Feelings and Reading Performance
Figure 3: Students' Positive Feelings and Reading Performance


Students who reported feeling positive emotions tended to perform better in reading, and a one-unit increase in the positive feelings index was associated with an 8-score point increase in reading (after accounting for the socioeconomic profiles of students and schools).
When the positive emotions are analyzed individually, reading scores increase with the frequency with which students reported feeling each emotion, except for "feeling proud" (figure 3). Students who reported sometimes or always feeling joyful scored at least 53 points higher in reading.
PISA 2018 also found that only 31 percent of students in the Philippines, as opposed to the OECD average of 63 percent, held a growth mindset, among the lowest proportions of all participating countries.
A growth mindset is a belief that one's abilities and intelligence are malleable and that intelligence can be developed over time. This means that 60% of Filipino students tested at age 15 have a fixed mindset, believing that intelligence is an unchangeable trait that cannot be altered through experience.
Belief in a growth mindset was associated with better reading performance, particularly among girls and advantaged students. (Figure 4).
Across OECD countries, the relationship between a growth mindset and reading performance was stronger among disadvantaged students. However, the PISA data shows that the opposite was seen in the Philippines, where a 76-score point gap was observed in favor of advantaged students.
Both girls and boys increased their scores when they endorsed a growth mindset, but the score-point difference was significantly higher at 12 points in favor of girls.
Growth Mindset and Reading Performance
Figure 4: Growth Mindset and Reading Performance, by Student Characteristics
Although this data represents a narrow band of 15-year-old-students on the cusp between JHS and SHS, it may have significant implications for teaching reading across all age groups.
A positive school classroom learning climate and the need for students to have a growth mindset is essential. With this group of Filipino students, their fixed mindset was restricting their reading performance, which may be extending across all years of schooling.
Source:
Office of the Undersecretary for Administration (OUA)