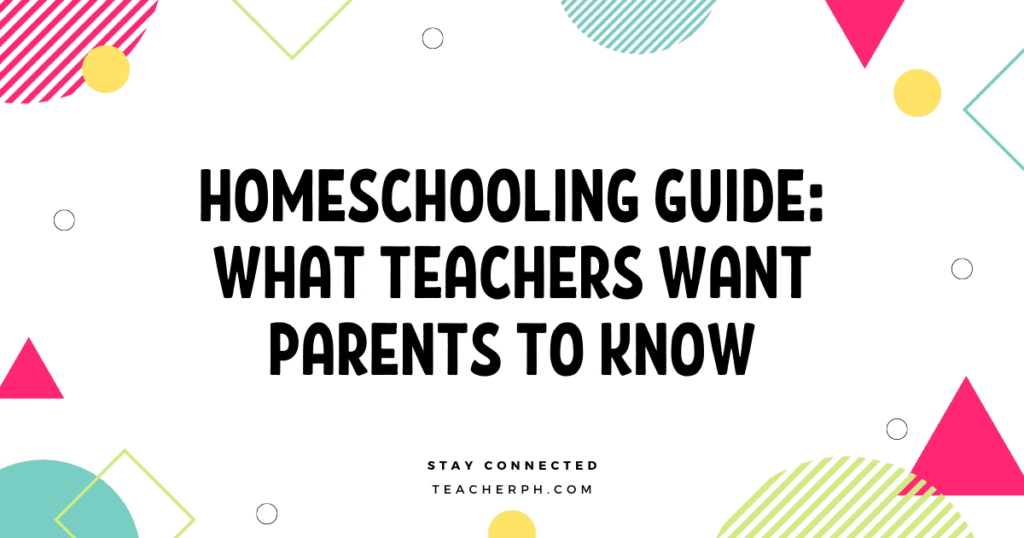 Few people understand the challenges and stresses of homeschooling quite like teachers. Schooling your children at home can pose plenty of unique obstacles—especially as you'll be taking on the roles of both parent and teacher at the same time. 
Thankfully, homeschooling your kids is completely legal in the Philippines, although it is a relatively new educational option and not yet widely accepted. There are an estimated 12,000 families in the Philippines that are currently educating their children from home. You can learn more about the legal implications of homeschooling and find valuable resources on the Home School Legal Defense Association's official website here.
Homeschooling has become a reality for thousands of Filipino children and parents due to the COVID-19 pandemic, and thousands more are set to adopt this educational approach in the near future.
Here are five things that local teachers want parents to know about homeschooling so that they can provide their children with the best possible quality of education at home.
1. Establish Yourself as a Teaching Authority
You will already have a relationship with your children as a parent, but homeschooling requires a different level of respect. It would be best if you built a teacher-pupil bond with your kids while making it clear that you will maintain the same boundaries and structure that a traditional teacher would.
Your teaching relationship with your children needs to be based on respect, understanding, support, and mutual enthusiasm for learning. You can motivate them to learn at home by finding the balance between covering the Philippines curriculum and encouraging them to engage with the topics they are studying.
You can achieve this even if you have never homeschooled children before. Do you remember your school days? The teachers you will remember most fondly are likely those who took a personal interest in your education. Your kids will thrive in a home education environment if you do the same for them.
2. Understand That Your Children Need Friends
You can be a parent and a teacher, and you can even be your child's friend, but they still need to spend time with other children too.
Homeschooling can provide a fantastic educational foundation, but it tends to fall short when it comes to socializing. Homeschooled kids may seem mature for their age as they regularly interact with adults, but they still need to foster social bonds with children in their age groups to develop healthily.
You can ensure that your children's social needs are met by keeping in touch with other families who have kids of similar ages to them. You can discuss educational approaches and techniques with these families if you wish while also ensuring that you can enjoy some social opportunities too.
3. Provide Supervision and Structure
Filipino children have dozens of distractions in the modern age. There are smartphones, tablets, video games, and so many other tempting activities to steer their minds away from their studies. You need to provide supervision and structure for your children while homeschooling them to encourage them to focus on learning. This is particularly true for children under the age of 10, and you may even have to supervise kids who are attending online classes with other teachers.
If your children are older than 10, you can offer them more autonomy over their lessons. Carefully monitor their progress and assess how well they can learn and study independently without your input.
You can help provide structure by setting up a dedicated learning area in your home that's only for classes. Add desktop computers, desks and chairs, educational supplies, stationery, and brightly colored educational posters, along with anything else your kids may need during school time. Make the space comfortable, attractive, and appealing, so they want to spend time there. If possible, have an open window or door to let fresh air in and keep the temperature down.
4. Encourage Independent Learning
Traditional education systems in the Philippines provide plenty of information for their students to learn, but it isn't always holistic in nature. Children are complex beings whose thoughts, opinions, and prior experiences shape how they learn and develop.
Kids are also curious and always eager to explore and learn new things in ways that resonate best with them. Your role should help them understand the information they gain and teach them how to apply it to the real world.
Ultimately, you will want to teach your children how to learn independently so that they can explore topics of interest on their own. If you spark a passion for learning within them, it will come naturally to them, even after they have graduated from school.
Follow an approved curriculum when homeschooling your children, but their education should not end there. Keep them eager to gain new knowledge, and they will become successful, self-motivated learners for life.
5. Set the Example Yourself
Your children will look to you as their parent and teacher for guidance. You can set a positive example for them during school hours by showing your own passion for learning and encouraging theirs.
It may be challenging for your children to maintain enthusiasm if they lack interest in the subjects you teach. They will notice your boredom instantly and might even emulate it.
It isn't easy to homeschool kids, especially if you feel stressed, out of your depth, or overwhelmed. However, you must keep a positive mindset and remain eager to teach and learn alongside your children.
You can also set a good example and solid boundaries by setting strict rules regarding leisure time, screen time, and distractions. If your whole family is at home at the moment, write down directions for all of them so that they know how to conduct themselves during your children's class times.
Young people learn by example, so it's up to you to show them what proper self-discipline entails. Once you do so, they will be far more likely to follow your lead and dedicate themselves to their studies.
A Viable Alternative To Traditional Schooling
Homeschooling is a perfectly legal and viable education option for Filipino parents and their children.
Follow the advice from local teachers above to give your kids the structure, discipline, and inspiration they need to thrive in a home learning environment.