July 17, 2017
DepEd Memorandum No. 123, s. 2017
OBSERVANCE OF THE 2017 NATIONAL DISASTER RESILIENCE MONTH
To:
Undersecretaries
Assistant Secretaries
Bureau and Service Directors
Regional Directors
Schools Division Superintendents
Public and Private Elementary and Secondary Schools Heads
All Others Concerned
1. The Department of Education (DepEd), through the Disaster Risk Reduction and Management Service (DRRMS), instructs all regional (ROs) and schools division offices (SDOs) to observe the National Disaster Resilience Month (NDRM) in accordance with DepEd Order (DO) No. 25, s. 2017 entitled School Calendar for School Year 2017-2018. This is pursuant to Executive Order (EO) No. 29, s, 2017 entitled Renaming the National Disaster Consciousness Month to National Disaster Resilience Month and Shifting its Focus from Disaster Awareness Building to Disaster Resilience, with the theme 4Ks: Kamalayan sa Kahandaan, Katumbas ay Kaligtasan.
2. In view of this, all ROs, SDOs and schools are expected to undertake relevant activities that emphasize building disaster resilience covering the four thematic areas of disasters, namely, disaster prevention and mitigation, disaster preparedness, disaster response, and disaster rehabilitation and recovery. Conduct of such activities may vary from one or more of the following:
a. display of streamers indicating this year's theme (see enclosed);
b. orientation on the different health hazards;
c. devotion time for discussion Disaster Risk Reduction and Management (DRRM);
d. symposium or forum on DRRM; and
e. other related activities to:
i. ensure heightened awareness and consciousness among school administrators, teachers, personnel and school children nationwide on what to do before, during and after the occurrence of all forms of possible hazards in their respective areas; and
ii. strengthen the capacity of individual learners and DepEd personnel to adapt to and recover from the effects of hazards and disaster through effective risk management.
3. All schools and offices are encouraged to coordinate with their local DRRM councils (LDRRMCs) and concerned agencies, to conduct abovementioned activities to mark the significance of the occasion.
4. Schools may use the preparedness guidelines of the Department of Science and Technology-Philippine Atmospheric Geophysical and Astronomical Services Administration (DOST-PAGASA) that are available in their respective websites as reference to the DRRM activities.
5. Further, all schools shall conduct the school watching and hazard mapping stipulated in DO 23, s. 2015 entitled Student-Led School Watching and Hazard Mapping.
6. For more information, all concerned may contact the Disaster Risk Reduction Management Service (DRRMS), Department of Education (DepEd) Central Office, 2nd Floor, Mabini Building, DepEd Complex, Meralco Avenue, Pasig City at telefax no.: (02) 637-4933 or through email address: drrmo@deped.gov.ph.
7. Immediate dissemination of this Memorandum is desired.
LEONOR MAGTOLIS BRIONES
Secretary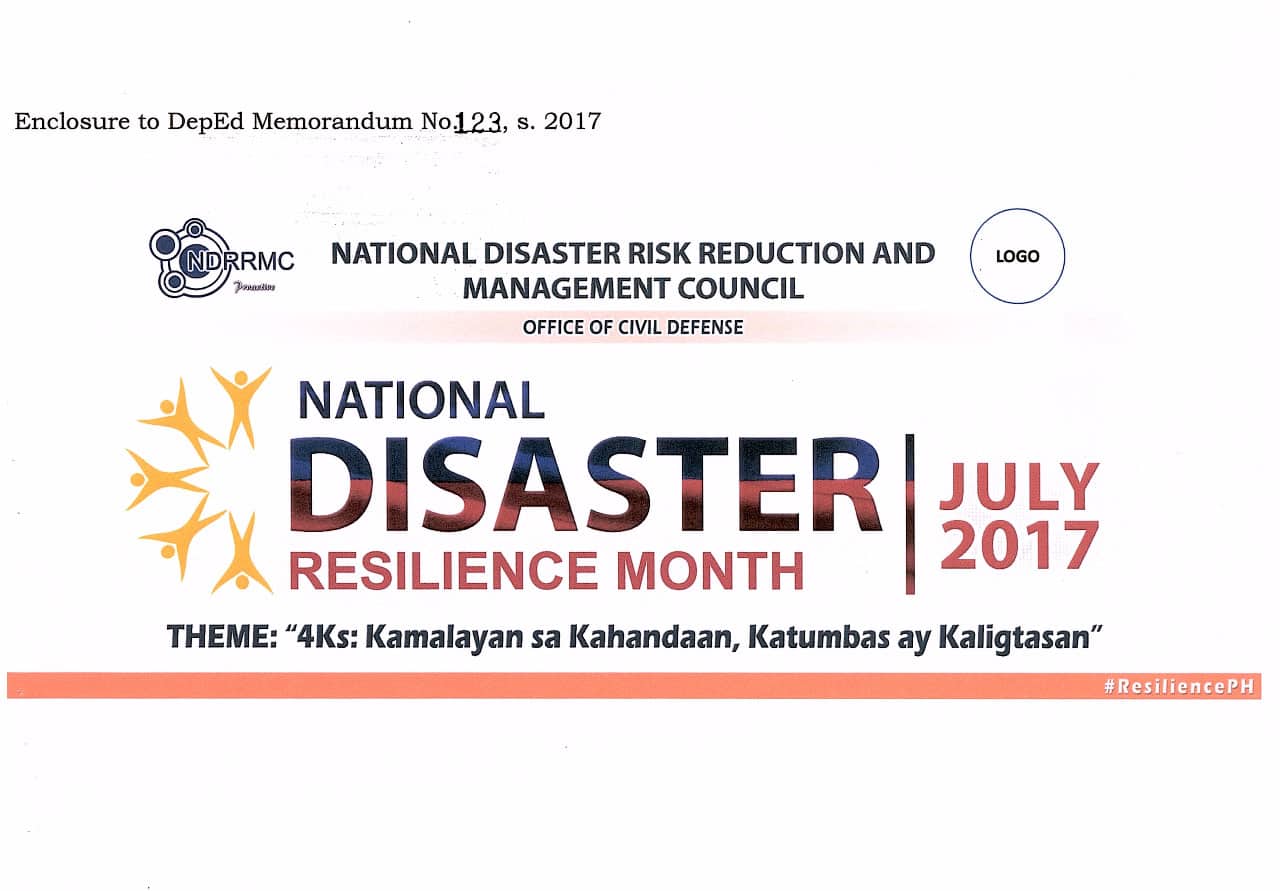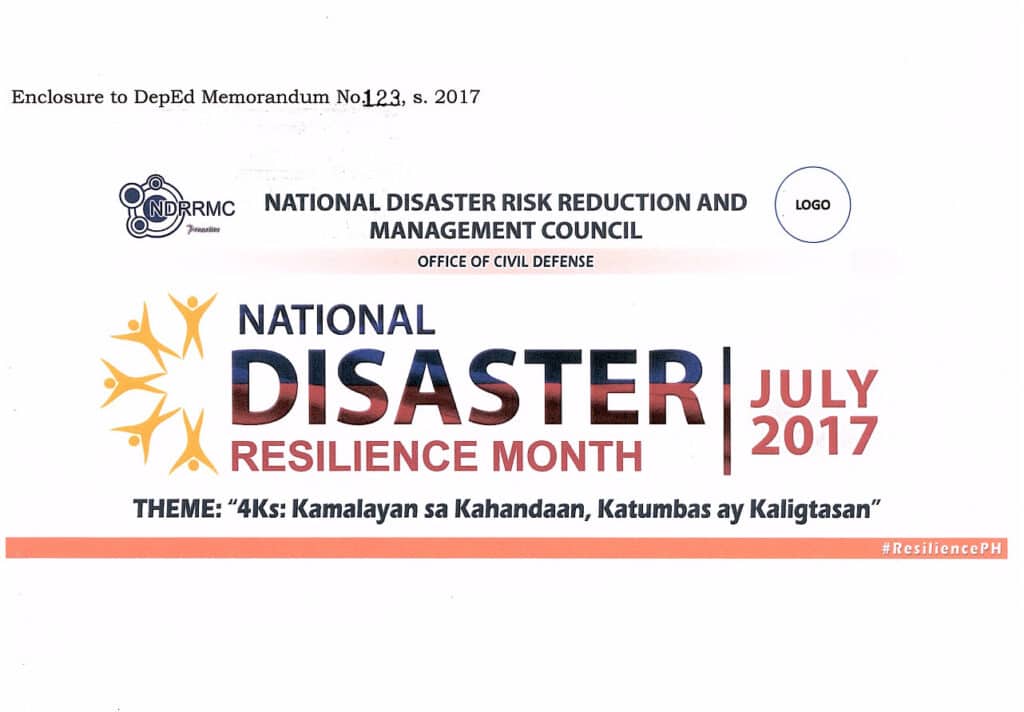 Read:
DM 122, s. 2017 – Memorandum on Preparation of Monthly Budget Utilization Reports of Programs, Activities, and Projects
DM 121, s. 2017 – Clarification on the Implementation of Portfolio Assessment in the Alternative Learning System