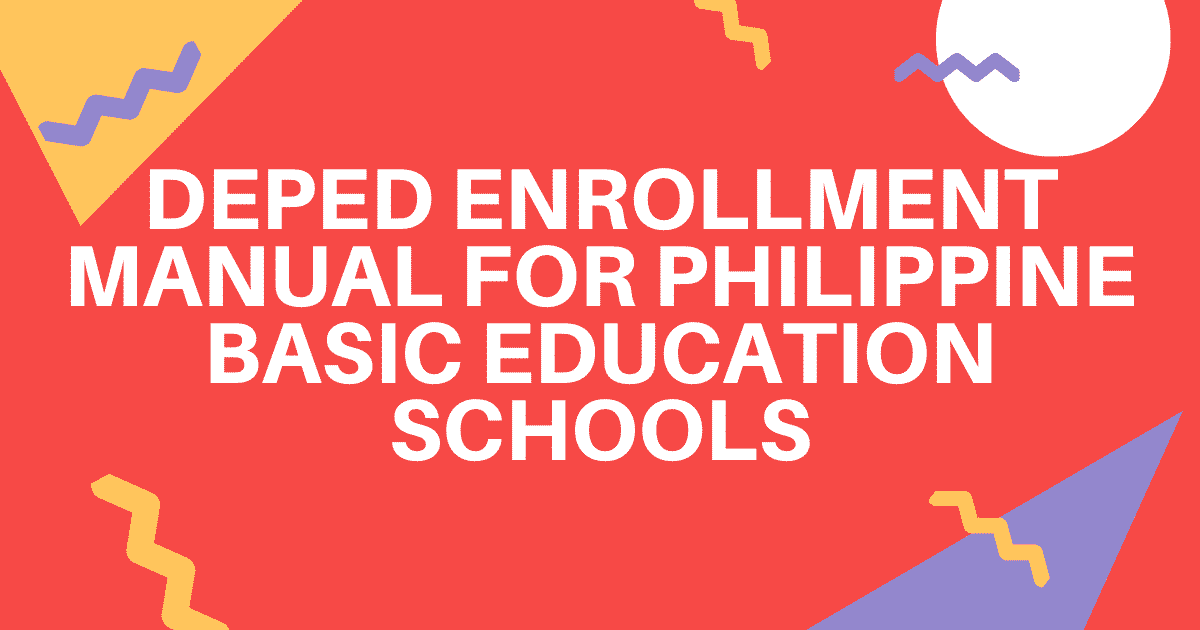 The Department of Education (DepEd) releases the Enrollment Manual for Philippine Basic Education Schools for School Year 2020-2021.
DepEd Enrollment Manual for Philippine Basic Education Schools as of May 30, 2020
Every Filipino family values education of their children as the top priority among other things. In this time of pandemic, this should not be put to halt as stressed by Education Secretary Leonor Magtolis Briones in many of her statements. "We push boundaries and explore new paths for quality education to continue and find ways for learning."
This Enrollment Manual aims to provide salient information on basic questions that the public may ought to know in ensuring that their children will receive proper education as the school year formally begins. However, given the current health situation, there are several factors to be considered depending on the location of the learners, the available means of communications, and the status of their community. One thing is only sure, every school has its unique way of implementing its enrollment policy and procedures to maintain peace and order, while observing the minimum health standards prescribed by the government.
More than ever, relevant, valuable and timely information should be ample and disseminated in this critical time. Virtual press conference, statements and releases are made regularly to update the general public. Our website deped.gov.ph makes all the issuances available for reading and downloading. Our Facebook DepEd_Philippines is active to receive queries, while our Public Assistance Center has hotlines, text messaging and emails are also accessible anytime of the day and capable to respond in a jiffy.
The enrollment procedures in public schools combine all activities involved in the entire enrollment process following guidelines issued by several authorities. Due to current health situation, this might happen both online and offline, particularly in private schools, but the overall objective is to help our learners be admitted and enrolled in schools.
Given the current health situation, we should expect any changes and adjustments not only in the enrollment process but in the entire system as well. For our health and safety, everybody is enjoined to persevere, cooperate and be flexible to cope with the changes affecting teaching and learning as part of the new way of living.
DepEd Enrollment Manual for Philippine Basic Education Schools Table of Contents
INTRODUCTION
POLICY STATEMENT
SCOPE
ENROLLMENT PROCEDURES
SCHOOL CALENDAR
FEES
HEALTH
LEARNING MATERIALS
PRIVATE SCHOOLS
ALTERNATIVE LEARNING SYSTEM
REMEDIAL/SUMMER CLASSES
SHS VOUCHER PROGRAM
EDUCATING SERVICE CONTRACTING PROGRAM FOR JHS
BAYANIHAN SA PAARALAN – JOINT BRIGADA ESKWELA AND OPLAN BALIK ESKWELA
ATTACHMENTS:
DEPED ORDERS AND MEMO
ENROLLMENT POPULATION