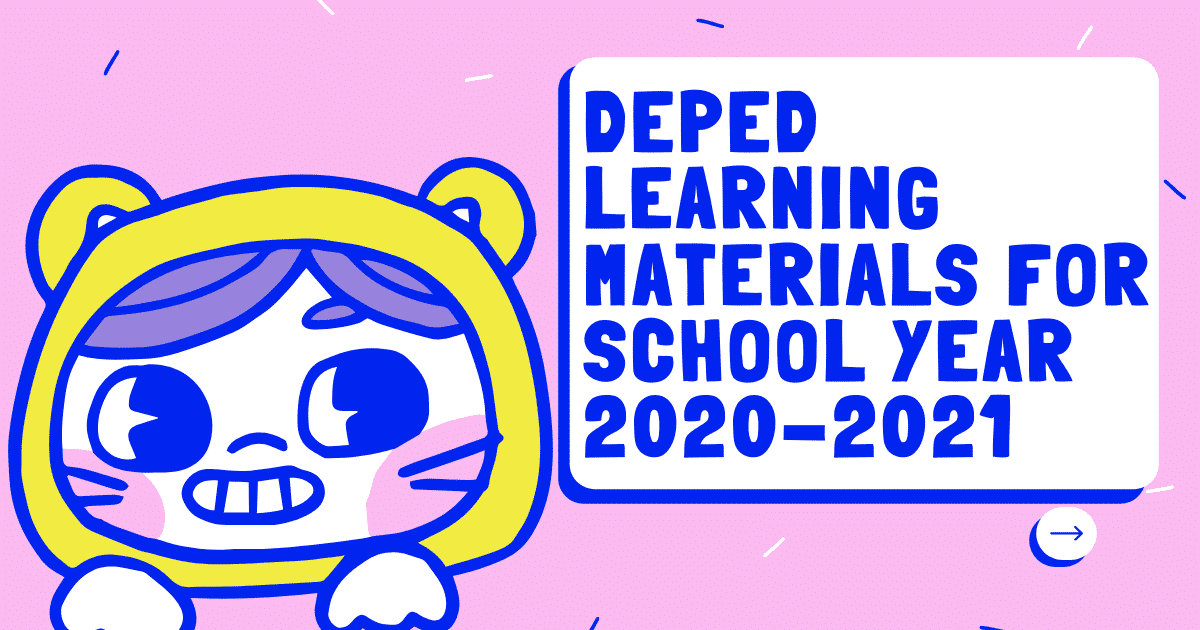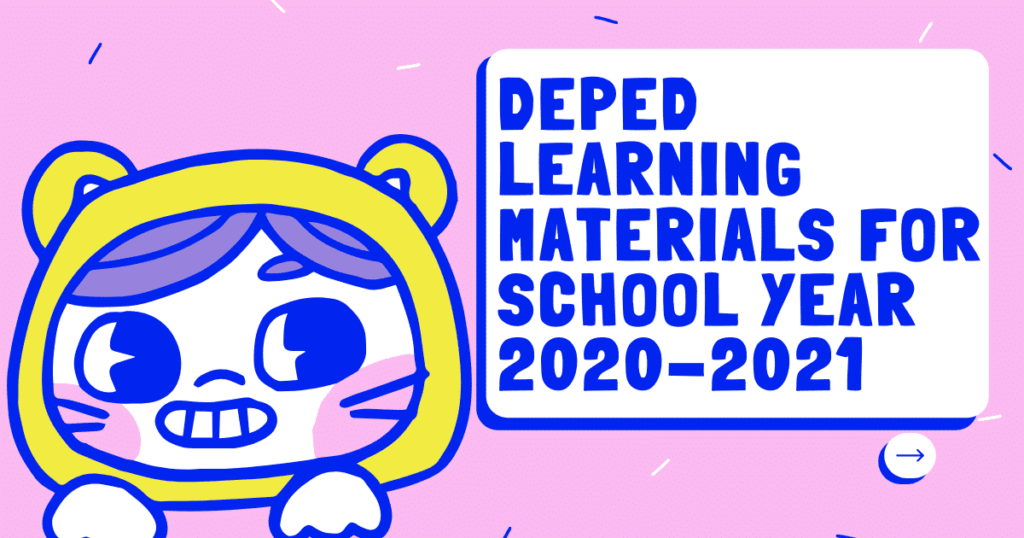 Based on the ongoing inventory by the Bureau of Learning Resources (BLR) of printed, digital offline and online materials, and educational videos, DepEd presently has the following:
1. From the Private Sector:
Globe ELibrary – provides students and educators with free and quick access to digital storybooks and eLearning videos
Available only for a limited period:
Buri Books – largest ebook library of Filipino children's books
Frontlearners – contains e-lessons and e-quizzes for English, Filipino, Mathematics, Science, and Social Studies

Textbooks
ADM modules, printed and digitized
Educational TV
Open educational resources
Activity sheets and worksheets •Lesson exemplars
Assessment tools
2. DepEd LR Portal – contains quality assured materials that can be printed for use in home-based activities
3. DepEd Commons – currently being populated with interactive e-books that provide weekly lessons for use in home-based activities
DepEd Inventory of Available Learning Resources
| Grade Level | List of Materials |
| --- | --- |
| Kindergarten | K to G3 – Story books thru Competition Writing, Kindergarten Activity Sheets, ADM K Learning Kit |
| Grade 1 to 3 | Primer Lessons for Grade 1, Story books thru Competition Writing, G1 Eng -Activity Sheets, LMs and TGs |
| Grade 4 to 6 | LMs & TGs for Grade 4, TM and TX for 5 & 6 |
| Grade 7 to 10 | TXs & TMs, TGs and LMs |
| Grade 11-12 | TXs & TMs, LMs & TGs, Readers, Manuals, PRIMALS PLUS Self-Learning Modules for Core Subjects |
ADM Self-Learning Modules crafted by all Regions from Kindergarten to Grade 12
Core Subjects plus Applied Subjects covering all Essential Learning Competencies
2016 Grade 5 Buffer Materials for all Learning Areas
2017 Grade 6 Activity Sheets for All Learning Areas
IMPACT Modules crafted and reviewed by SEAMEO Innotech
Levelled Readers by BASA Pilipinas for Grades 1 to 3
SHS Modules crafted by CHED
Knowledge Channel Session Guides for each Episode- ongoing
Frontlearners' online materials – to be mapped
Learner's Materials – to be mapped
MG self-instructional tools for learners available in MG schools
Learning resources such as activity sheets for enrichment, reinforcement, and formative in support to DAILY LESSON PLAN EXEMPLARS and INTEGRATED MG LESSON PLAN EXEMPLARS.
The tools were designed in different levels of difficulty by grade level and subject based on the principles of differentiated instruction. Available subjects: MT, FIL, ENG, SCIE, MATH, AP
Other subjects are also available but still for refinement: EPP, EsP, MAPEH
DEPED READINESS FOR DISTANCE LEARNING
Ensure learning continuity through K to 12 curriculum adjustments, alignment of learning materials, various modalities of delivery, corresponding teacher and parent/ guardian training;
Linking and bridging the LCP with DepEd's pivot to quality and into the future of education, under the framework of Sulong EduKalidad and Education Futures;
Conduct of curricular and co-curricular activities involving gatherings such as science fairs, showcase of portfolios, trade fairs, school sports, campus journalism, festival of talents, job fairs, and other similar activities are canceled, except those conducted online;
DepEd Academic Quarters for School Year 2020-2021
The academic quarters will have 8 weeks of teaching-learning activities
Q1: 24 August 2020-16 October 2020
Q2: 19 October 2020-12 December 2020
INSET Break: 14-19 December 2020
Q3: 4 January 2021- 26 February 2021
Q4: 1 March 2021-30 April 2021
Periodical examinations on last
2 days of the final week of each quarter
Classroom Assessment for School Year 2020-2021
To ensure the quality of learning, classroom assessment, namely, formative and summative assessments shall be conducted by the teachers to track and measure learners' progress and to adjust instruction accordingly. Paper-based, offline or online format assessment shall be conducted, whichever is appropriate in the context of the learner;
Specific Learning Modalities
Regions, Divisions, and Schools a authorized to decide on the specific learning modalities which they may deem appropriate to their contexts;
a. Learning Delivery Modes, Technologies, and Strategies:
Traditional Face to Face
Face to Face combined with Modula Learning
Distance Learning through Modules, Online, and Educational Television (ETV)

Printed
Offline Digital
Online Digital
Educational Television
Homeschooling
b. Modality depending on local COVID situation and access to platforms
c. Local choice and contextualization
Curriculum Adjustments – Identification of Most Essential Learning Competencies
Preparation/Professional Development of Teachers and School Leaders for Multi-Modal Learning Delivery
Prepare teachers to adopt, implement and manage distance learning modalities
Capacitate school leaders to implement and manage the distance learning system at the school and community level
Regular Professional Development Program
Preparation / Orientation of Parents and Household Partners
Anchoring to Sulong EduKalidad
Bridging LCP into the broader Sulong EduKalidad and into the future
Elements of the LCP that can be part of the new normal and futures
NEAP Transformation Priorities: Multi-Skilled Teachers and Multiskill Units
Classroom, Online, Broadcast, and Off-Classroom Modules: Reimagining the Learning Space
Training of Teachers, School Leaders, and Household Partners
Prepare teachers to adopt, implement and manage remote learning modalities as an alternative and/or complementary delivery modality to face-to-face (in-school) learning
Capacitate school leaders to implement and manage the remote learning system at the school and community level
Improve readiness of household partners in supporting learners while on remote learning at home setting
Suggested Activities
The DepEd Mobile App must be enhanced to cover the inventory of potable water, sanitation and hygiene (WASH), availability of health and hygiene kits and equipment, state of internet and connectivity, state of health of personnel and learners (school health records), Preventive Alert System in Schools (PASS as per DO34s03), safety and emergency tracking, and Rapid Damage Assessment Repot (RADAR as per DO21s15), among others.
Policies must be issued to prepare and ensure a safe learning environment:
Contextualizing OK sa DepEd given the "new normal" (e.g., development of modules, health services available through mobile apps, website and social media platforms for OK sa DepEd)
Convergence of programs between BLSS, DRRMS, and ICTS
Health promoting practices in schools which should be practiced as soon as the school opens (e.g., Rapid Classroom Inspection/ daily random inspection by class not only for hygiene but also for common ailments requiring medical interventions at the school clinic; handwashing; bringing of masks in schools for use if one learner in a classroom develops mild cough/ colds; bringing of own handkerchief, spoon, and fork; required thermo-scanning, serving of vitamin C-rich juices and other healthy food options)
Mobilization and capacity building of school health personnel to conduct:

Regular health inspections in the classroom
Intensify heath education and promotion giving emphasis on school social distancing measures, promotion of good hygiene
Distribution of health commodities, among others
Home-based health education/ promotion utilizing multimedia platforms (e.g., health modules on DepEd Commons)

Ensure community participation in learner's safe and successful return to school (enhanced Brigada Eskwela) factoring in COVID-19 protective measures and in ensuring continued health practices at home, and intensified partnership, especially with professional organizations, for COVID-19 response.
Schools shall adopt national COVID-19-related policies to be incorporated in the Annual Improvement Plan (AIP).
Proposed DepEd Lesson Continuity Plans
Face-to-face classes resume as is – Status quo scenario.
Face-to-face classes resume with social distancing – Learners will be allowed to bring home DCP devices which will be preloaded with the appropriate lessons so some of the learners can do their classes at home, others may also use personal devices.
The remaining learners will attend traditional face-to-face classes with social distancing.
Learners will only go to school for assessments, for socialization, and for lessons that cannot be conducted online, but this should be done on a shifting basis to ensure that social distancing parameters can still be implemented.
Quarantine occurs in a specific locality -Online classes will be the primary mode of delivery using personal devices and DepEd Tablet PCs with preloaded lessons that will have to be picked up or delivered to the learners. TV, radio, and paper-based lessons will also be adapted for children who will not have access to any device.
Assessments can be done only after the quarantine period is lifted.
This requires that the DepEd Commons will have content for each week in the school calendar for the 12-grade levels and each of the subject areas.
The DepEd needs to produce 60 e-learning resources per week assuming that there are five subject areas for a total of 2,400 resources in a 40-week school calendar.
The Bureaus under the Curriculum and Instructions (CI)strand are already mobilizing their field personnel to come up with weekly lessons per grade level and subject area. CI is also currently mapping out their Alternative Delivery Mode (ADM) materials vis-avis the essential competencies, and from there identify the gaps for ADM materials development.
ICTS started online trainings on how to convert the weekly lessons that would be quality assured by the CI strand into e-learning resources that would be uploaded into the DepEd Commons.
By end of April, ICTS will have trained via online webinars at least 1,000 DepEd personnel who can be mobilized to convert the weekly lessons into e-learning resources. These e-learning resources would be interactive, would have audibles for the visually blind, and have text embedded in video materials for the hearing impaired at least for materials that are in English. For materials that are in the vernacular, there are ongoing discussions with external partners to translate these into the Philippine sign language which would be embedded into the interactive materials.
As the Education Cluster lead in the country's NDRRMC, the DRRMS has convened the Education Cluster and other partners in a video conference with the CI strand, together with ICTS, to discuss support for education continuity, ranging from developing or providing ADM learning materials aligned to the K-12 curriculum, including those on COVID-19 and precautionary measures, supporting the digitization of materials, providing equipment for online delivery, printing out and disseminating hard copy materials to schools through their field networks/chapters.
The DRRMS will review and consolidate the materials on COVID-19, including those relating to mental health, that can be used for the ADM learning materials; while the SHD will do the same for WINS and health and nutrition.
Discussions with Knowledge Channel have also commenced to map out all their content, video and audio, against the curriculum so they can be aired through these mediums if the learners do not have any device available.
Paper-based modalities will be adopted in cases where technology cannot be used because of the unavailability of devices. Local radio networks shall also be mapped out to extend the delivery of lessons via this modality. CI will determine the appropriate combination of online, TV, radio, and offline modalities of delivery.
Activities which still need to be threshed out is the training of teachers using online modalities to prepare them to adjust to the new landscape of using technology and other modalities in conducting classes while ensuring that social distancing is implemented.
The DepEd Commons must be enhanced to make it into a more complete solution which would allow teachers to track the progress of the learners, blend online discussions and other activities into their classes, incorporate selective access of proprietary content to the appropriate learners, incorporate analytics that would allow DepEd to better respond to the requirements of learners and incorporate more security parameters to protect the information of our learners.
In addition to the enhancement of the DepEd Commons, the Learner Information System (LIS) must also be enhanced to make it more flexible in terms of rapidly collecting new learner data that may be needed to respond to the COVID-19 situation.
A Learning Management System (LMS) must also be procured/developed to facilitate blended learning and digital tests.
A Classroom Management System (CMS) is needed to be procured/ developed to facilitate the use of technology in the classroom while social distancing practices are being implemented.
There is also a need to establish an Education Technology Division under the ICT Service which would further conceptualize and operationalize the use of technology to enhance teaching in the classroom and as a means of delivering alternative education in the context of COVID-19 and future disasters, calamities or crises.
Sample Distance Learning Approaches in the Context of Technology Inequity (Front learners, Inc.)
Source: Department of Education (DepEd)