Attached herein is the Memorandum signed by Undersecretary Alain Del B. Pascua together with the diagrams of Process Flow and Escalation Procedures that end-users are expected to observe when seeking support on issues in DepEd information systems (IS) access and usage.
This outlines the flow of communications if there will be issues in information systems of the Central Office such as BEIS/EBEIS, DPDS, EHRIS, LDIS, LIS, LR Portal, PTOAS and PMIS.
DEPED INFORMATION SYSTEMS HELPDESK PROCESS FLOW AND ESCALATION PROCEDURES
The Information Systems Helpdesk of the Information and Communications Technology Service – User Support Division (ICTS-USD) is established as the point of contact for technical concerns on the information systems (IS) of the Department of Education (DepEd).
To streamline the process of assisting users of the Department's ISs, it issues the enclosed diagrams of (1) Helpdesk Process Flow and (2) Escalation Procedures.
Attached with these diagrams is a written guide outlining the flow of transactions and processes of the Helpdesk and escalation paths that end users are expected to observe when seeking support on issues in IS access and usage.
For more information, contact the ICTS-USD at Rooms B-204-205, 2nd Floor, Bonifacio Building, DepEd Complex, Meralco Avenue, Pasig City through telephone no. (02) 633-7264 or email at icts.usd@deped.gov.ph.
Thank you.
ALAIN DEL B. PASCUA
Undersecretary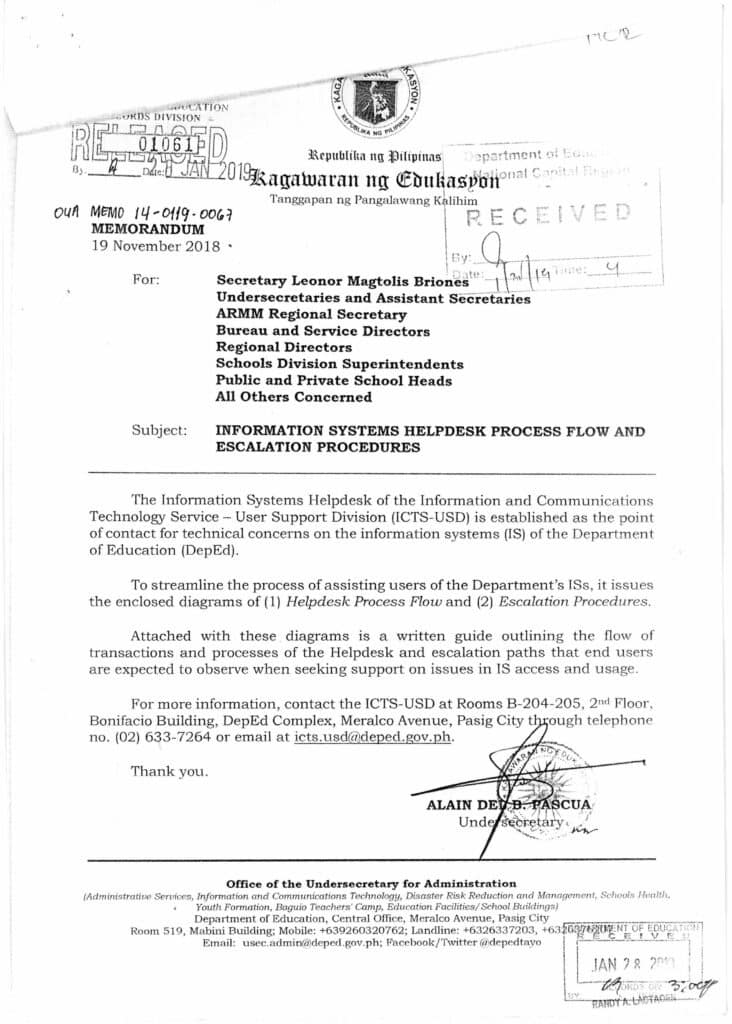 DepEd Helpdesk Process Flow and Escalation Procedures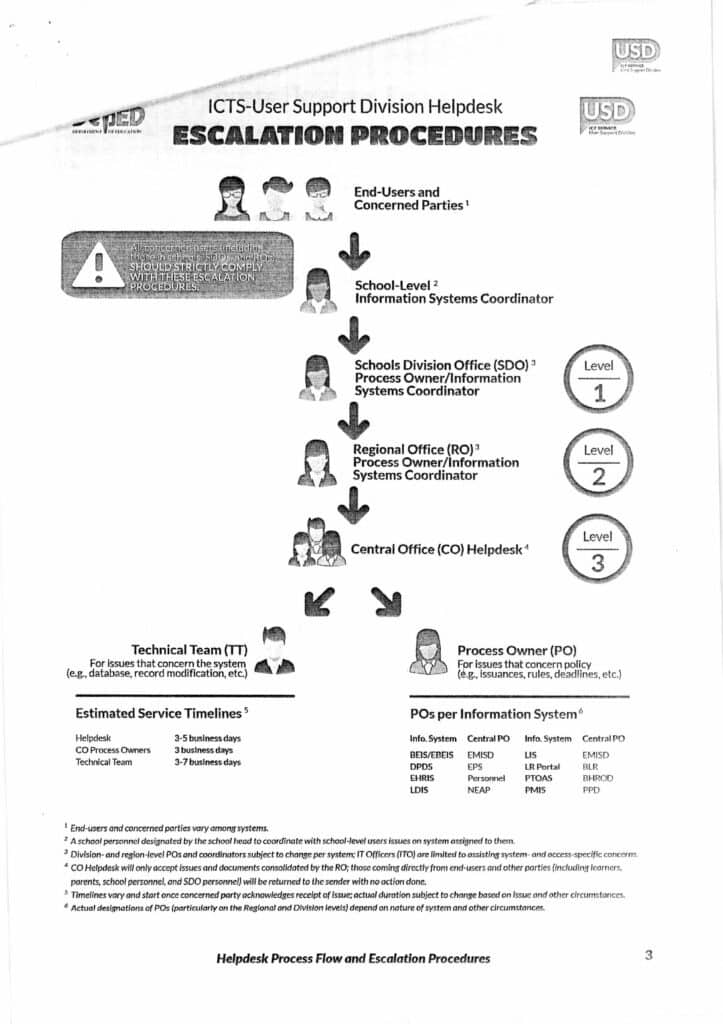 End-users and concerned parties vary among systems.
A school personnel designated by the school head to coordinate with school-level users issues on system assigned to them.
Division- and region-level POs and coordinators subject to change per system; IT Officers (ITO) are limited to assisting system- and access-specific concerns.
CO Helpdesk will only accept issues and documents consolidated by the RO; those coming directly from end-users and other parties (including learners, parents, school personnel, and SDO personnel) will be returned to the sender with no action done.
Timelines vary and start once concerned party acknowledges receipt of issue; actual duration subject to change based on issue and other circumstances.
Actual designations of POs (particularly on the Regional and Division levels) depend on nature of system and other circumstances.