DepEd Public School Teachers' claim that a heavy workload results to divided time and attention in the delivery of their core business – teaching.
Review forms and processes
Revisit policy for Ancillary Services
A policy that allows the teacher to focus on teaching
READ: Transition to Career Progression: 2020-2021 Performance Requirement for Promotion
DepEd Teachers' Workload Policy Study PowerPoint Presentation & Full Text
DepEd Order No. 16, s. 2009
Since 2012, the Planning Service has worked to rationalize teachers workload.
Phase 1 – Adoption of Modified School Forms (SF1 to SF 7)
Phase 2 – Adoption of Simplified School and ALS Forms (Forms for Kinder, SHS, SF 8 to SF 10)
Phase 3 – Standard Procedure on Checking School Forms
Ancillary Services:
Revisiting Deped Memorandum 291, s.2008 Guidelines for the Implementation of CSC Resolution No. 080096 on Working Hours for Public School Teachers
DepEd Memorandum No. 291, s. 2008
Study Direction
Establish Baseline Information
Inventory and profiling of workload/ancillary task
Gather procedures/practices of the tasks
Gather Feedback and Suggestion
Identify difficulties and challenges
Gather suggestions
Policy Recommendation
Conduct research on related existing policies/provisions
Draft policy proposal
What is the DepEd Policy?
Provisions of DM 291, s. 2008
Paragraph 2.b – 6 hours actual classroom teaching (6 teaching loads at 1 hour per teaching load) – all advisorship and/or special assignments for the entire school year combined shall be considered as one teaching load
Paragraph 2.c – A teacher with less than six (6) hours of actual classroom teaching shall render additional hours of appropriate teaching-related activities and duties (enumerated in par.2.d) within the school premises to complete six (6) hours
Paragraph 3 – Overtime pay or service credit for more than six hours of actual teaching or more than eight hours of work in a day within the school premises
Magna Carta for Public School Teacher (RA 4670 & Deped Memorandum 291, s. 2008)
For All Public School Teachers (including class adviser)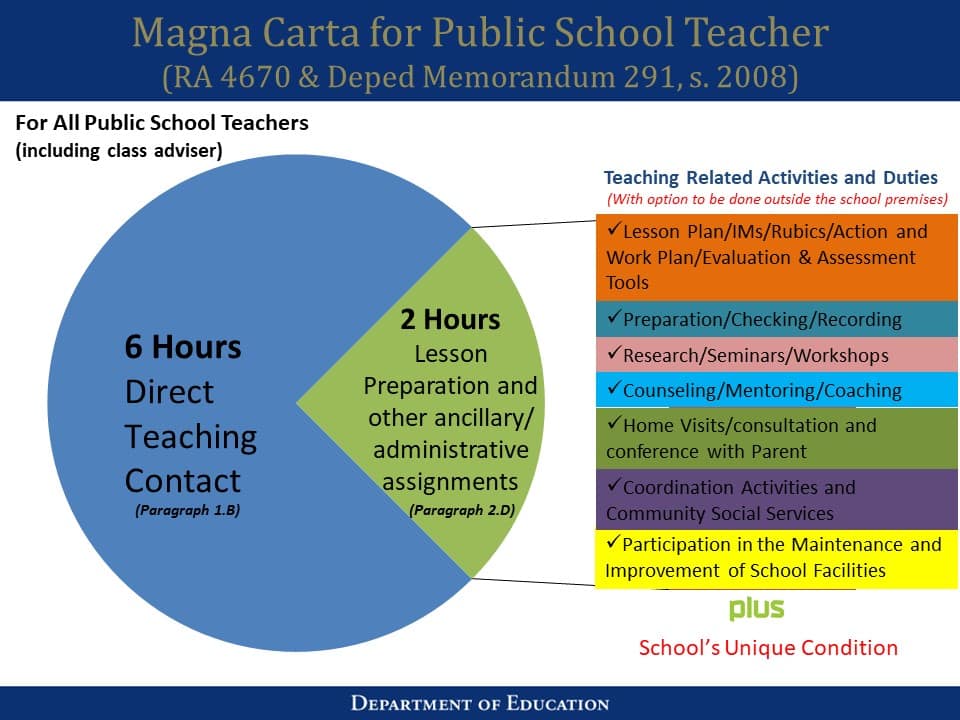 Teaching Related Activities and Duties
Lesson Plan/IMs/Rubics/Action and Work Plan/Evaluation & Assessment Tools
Preparation/Checking/Recording
Research/Seminars/Workshops
Counseling/Mentoring/Coaching
Home Visits/consultation and conference with Parent
Coordination Activities and Community Social Services
Participation in the Maintenance and Improvement of School Facilities
Plus School's Unique Condition
For Public School Class Adviser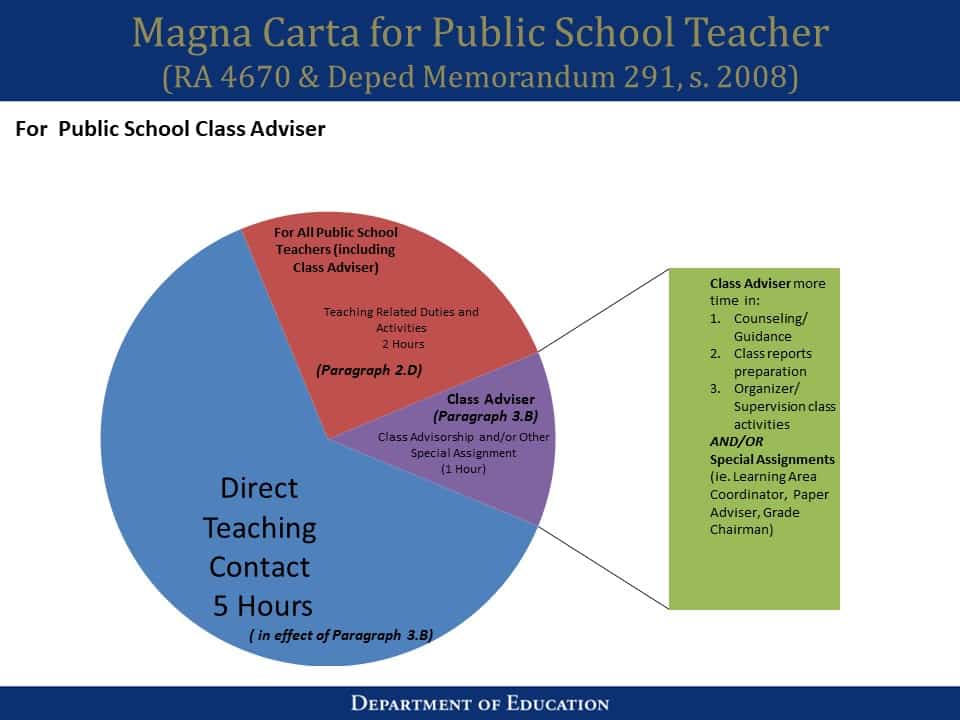 Class Adviser more time in:
Counseling/ Guidance
Class reports preparation
Organizer/ Supervision class activities
Special Assignments (ie. Learning Area Coordinator, Paper Adviser, Grade Chairman)
Most Common Public School Teachers Ancillary/Administrative Assignments
Brigada/DRRM
Feeding /Gulayan
Sports and other Event Competitions
Learning Area Coordinators
Health Assessment and 4Ps updating of Attendance
Others (various coordinatorship)
Baseline Information
1. Inventory of Teachers' Tasks and Assignments
a. Teaching Related
Class Adviser
Subject Teacher
b. Program and Projects
c. School Management
d. Inter-Agency/LGU/NGO Activities
2. Profiling and Procedure for Each Task/Assignment
a. Purpose/Objective
b. Responsible
c. Process Owner (Overseeing)
d. Schedule
e. Frequency
f. Estimated Hour
g. Core Process/Procedure
h. Report Requirement
i. Challenges/Difficulties
j. Workload Category : Heavy/Medium/Easy
Workload Equivalency
Heavy Load
Key Operation
daily
5+ hours per week including report preparation
1 Teaching Load
Medium Load
Major Operation
weekly
1-4 hours per week including report preparation
0.5 Teaching Load
Light Load
Minor Operation
Monthly/quarterly
Less than 1 hour per week including report preparation
0.25 Teaching Load
Initial Categorization
| | | |
| --- | --- | --- |
| Heavy (daily, 5+ hours weekly) | Medium (weekly, 1-4 hours weekly) | Light (monthly/quarterly |
| Class Adviser | Subject area Coordinator | Phil-IRI Coordinator |
| Feeding Coordinator | Grade level Coordinator | 4Ps Coordinator |
| Canteen Manager | School Paper Adviser | SBM Coordinator |
| Guidance Coordinator | Scouting Coordinator | Child Protection Officer |
| ICT/LIS/EBEIS Coordinator | DRRM Coordinator | GAD Coordinator |
| Health Officer | YES-O Coordinator | Property Custodian |
| Sports Coordinator | | School Facilities Coordinator |
| Library Custodian | | Learning Resource Coordinator |
| Gulayan Coordinator | | Remedial Class Coordinator |
| | | SSG Adviser |
| | | WiNS Coordinator |
TEACHING LOAD AND ANCILLARY ASSIGNMENT COMBINATION MATRIX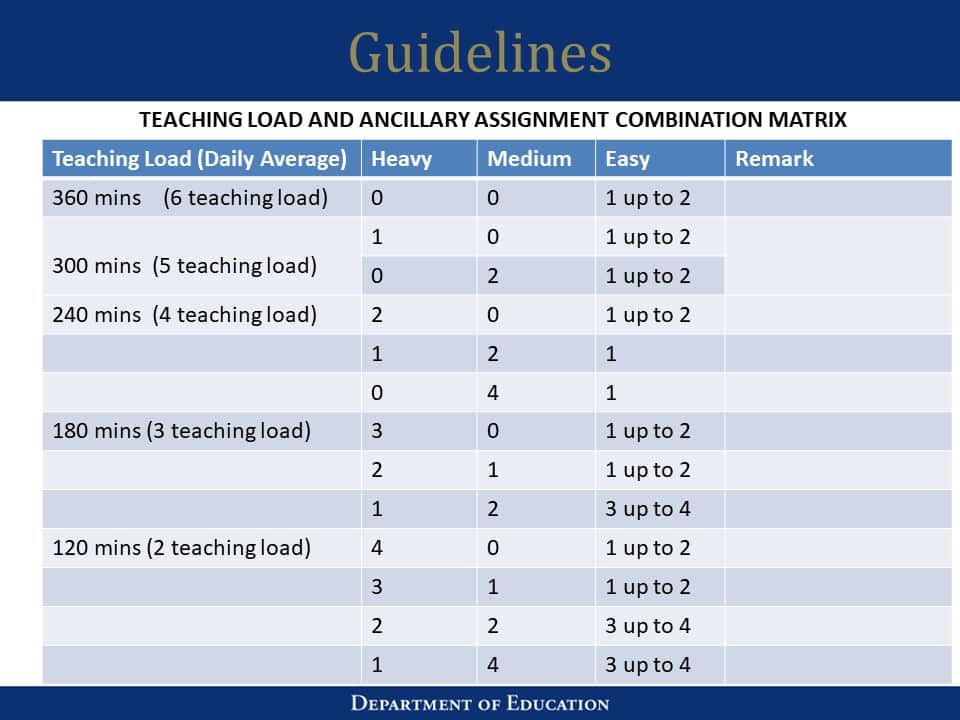 TEACHER'S WORKLOAD BALANCING TABLE