Ranking of Candidates to Fill the Newly Created Head Teacher I Positions
January 4, 2016
TO :
Assistant Schools Division Superintendents
Chiefs of CID and SGOD
Education Program Supervisors
Public Schools District Supervisors
Heads of Public Elementary Schools
1. This office shall conduct the evaluation and ranking of all interested and qualified applicants to the newly created Head Teacher I positions. List of Elementary Schools with New Items is found in enclosure No. 1 of this Memorandum.
Read: Sample Letter of Application for Teacher 1 and Junior High School
2. Applicants must meet the following Qualification Standards for the Head Teacher position per DepEd Order No. 39, s. 200/:
Education: Bachelor's Degree in Elementary Education; or Bachelor's Degree with 18 units professional education units
Experience: TIC for 1 year, or Teacher for 3 years
Training: 24 hours relevant training
Eligibility: RA 1080 Teacher
3. They can file their application to the Public Schools District Supervisors starting January 6, 2016 to be forwarded to the office of the ASDS In-charge not later than January 14, 2016. Applicant's shall submit the following documents:
Application letter stating the position applied for
CSC Form 212 (Personal Data Sheet) Handwritten with pass port size picture
Updated service record
Performance Rating for the last 3 years (2014-2015, 2013-2014, 2012-2013)
Transcript of Records and Special order
Latest PRC Certificate of Good Standing
Eligibility Rating
Copy of last approved appointment
Certificates of Relevant Trainings Attended
Certificates of other accomplishments garnered from the last promotion such as; Awards, Consultancy/Speakership, Innovations and Action Research Work;
Scholarship programs, Short Courses or Study Grants
4. The schedule of the Pre-evaluation and selection process shall be as follows:
January 12 – Orientation Meeting to be attended by all EPS, PSDS, CID, Chief and the Division PSB
January 6-13 – Submission of application documents to the District Office
January 14 – Submission of the documents to the Division Office
January 15 – Written Examination
DepEd Cam. Sur Conference Hall
9:00 AM
January 18 – Interview (First and Second Congressional Districts)
January 19 – Interview (Third Congressional District)
January 20 – Interview (Fourth Congressional District)
January 22 – Interview (Fifth Congressional District)
January 25 – Deliberation (First and Second CD)
January 26 – Deliberation (Fifth CD)
January 27 – Deliberation (Third CD)
January 28 – Deliberation (Fourth CD)
The criteria for Ranking for Head Teacher are as follows: (Reference: DepEd Order No. 42, s.2007)
| | |
| --- | --- |
| Criteria | Maximum No. of Pts. |
| Performance rating | 30 pts. |
| Experience | 10 |
| Outstanding Accomplishments | 30 |
| Education and training | 20 |
| Potential | 5 |
| Psychosocial Attributes | |
| and personality traits | 5 |
| Total | 100 pts. |
6. The Division Personnel Selection Board shall be composed of the following:
Chairman: Assistant Schools Division Superintendent
Members:
HRMO Ms. Gina A. Valenciano
Alternate – Sherry T. Penas, SEPS HR
Ms. Myllan B. Toledana, Administrative Officer
Alternate – Jean R. Sto. Domingo, SEPS M&E
Public Schools District Supervisor of the school with HT items Mr. Gil Agravante, PESPA President
7. The Interview shall be conducted by a special Committee composed of the following:
Chairman: Lita T. Mijares, Chief CID
Members:
Education Program Supervisor In-Charge
Public Schools District Supervisor
8. Immediate dissemination of and compliance with this Memorandum is desired.
Sgd.
ARNULFO M. BALANE, CESO V
Schools Division Superintendent
Enclosure to Div Memo #1, s. 2016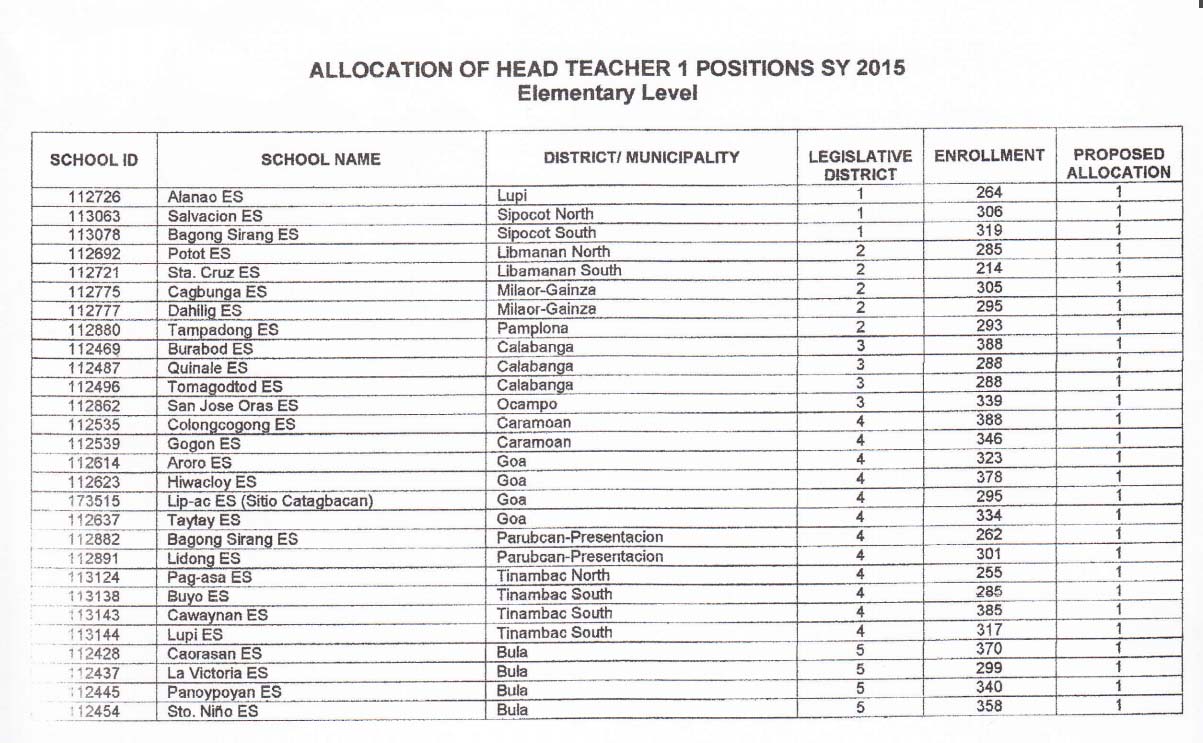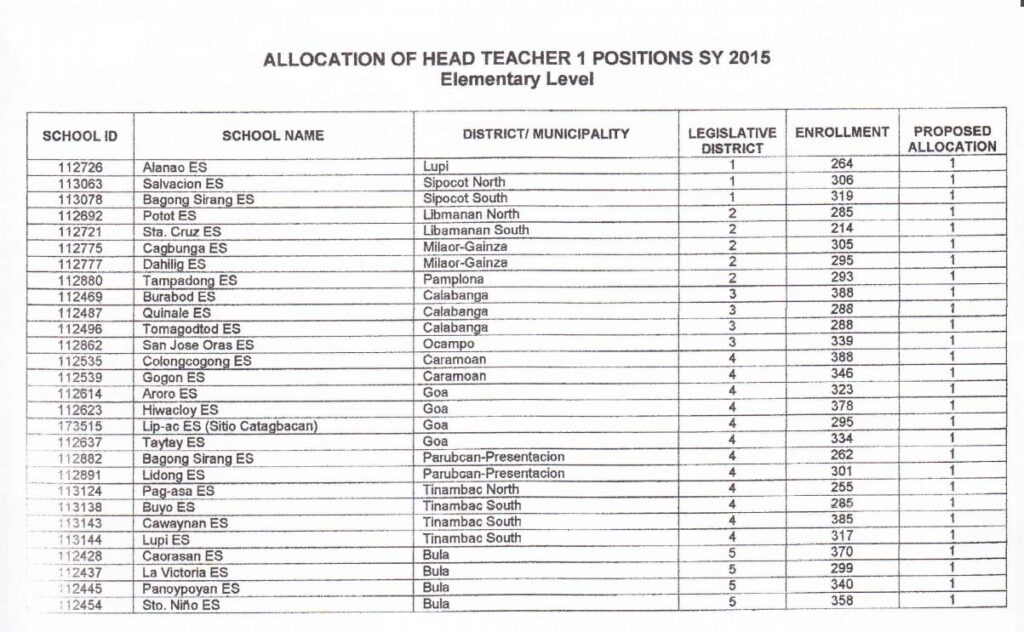 Useful Links: