There's no more question why you are on this page and why you want to apply for the Teacher 1 position. We can't deny the fact that the salary of teachers teaching in the public school is higher than those who teach in most private schools. Plus, when you work as a public servant, you are also entitled to security of tenure. Once you are hired, rest assured that you've finally got your job until the day of your retirement unless you violate some rules and get dismissed. These are just some of the reasons why a lot of professional teachers especially the young ones, do apply for a job in public schools and hope to be a part of the RQA (Registry of Qualified Applicants).
UPDATE: DepEd Hiring Guidelines for Teaching Positions for School Year (SY) 2020-2021
DepEd Online Application Process: A Detailed Guide for Teachers Applying for Teacher 1 Position
Competition is tough, they say— especially when you are applying in the Department of Education (DepEd). So, we will provide you the detailed guide which will help you understand the whole hiring process of hiring.
DEPED TEACHER 1 RANKING REQUIREMENTS
All applicants must secure the following documents:
1. Application Letter
Write a coherent and direct to the point application letter. Do not copy the application letters you can find online although you may refer to some to have a glimpse of what is ideal when writing one. It is necessary to submit an application letter to see how well you can communicate in a written well.
The application letter shall also indicate the following information:
statement of purpose/expression of interest
a subject group you intend to teach
name of your preferred schools
READ:
2. Accomplished Civil Service Commission Form 212 (CSC Form 212 Revised 2017)
Fill out two CSC Form 212 Revised 2017 and attach your latest 2×2 ID pictures. Make sure not to leave any space blank. You can write –NA- if you have no answer to a specific question or if the data being asked is not applicable to you.
DOWNLOAD: CSC Form 212 Revised 2017
3. Certified Photocopy of your LET Rating
It means that you have to present the original copy of your LET rating sheet during the submission and then an officer will attach his/her signature on the photocopy.
4. Photocopy of your PRC License
5. Certified Photocopy of your Transcript of Records
6. Photocopy of the Certificate(s) of Specialized Training(s) you attended.
Example: CPD units, TESDA certificates, 3-day workshop or seminar certificates, short courses certificates.
Submitting photocopies of the specialized training you attended will increase the chance of you getting hired as it adds to your points!
The DepEd ranking system is based on points depending on your qualifications and achievements so it advisable for you to provide the certificates of all those teacher training or seminars you attended.
7. Certification of Employment/ Service Records/ Performance Rating or Clearances
This is for those who have teaching experiences in private schools and institutions.
8. Original copy of Certificate of Residency or Voter's ID or Voter's Affidavit
9. PSA/NSO Birth Certificate
No PSA birth certificate? Request for your PSA birth certificate online. Click Here.
10. Barangay Clearance, Police Clearance, and NBI Clearance
11. Omnibus Certification of authenticity and Veracity of all documents submitted, signed by the applicant.
What is it? You may refer to this link: Download Omnibus Certification of Authenticity and Veracity
12. For Senior High School Applicants
Photocopy of your TOR from the graduate school or photocopy of your certificate of COMPLETE ACADEMIC REQUIREMENTS
13. For TVL Teacher-Applicants
You are required to submit the photocopy of your TESDA National Certificate of at least one level higher than the course to be taught (e.g., NC-III in SMAW to teach SMAW-NC-II) or the same level if there is no NC level higher. Exceptions are given to applicants for courses with no National Certificates such as Handicraft Courses.
REMINDERS
All pertinent documents must be arranged appropriately following the above sequence and to be placed in a long white folder with a fastener.
Make sure to organize your file neatly.
Bring all the original documents for the verification process.
Prepare at least two sets of documents.
Ask the school head or the one in charge of the application when
You will be notified once you missed submitting a single document. Make sure you submit the pending requirements before the deadline of submission of application.
You assume full responsibility and accountability on the validity and authenticity of the documents you provide. Any violation will merit similar sanctions after due process.
---
DEPED TEACHER 1 ONLINE APPLICATION AND HIRING PROCESS
Take note:
The hiring process is based on pointing and ranking system. You will be scored based on your qualifications and performance during the application process. The higher your rank is, the more chance you have in getting hired immediately.
1. INQUIRY
It is important to inquire about the application process of the division first. Remember that different divisions have their way of selecting qualified applicants so visit the school of your prospect and ask the school head or the officer in charge of collecting application documents about the application period.
2. ONLINE APPLICATION
DepEd requires you to accomplish the online application to encode your details in their system. To register online, use your current and valid email address.
To achieve this, you may visit this page: http://application.deped.gov.ph
You must get any of the following ID's ready for access once you begin the online application: TIN (tax identification number), Unified Multi-purpose ID (UMID), Postal ID, SSS ID, PhilHealth ID, or Passport.
Regularly check your email for the verification notice within the next 48 hours.
Update your Persona Data Sheet Online.
Once your email address is confirmed and once you have accomplished filling out the Personal Data Sheet, your applicant number will appear.
Get your applicant number as you will be asked to write them on a blank typewriting paper when you submit your application.
We suggest that you write or print your applicant number on a typewriting paper and attach them in your application folder.
3. SUBMISSION OF APPLICATION FOLDER
Submit your application (all the required documents attached in a white folder) to the school you prefer to teach. These documents will be double-checked in front of you so be prepared with your original or supporting documents. You can also send your application to the division's office, but the typical flow of application starts by submitting your application to the head of the public school
For Elementary Teachers:
If you are an elementary teacher, you have to submit your application to the head or principal of the elementary school which is nearest to the place where you live. It is because of the provision of R.A. No. 8190 known as the Localization Law which let teachers and other government employees to be assigned to a place near where they reside.
4. WAITING FOR ANNOUNCEMENT
You were told to wait for the announcement about the schedule of these three critical processes you have to undergo before getting hired:
Interview
Demonstration teaching
English Proficiency Test
The date, time, and venue of the process mentioned above will be announced to you through call or text message by the person-in-charge. To make sure you keep updated of the dates, you can get or ask for the contact number of the one in charge of receiving the application.
5. INTERVIEW
Make sure you appear on the date of interview. The DepEd prioritizes no one. You have to follow the dates they scheduled strictly.
DEPED TEACHER INTERVIEW TIPS:
Dress neatly and adequately, make yourself presentable to leave a good impression.
The interview will go quickly. Teachers in TeacherPH Facebook Group discussed that you would only have 2-5 minute interview, but it varies from division to division. Remember that there are many applicants and your first resort is to look different in a way that is acceptable.
Practice answering the possible questions that might be asked.
Project as a smart and cunning personality to the interviewer.
WHAT IS A GROUP INTERVIEW?
FYI, there are divisions which cannot handle a large number of applicants, so they don't interview the applicants one by one. They instead do the group interview. Now for you to garner many points and to impress the panel, make sure that you volunteer first to answer or that you provide them with a unique and honest answer.
Try to think of solutions which is not typical but practical. That way, you will win the panel's approval.
If you are a teacher with timid personality, group interview sounds an enormous hassle. But you have no choice but to undergo this process. After all, you are a teacher and so you must learn how to present and to compose yourself in front of a group or many people as you will be doing it so once you are hired. Try practicing now and participate in activities that will help you boost your confidence in facing people (e.g., participate in workshops, volunteer to be the presenter during seminars or training, etc.).
After the interview, wait for the announcement about the demo teaching.
6. DEMONSTRATION TEACHING
Again, demonstration teaching is done in different ways in different divisions. If there are many applicants, expect that your demo teaching will not last that long, but it is still best to prepare.
DEPED DEMONSTRATION TEACHING TIPS:
Write a good demonstration lesson plan and practice to execute it very well.
The Visual Aid must be interesting and appropriate to the topic.
The use of Audio-Visual Material is highly recommended.
Make sure you know your major very well. It is highly possible that you do an impromptu demo teaching in which the panel will ask what your field of specialization is and gives you the topic to discuss. You will only have a few minutes then to teach them the subject they have chosen for you. So be prepared.
However, in some schools, especially those which are located in the city, you are most likely expected to use powerpoint presentation and audio-visual materials. Being creative is the key.
Think of some ways on how to be lively during your demo. Panels are easily impressed with those who can establish a connection to them so make sure you have an exciting motivation activity.
Your good command of the language can also impress the panels.
Less talk, less mistake. Always remember that if you are not sure of what to say, better answer shortly. There is no room for errors when you are facing the panels so, be very well-prepared!
After the demo teaching, wait for the announcement of the schedule of the English Proficiency Test.
7. ENGLISH PROFICIENCY TEST
All the applicants in the division will take this test at the same time. Remember that most of the content of this exam is reading comprehension.
If you want to know more about the exam, these links will give you information on what the test is about and how to ace it.
8. WAIT FOR THE RELEASE OF REGISTRY OF QUALIFIED APPLICANTS (RQA) LIST
It might take one to three months or more. The result will be posted on the bulletin board of the division's office or social media. It may be sent to your email too or may be displayed on the information board of the school where you submitted your application.
Being in the RQA list doesn't guarantee that you can immediately get hired and start working in the school you desire to teach. If you are not on top of the list, you will be called later to report for they prioritize those who got higher points during the application process but rest assured that there's a job waiting for you. Just wait. It takes time.
Take note:
If you are in the bottom of the RQA list and haven't got a call, try to follow-up your application by calling the division's office or the school where you submitted your application.
---
DEPED TEACHER 1 EVALUATION AND SELECTION PROCEDURE AND CRITERIA
For Elementary and Junior High School
1. Education – 25%
It is computed by evaluating your academic achievement in college. This is done by calculating the general weighted average of your entire subjects with their corresponding units. You get 25 points, which is the highest if your general weighted average is 99-100% or a 1.00. If it is 97.75-98.75 or 1.10, you get 24 points and so on.
For those who graduated with a non-education degree but wish to apply as public school teachers, yours shall also be computed by getting your college GWA. This will be combined with the GWA of your 18 education units. This means to say that you can apply only if you have taken 18 units in education. A corresponding transmutation table will be constructed for those who have a grading system other than the ones mentioned earlier.
2. Teaching experience – 10%
You will be given one point for every year that you taught in a pre-school, elementary and secondary in both private and public schools prior to your application. However, if you taught for 15 years already, it is still counted as 10 points.
3. Licensure Examination for Teachers (LET) rating – 10%
If your LET rating is 87% or higher, you get the maximum 10 points. If it is in the range of 85%-86%, you get 9 points and so on.
4. Experiential learning course-5%
This includes field study or practice teaching. The maximum points given to teacher-applicants here is 5 points.
5. Specialized training and skills-5%
This should be supported with documents. Besides, the said training should have lasted for a week. If less than a week, it is not counted. You will also be asked to demonstrate that particular skill. If you have that specialized training in sports music, journalism, theater arts and information, and communication technology, then you get the points provided you satisfy the requirements mentioned earlier.
6. Interview – 10%
Your personality and potential are measured here. Be alert, self-confident, and poised throughout the interview. Take note of your appearance and voice projection. The way you present ideas, judgment and decisions are also taken note of. Don't be rattled when you are asked a barrage of questions. Show that you are not easily stressed out.
7. Demonstration teaching – 20%
As pointed out earlier, prepare a well-written lesson plan. Show that you can manage the classroom well. Deliver the lesson in such a way that every student will be engrossed to what is transpiring in the room. The evaluators will likely give you a high score if your students get a 100% mastery level during your demonstration teaching.
8. Communication skills – 15%
You are given points here based on the result of your English proficiency test.
If you have been contemplating to apply as a public school teacher in the Philippines, now is the right time to start applying. I hope this hub will guide you through your application.
CONTINUE READING: DepEd Order No. 7, s. 2015 (Hiring Guidelines for Teacher I Positions for School Year (SY) 2015 2016)
Senior High School Teacher Evaluation and Selection Procedure and Criteria
Teacher applicants shall be evaluated according to the criteria detailed below. The Division Selection Committee, upon recommendation of the School Screening Committee, shall ensure that each applicant is evaluated based on his or her preferred SHS subject group.
CONTINUE READING: DepEd Hiring Guidelines for Senior High School Teachers for SY 2019-2020
CRITERIA
Academic and Core Subjects
Groups I-A, I-B, IC, I-D,II, III-A and III-B
TVL
Groups IVA, IV-B, IVC and IV-D
Arts and Design
Group V
Sports
Group VI
a. Education
20
15
15
15
b. Teaching/Industry/ Workplace Experience
15
20
20
20
c. Specialized Training
10
20
15
15
d. Interview
15
15
15
15
e. English Communication Skills
10
5
5
5
f. Portfolio/Outstanding Achievements
10
10
15
15
g. Demonstration Teaching
20
15
15
15
TOTAL
100
100
100
100
DEPED ONLINE APPLICATION SYSTEM STEP BY STEP GUIDE FOR TEACHER 1 APPLICANTS
Before you register
a. You have a valid, working and current email address where you will receive your login details. You may use your personal or work email as long as you can still log-in to it.
b. If you haven't used your email address for quite some time, please check if you still can access it. If you can no longer access your email, we suggest that you create a new one.
c. Be ready with any of the following IDs : Tax Identification Number (recommended); GSIS Unified Multi-Purpose ID (UMID); Voter's ID; New Postal ID; SSS ID; PhilHealth ID; Passport.
STEP 1 – ACCOUNT REGISTRATION:
Register online at http://application.deped.gov.ph using your personal email address.
Reminder: This registration is to secure an access to the DepEd online application system, NOT to create a new email address for you.
STEP 2 – EMAIL CONFIRMATION:
Regularly check your email for the verification notice within the next 48-hours. Your username and password is included in the email. Click "here" to confirm that your email is working.
STEP 3 – LOGGING IN:
Sign-in or Login to http://application.deped.gov.ph using your username & password.
STEP 4 – DIVISION LEVEL:
In office level, teacher-applicant select (Division)
STEP 5 – REGION:
In CO Strands/Region, teacher-applicant select (Region)
STEP 6 – DIVISION OFFICE:
In CO Bureau/Service/Office-Division/Division Office, teacher-applicant select (Division)
STEP 7 – POSITION:
In Position, teacher-applicant select (Teacher I)
STEP 8 – SAVED:
Click Save.
If you want to apply for another position click "Add", then repeat Step 4 to Step 8.
If you want to remove a position previously selected, click "Remove".
STEP 9 – NEXT PAGE:
Click Next.
STEP 10 – PERSONAL DATA SHEET: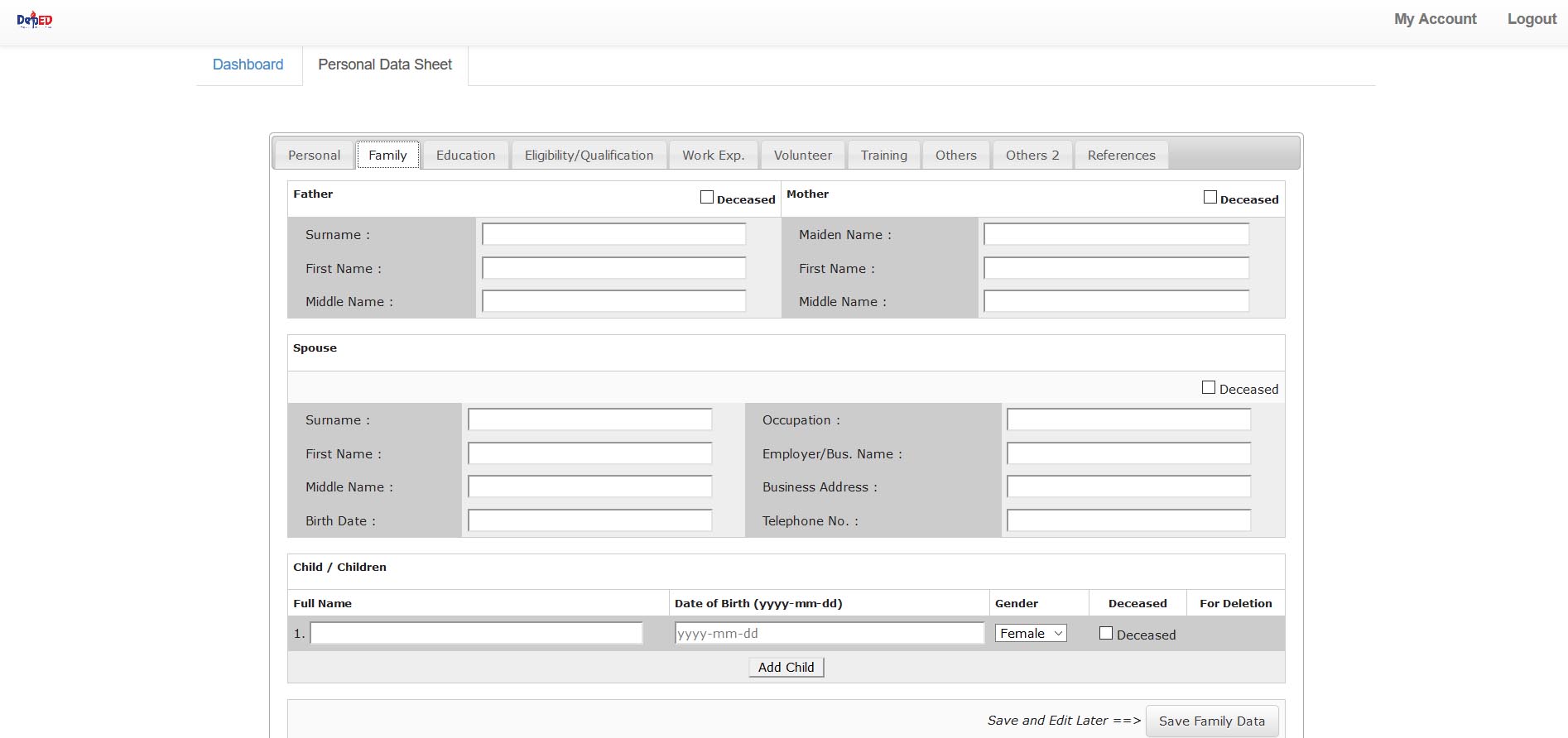 Enter your data in the Personal Data Sheet (PDS). Click "Save" button at the bottom of the screen before you transfer/move to another page.
STEP 11 – REVIEW DATA:
Review data in all pages/tabs
STEP 12 – REFERENCE TAB:
Go to Reference page/tab then click "Submit"
Reminder: After you click the "SUBMIT" button, you can view your PDS but no longer edit or add any data to it. You can no longer add, edit or delete the position applying for.
STEP 13 – UNIQUE APPLICANT NUMBER:
Go to the Dashboard and you will immediately find your Unique Applicant Number (UAN) printed in green text with green background.
Reminder: UAN will be displayed if everything was encoded and done correctly, unless otherwise the system encounted problem.
STEP 14 – UNIQUE APPLICANT NUMBER (UAN):
Regularly check your email for your UAN within the next 48-hours.
STEP 15 – LAST PART:
Include your UAN in your application/provide your UAN where necessary.
DEPED ONLINE APPLICATION PERSONAL DATA SHEET (PDS) WITH UNIQUE APPLICANT NUMBER (UAN) SAMPLE
DepEd Online Application System Frequently Asked Questions
Ensure that you have selected at least one (1) position you are applying for. For teacher-applicants, make sure the right Division Office is selected in order for your data to be sent to them accordingly.
If you registered prior or earlier than April 25, 2015 and have not yet received the verification email, we suggest that you check your spam folder first. Please refer to DepEd OAS FAQs#3.pdf Q6 for the possible reasons why.
Non issuance of UAN may depend on any of these: 1. You forgot to select the position applying for. The UAN is dependent upon the position. If no position is selected / chosen, the UAN will not be generated. 2. You have selected the position but didn't click 'Save'. 3. You thought you already submitted your PDS, but actually didn't.
Teacher-applicants / DepEd Central Office applicants without Tax Identification Number or TIN may register other valid IDs / number, limited to:
a. GSIS UMID number
b. SSS number
c. Philhealth number
d. Voter's ID
e. Postal ID
f. PRC License number
Please register again, this time using a valid, existing and correct email address and TIN. Regardless if the TIN had been previously used in the registration, as long as it is not yet linked to a verified user the TIN remains available.
Yes. Each applicant is given only one (1) UAN valid upon application and for 1 school year if UAN starts with T, and valid for 1 year if UAN starts with N.
You can save or download your PDS by login in to your account. Click the Green 'Save & Print PDS' button on your dashboard below your name. Available since April 27, 2015.
No. There is no other way of acquiring the UAN except through the online application system because it is auto-generated upon submission.
Application Dashboard (written in GREEN TEXT)
UAN email after you have submitted your application online.
Upper right hand corner of the system-generated Personal Data Sheet.
You can input your correct TIN in the PDS.
This happens when you have already registered your data but may have skipped or forgotten to check the verification email sent and proceeded to the login page. It is an important step to confirm that the email address you registered exist by clicking the word 'here'. After which, you are directed again to the site to login.
Please take note that the verification link is only valid for one click.
The link 'here' in the confirmation email sent to you after you successfully registered your data is only valid for 1 click. Clicking it again will cause this message.
To address this, what you can do is change your password by clicking the link "forgot password?" found in the application home page (as shown on the right) and follow the instructions.
This issue had been resolved.
None. There is no deadline for the online registration. However, you need to abide by the deadline set by the Division Offices for the submission of your documents.
This is a wrong assumption that the UAN is transferable and that a UAN can be issued to an email address that was never verified.
Hello DepEd PTS,
Your message "DepEd PTS e-Mail Verification" to me was waitlisted.
Get your message to my inbox by clicking the following link.
Thank you,
corinthian.donato@yahoo.com
P.S. …you'll only have to do this once. Future emails will appear immediately in my inbox.
Email addresses registered to email filtering system like Boxbe prevents the DepEd email verification from going straight to your inbox unless DepEd PTS register with Boxbe first. You may choose to disable or unsubscribe to Boxbe or register again using a different email address and a different ID number that is not subscribe to such application.
http://application.deped.gov.ph is always open, unless it is specified that it is under maintenance. If you got this error, check / refresh your internet connection or refresh / reload your browser. If you experience this for at least 30 minutes, please report immediately by emailing application01@deped.gov.ph.
To check if your PDS had been successfully submitted, please visit your dashboard and you will find only two (2) buttons: (1) Blue Re-Open button below your name and (2) Green Next button below the position applied for. If the 'Add' button is visible beside the 'Next' button, then it is not yet / not successfully submitted. Reminding again to make sure to choose the correct Region and Division and select Teacher I before submitting your PDS.
Inability to edit your data or position applied for or when 'Save' button goes missing, means you already submitted you application. Just reminding you that when you submitted you online PDS you passed through 2 levels of security question telling you that you can no long edit your PDS including the apply position dashboard.
What you can do is to click the button to 'Re-open PDS'. You will be asked to provide reason why you want to Re-open your PDS. Please be informed that the request is subject to approval, hence not all request is approved.
Remember that the verification email tests if the email address that you registered into the system is valid or not. Technically, this is a positive response from the system. A click to the word 'here' meant that the email address registered is valid and can now create their PDS. What the applicant can do is to re-load the page again until they can see the application page, enter their username and password the registered and click 'Sign In' to start encoding their PDS.
Here are the possible reasons why you didn't received your verification email:
1. You registered an email address that do not exist. We'd like to stress that the DepEd Online Application System DO NOT ISSUE or CREATE email address. Hence, if you registered yourname@deped.gov.ph but is not a DepEd employee we can guarantee you that you will never ever get your verification email.
Same goes for registering @yahoo.com / @ymail.com / @gmail.com /@hotmail.com / @rocketmail.com / @msn.com / @outlook.com / @live.com [are valid email domain] but the account is never created in those sites are considered invalid and non-existent email addresses.
2. You registered an email address that you no longer have access to due to forgotten password. We suggest that you create a new email address first.
3. You registered an email address that you still know the password but never accessed for a long time. We suggest that you create a new email address first.
4. You registered an email address that is existing but incorrectly spelled (but hard to prove) [yourname@gmai.com /yourname@yah00.com / yourname@yahoocom / yourname@gmall.com]
5. You are subscribed to email filtering system like Boxbe, SpamArrest, ZoneAlarm and the like. We do not subscribe to such, hence you will never receive our email.
Hence, you are advised to register again using an existing email address. Also, if you registered before April 25 and haven't received your verification email, you are also advised to register again.
Please login to your account and check your dashboard. If you have successfully submitted your PDS before you should find the 'Re-open PDS' button below your name that will allow you to send a request for your PDS to be re-opened again for editing. Be reminded that this request is subject to approval. You will be asked to state the reason why you are requesting for the re-opening of your PDS.
For those fields that need not have data in it may be left blank, please refrain from placing any invalid information such as "N/A" or "none". This include people that do not have middle name nor extension name (Sr., III, etc) or is still single or is not a member/affiliate of any organization.
When there is a need to place special letters such as "N" or "n", please make use of the regular "N" or "n" to replace these characters.
The Registry of Qualified Applicants or RQA is prepared and released by the Division Offices. Applicant are requested to inquire from the Division Office from which the school that they applied to belong. (eg. Applicants to schools in Sta. Rosa, Laguna may visit the Division of Sta. Rosa in Sta. Rosa, Laguna; while applicants to schools in San Pedro, Laguna may visit/inquire from the Division of Laguna in Sta. Cruz, Laguna)
We are currently working on that issue. After encoding your spouse information, make you to save your PDS before moving on to another tab. You can also print preview your PDS to confirm that your spouse information is there.
Please login your account and check your dashboard. Make sure that you have selected the correct Office level, Region/CO Strands, Division Office and Position you are applying to.
Yes, will use the same UAN that you got last year (2015) because it has no expiration. However, you still need to update your PDS to reflect your latest information.
Steps:
Go to the website: application.deped.gov.ph.
In the landing page, click 'forgot password'.
Enter your email address (registered email address) then click next.
Answer the random question that will be displayed on your screen, click next.
If your answer matches with your saved record, you will be asked to enter your new password.
Go back to the application site, you can now login using your new
password.
So, are you prepared now? From TEACHERPH, we wish you the best of luck! Welcome and happy teaching!
READ: Updated DepEd Order No. 22, s. 2015 Hiring Guidelines for SY 2019-2020