General Biology 2. This subject is designed to enhance the understanding of the principles and concepts in the study of biology, particularly heredity and variation, and the diversity of living organisms, their structure, function, and evolution.
---
General Biology 2 Teaching Guide for Senior High School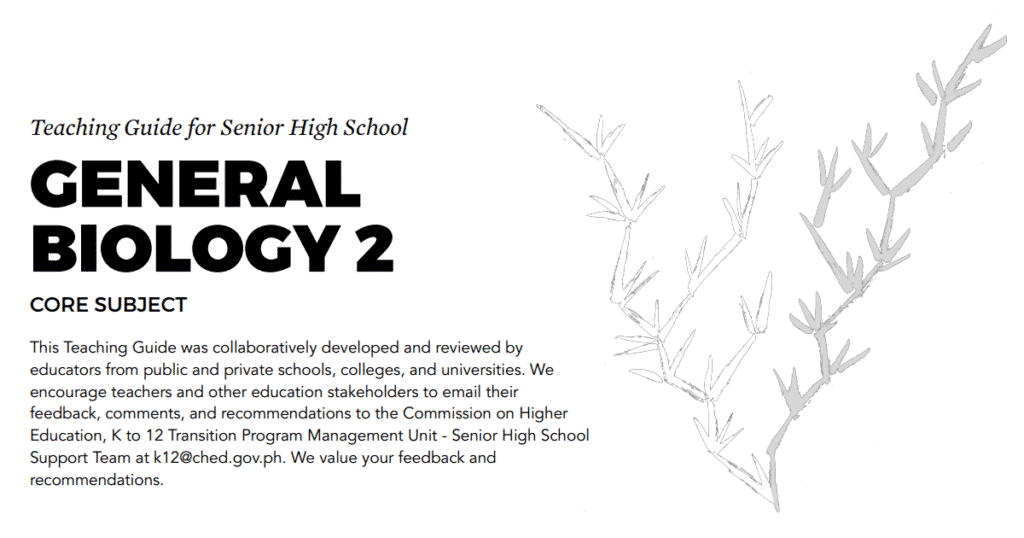 As the Commission supports DepEd's implementation of Senior High School (SHS), it upholds the vision and mission of the K to 12 program, stated in Section 2 of Republic Act 10533, or the Enhanced Basic Education Act of 2013, that "every graduate of basic education be an empowered individual, through a program rooted on…the competence to engage in work and be productive, the ability to coexist in fruitful harmony with local and global communities, the capability to engage in creative and critical thinking, and the capacity and willingness to transform others and oneself."
To accomplish this, the Commission partnered with the Philippine Normal University (PNU), the National Center for Teacher Education, to develop Teaching Guides for Courses of SHS. Together with PNU, this Teaching Guide was studied and reviewed by education and pedagogy experts, and was enhanced with appropriate methodologies and strategies.
Furthermore, the Commission believes that teachers are the most important partners in attaining this goal. Incorporated in this Teaching Guide is a framework that will guide them in creating lessons and assessment tools, support them in facilitating activities and questions, and assist them towards deeper content areas and competencies. Thus, the introduction of the SHS for SHS Framework.
---
The SHS for SHS Framework, which stands for "Saysay-Husay-Sarili for Senior High School," is at the core of this book. The lessons, which combine high-quality content with flexible elements to accommodate diversity of teachers and environments, promote these three fundamental concepts:
SAYSAY: MEANING
Why is this important? Through this Teaching Guide, teachers will be able to facilitate an understanding of the value of the lessons, for each learner to fully engage in the content on both the cognitive and affective levels.
HUSAY: MASTERY
How will I deeply understand this? Given that developing mastery goes beyond memorization, teachers should also aim for deep understanding of the subject matter where they lead learners to analyze and synthesize knowledge.
SARILI: OWNERSHIP
What can I do with this? When teachers empower learners to take ownership of their learning, they develop independence and selfdirection, learning about both the subject matter and themselves.
---
The Philippines is frequently cited as among the top countries most at risk to disasters. While disasters can arise from man-made sources, the most inevitable ones come from natural phenomena. Even without scientific scrutiny, every Filipino is familiar with the impacts of typhoons, earthquakes, volcanic eruptions, and fires to everyday life and to national development. This makes learning about disaster preparedness aligned with everyone's interests.
This teaching guide for the Disaster Readiness and Risk Reduction (DRRR) subject of the Philippines' K-12 Curriculum provides a lesson-by-lesson framework for educators to help learners attain the target competencies and outcomes. The challenge with teaching a subject like DRRR is its multi-disciplinary nature, bringing together biological, geophysical, socio-cultural, political, and economic factors. This in itself is an opportunity to make these various subject matters relevant to the lives of the people even if studying disasters leans toward the sciences. With the use of these teaching guides, the teacher will be able to handle a diverse set of materials that will enrich their existing knowledge on the natural and social sciences. They will also be able to engage learners in a number of hands-on activities that make use of mixed-media to maximize existing resources. And overall, lessons tackled in these guides encourage a two-way interaction between the teachers and students that will ultimately result to effective learning.
Lessons of these teaching guides address the content standards identified by the Department of Education (DepEd). Some teaching guides may include multiple learning competencies as that may be more efficiently achieved when tackled together. This guide approaches learning about DRRR by first understanding the hazards that may then potentially lead to disasters, as a common confusion arises from distinguishing the concepts of "hazard and "disaster". Each hazard type has its own precautionary measures and ideal responses to prevent disasters. Towards the end of the subject, learners will focus on applications to the community and the Philippine society.
Users of these guides should note that sciences and policies related to DRRR are ever evolving along with improvements and breakthroughs in data collection and technology; so it is expected that reference materials also change through time. It would be important for teachers of the subject to continually update any cited references in each guide to make sure that the lessons will also result to cutting-edge teaching.
As a big part of understanding disasters involves projecting future possibilities, the success of teaching the subject of Disaster Readiness and Risk Reduction may not be immediately measurable and definitely not something anyone is looking forward to test. But while the country is exposed to hazards that can alter the course of everyday life, bringing this subject to each classroom gives the people the power to take control of their lives and of nation-building in whatever the situation they may encounter in the future.
Download General Biology 2: Senior High School SHS Teaching Guide
Read: