The Philippine education system includes Early Childhood Care and Development (ECCD), Basic Education, Technical and Vocational Education and Training (TVET), and Higher Education.
The Department of Education (DepEd) is responsible for basic education, ECCD Council for ECCD, the Technical Education and Skills Development Authority (TESDA) for post-secondary, technical and vocational education, and the Commission on Higher Education (CHED) for higher education.
Figure 1: Levels of Philippine Education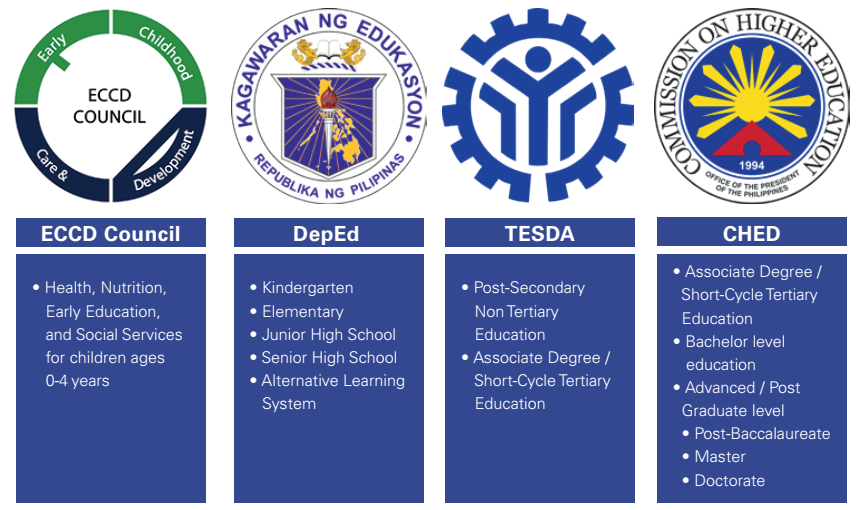 Early childhood programs (i.e., daycare centers) are governed by the ECCD Council, an attached agency of the Department of Education. The Early Years Act of 2013 mandated the Early Childhood Care and Development (ECCD) Council to act as the primary agency supporting the government's ECCD programs that cover health, nutrition, early education, and social services for children ages 0-4 years.
It is responsible for developing policies and programs, providing technical assistance and support to ECCD service providers, and monitoring ECCD service benefits and outcomes.
Most daycare centers are projects sponsored by local government units (LGUs) in coordination with the Department of Social Work and Development (DSWD).
The Department of Education (DepEd) governs Basic Education Schools. TESDA governs technical-vocational schools not run by DepEd and offers certification certificates. CHED governs tertiary-level institutions offering university and college courses.
The Department of Education (DepEd), CHED, and TESDA are co-equal in rank, and their heads all have cabinet-level rank. The heads of the three agencies are represented in the NEDA Social Development Committee and are members of the Philippine Qualifications Framework (PQF) Task Force. Collaborations across the three education agencies are ad hoc and depend on the urgency of issues.
In addition, two agencies were also created to focus on culture and sports: National Commission for Culture and the Arts (NCCA) and the Philippine Sports Commission (PSC), respectively.
In November 2019, DepEd created/constituted the Philippines Basic Education Forum, where representatives from the three agencies and other stakeholders participate. The Forum attempts to meet quarterly to discuss DepEd and other education initiatives.
Formal Education in the Philippines
The Enhanced Basic Education Act of 2013 established one year of Kindergarten and introduced Grades 11 and 12 to high school education (RA 10533, May 15, 2013).
The program covers Kindergarten and 12 years of basic education (six years of primary education, four years of Junior High School [JHS], and two years of Senior High School [SHS]). During which students should have sufficient time for the mastery of concepts and skills, develop as lifelong learners, and prepare for tertiary education, middle-level skills development, employment, and entrepreneurship.
Figure 2: The K to 12 Reform

The K to 12 is grouped into three levels: elementary school (Kindergarten-Grade 6), Junior High School (Grades 7-10), and Senior High School (Grades 11-12).
They may also be grouped into four key stages: first key stage (Lower Primary: Kindergarten – Grade 3), second key stage (Upper Primary: Grades 4-6), third key stage (Junior High School: Grades 7-10) and fourth key stage (Senior High School: Grades 11-12).
Since SY 2012-2013, the K to 12 Basic Education Curriculum has been implemented, starting with the roll-out of Grades 1 and 7 for public and private schools.
Kindergarten to Grade 3 (Primary School)
Every Filipino child now has access to early childhood education through Universal Kindergarten. Children start schooling at five years of age and are given the means to adjust to formal education slowly. 
Adopting the UNESCO belief that children can learn best through their first language, Mother Tongue (MT) instruction has been adopted by the Department of Education (DepEd) as the first language of instruction in the first four years of formal schooling (K to Grade 3).
Nineteen Mother Tongue languages are being used: Bahasa Sug, Bikol, Cebuano, Chabacano, Hiligaynon, Iloko, Kapampangan, Maguindanaoan, Meranao, Pangasinense, Tagalog, Waray, Ybanag, Ivatan, Sambal, Akianon, Kinaray-a, Yakan, and Surigaonon.
Aside from the Mother Tongue, English and Filipino are taught as subjects starting in Grade 3, focusing on oral fluency. From Grades 4 to 6, English and Filipino are gradually introduced as languages of instruction. Both become primary languages of instruction in Junior High School (JHS) and Senior High School (SHS).
Kindergarten was made mandatory and added to the Basic Education curriculum through the Kindergarten Act (RA 10157, January 20, 2012) to effectively promote physical, social, intellectual, and emotional skills stimulation and values formation to sufficiently prepare them for formal elementary schooling. Children can start entering Kindergarten at age 5.
Grades 4 to 6 (Middle School)
Upper Primary is the continuation of Lower Primary expanding simple literacy and numeracy to functional literacy, developing higher order thinking skills. The purpose of which is to develop knowledge and skills, attitudes, and values essential to personal development and necessary for living in and contributing to a developing and changing environment.
The basic learning areas include Filipino, English, Science, Mathematics, History Geography and Civics (Sibika), Edukasyonng Pantahanan at Pangkabuhayan (work education), and Music and Art.
Grades 7 to 10 (Junior High School)
Junior High School (JHS) is discipline-based. Subjects covered are Mathematics; Science and Technology; English; and Filipino. Other subjects are Makabayan (History, Economics); Technology and Livelihood; Music, Art, Physical Education, and Health; and Values Education.
Grades 11 to 12 (Senior High School)
In June 2016, DepEd launched Senior High School (SHS), a major social undertaking that had many issues and challenges at the beginning. These included
teacher training,
availability of materials,
quantity and quality of schools offering SHS,
students selection of appropriate SHS tracks, and
societal acceptance of the possible benefits of the program.
Finishing SHS allows the student to access TESDA programs, enter college/university or join the world of work with more knowledge and skills.
SHS is two years of specialized upper secondary education during which students should have sufficient time for the mastery of concepts and skills to develop as lifelong learners and to prepare for tertiary education, middle-level skills development, or employment.
In Senior High School, students may choose a specialization based on aptitude, interests, and school capacity. The choice of career track will define the content of the subjects a student will take in Grades 11 and 12. 
SHS subjects fall under either the Core Curriculum or specific Tracks. There are seven Learning Areas under the Core Curriculum. Languages, Literature, Communication, Mathematics, Philosophy, Natural Sciences, and Social Sciences. 
Current content from some General Education subjects is embedded in the SHS curriculum. Each student in Senior High School can choose among four tracks: Academic; Technical-Vocational-Livelihood; Arts and Design; and Sports. 
The Academic track includes three strands: Accountancy, Business, and Management (ABM); Humanities and Social Sciences (HUMSS); and Science, Technology, Engineering, Mathematics (STEM). 
Students undergo immersion, which may include earn-while-you-learn opportunities to provide them with relevant exposure and experience in their chosen track. 
After finishing Grade 10, a student can obtain Certificates of Competency (COC) or a National Certificate Level I (NC I). After finishing a Technical-Vocational-Livelihood track in Grade 12, a student may obtain a National Certificate Level II (NC II), provided he/she passes the competency-based assessment of the Technical Education and Skills Development Authority (TESDA).
Alternative Learning System (ALS)
The Alternative Learning System (ALS) is a parallel learning system that provides a viable alternative to formal education instruction. It encompasses both non-formal and informal sources of knowledge and skills. The ALS curriculum is substantially aligned with the competencies of the formal K to 12 curriculum but is not a mirror of the formal one.
It covers Information, Communication and Technology (ICT) and Life and Career skills and competencies not found in the formal curricula, including competencies in everyday life. It provides opportunities for learners to acquire vocational and technical skills to enhance work readiness and employability.
ALS learners are assessed through a Functional Literacy Test (FLT). The Basic Literacy Program (BLP) aims to eradicate illiteracy among out-of-school children in special cases and adults by developing literacy skills in reading, writing, numeracy, and simple comprehension.
The Accreditation and Equivalency (A&E) Program provides an alternative learning pathway to out-of-school children in special cases and adults who have not completed basic education.
This program allows school dropouts and early school leavers to complete elementary and secondary education outside the formal system. The tests taken at the elementary and junior high school level allow students who pass an equivalency test to transition to the next level.
Private Education in the Philippines
Private schools are legally-registered institutions offering educational services to the public in exchange for fees of whatever amount is agreed between school and community. Private schools are, for the most part, not-for-profit, though there is a minority that is registered as for-profit entities, especially universities and colleges.
Private schools offering education services are regulated by the above three agencies depending on their coverage and level of operations (Basic, Tertiary, or Technical-Vocational Education).
Private schools are privately run entities that have to follow the government curriculum but are free to offer more than the required but not less than the mandated. DepEd issued the "Revised Manual of Regulations for Private Schools in Basic Education" in 2010.
Private schools are privately funded, although a certain number of high schools can apply for and receive government subsidies through the Education Service Contracting (ESC) and the Senior High School Voucher Program (VP).
Department of Education (DepEd)
The Department of Education (DepEd) has a Central Office, 17 Regional Offices (including BARMM), and 223 Schools Division Offices. There are school districts throughout the country.
The structure of DepEd is outlined in RA 9155, the law creating the new Department of Education and setting down its organizational structure.
The Central Office has more than 30 offices, bureaus, and services after restructuring in 2016. Regional offices coincide with the administrative regions of the country.
BARMM (Bangsamoro Autonomous Region in Muslim Mindanao) is autonomous and not administratively under the Department of Education. It has its own DepEd.
The Division Offices coincide with provinces, or sometimes it coincides with cities (especially chartered or large cities). Municipalities do not have their own Division Offices and are usually included in provincial Divisions.
Under Divisions are School Districts, which should not be confused with the country's legislative districts. The Districts are geographic areas usually equivalent to towns or municipalities.
In cities, districts coincide with large barangays or groups of small barangays. The districts' lowest administrative units of DepEd are schools and Community Learning Centers (CLC).
Figure 3: Department of Education (DepEd) Organizational Structure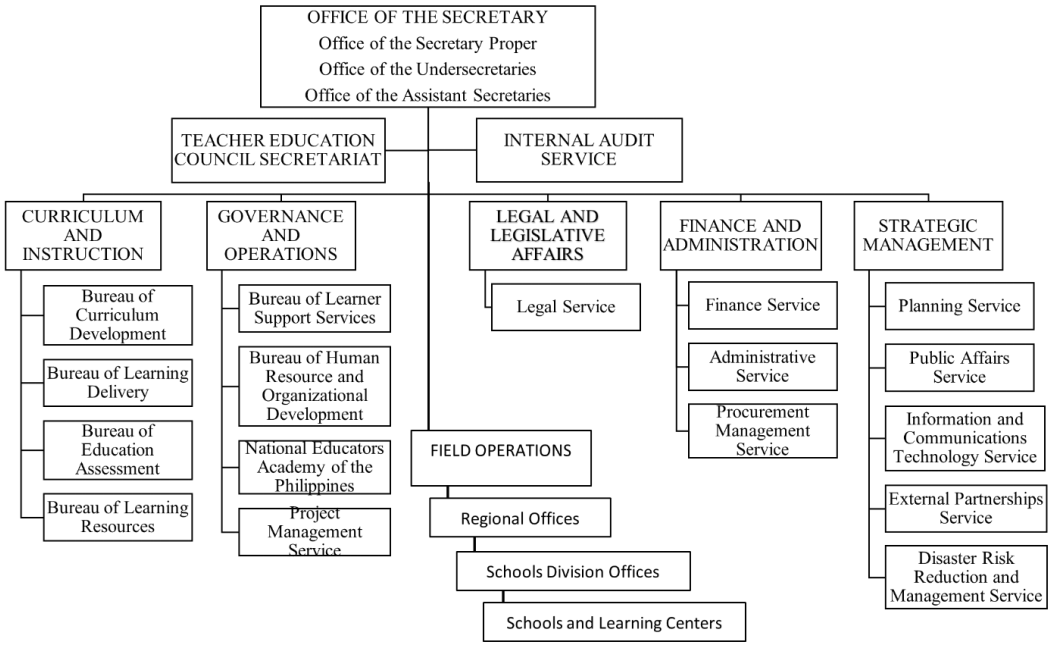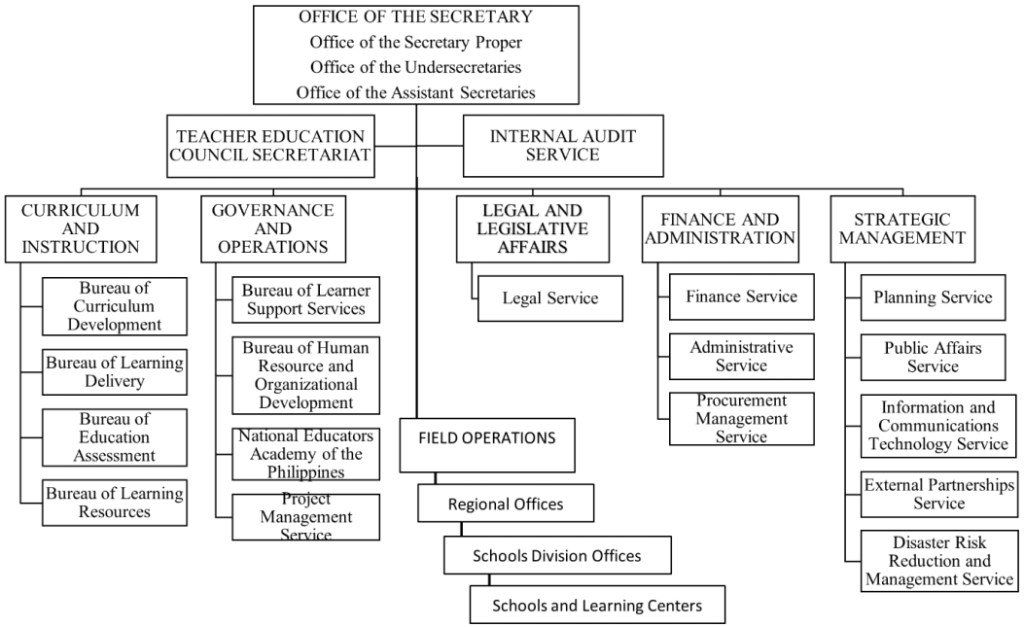 Central Office
The Central Office (CO) is responsible for setting standards and translating direction and policy by these.
The Central Office (CO) is organized into:
(a) Bureaus, which address direct education-related matters (e.g., curriculum, learning delivery, education assessment, learning materials, organizational development, and human resource); and
(b) Service units (e.g., budget; accounting; administration; physical facilities; planning; others).
The Central Office (CO) was the subject of a major reorganization in 2015. Some responsibilities are shared by the central office and field offices.
For the most part, operating funds are delivered directly to field units in the spirit of RA 9155 as spelled out in the Direct Release System (DRS) worked out as far back as 2004 by the Department of Budget & Management (DBM), DepEd and the Commission on Audit (COA).
However, large programs continue to be managed at the central office, particularly foreign-funded programs such as the BEST (Basic Education Sector Transformation) program, which ended in 2019.
Other centrally funded programs, such as teacher learning & development (L&D), are managed under the newly-transformed National Educators Academy of the Philippines (NEAP).
NEAP downloads funds to regions and divisions for programs delivered at that level, under national budget issuances or the general/specific provisions of the General Appropriations Act.
Regional Office
Regional Office (RO) roles and responsibilities include translating policy and standards for the operating units, including organizational structure and regional contextualization.
Major challenges include contextualizing policies and programs given differences from region to region. Addressing each region's different capacities and capabilities is also a significant challenge, given each region's different socio-economic and demographic realities.
Schools Division Office
Schools Division Office (SDO) roles and responsibilities include describing the accountabilities of the Curriculum Implementation Division and the Schools Governance and Operations Division, as well as the critical role of the School District Supervisors (SDS) in providing technical assistance to schools. Significant challenges include providing equitable technical assistance to schools and learning centers.
District Offices (District Supervisors) assist SDOs at the elementary school level.
Schools
Schools are the most basic unit of governance in the system. Within schools are teachers and non-teaching staff. Schools are classified as Elementary Schools, Junior High Schools (JHS), Senior High Schools (SHS), and Integrated schools).
Schools are headed by principals, school heads, or teachers-in-charge (for schools not having the minimum number of teachers to qualify for a principal).
School heads ensure proper school-based management (SBM), stakeholder engagement, and LGU support/partnership.
Community Learning Centers
Community Learning Centers (CLCs) are smaller centers within the system that may deal with special circumstances (multi-grade schooling, special needs, alternative learning). Significant challenges in operating CLCs include addressing difficult situations with limited resources.
Number of Schools and Plantilla in DepEd (Public and Private, Formal Education)
There are a total of 47,188 schools in the Public Schools system (37,628 elementary schools, 1,511 junior high schools, and 216 senior high schools [2020]).
In addition, there are 14,458 schools that are privately run and 271 operated by state universities and colleges (SUC) or local universities and colleges (LUCs).
Table 1: Classification of Schools in the Philippines
| Classification | Public | Private | SUCs/LUCs | PSO | Total |
| --- | --- | --- | --- | --- | --- |
| Elementary School | 37,628 | 7,282 | 6 | – | 44,916 |
| Junior High School (JHS) | 1,511 | 267 | 46 | – | 1,824 |
| Senior High School (SHS) | 216 | 1,119 | 85 | – | 1,420 |
| JHS with SHS | 6,391 | 913 | 96 | – | 7,400 |
| Integrated School (Kindergarten to G10) | 961 | 2,004 | 8 | 9 | 2,973 |
| Integrated School (Kindergarten to G12) | 481 | 2,873 | 30 | 20 | 3,384 |
| Total Schools | 47,188 | 14,458 | 271 | 29 | 61,946 |
Source: Learner's Information System (LIS) SY 2019-2020
As of January 2021, DepEd has 965,660 regular employees making it the largest bureaucracy in the Philippine government. 
The table below presents the distribution of DepEd employees across all levels of governance. Out of the total number of employees, 88% are teaching staff, and 5% are teaching-related staff. Of all the teaching staff, 46% occupy Teacher 1 positions in elementary and secondary schools.
Over the past two decades, the annual growth rate of the teaching force has been 6.77%. These figures, however, do not include two major categories of personnel: individuals under Contracts of Service or other non-regular engagements, both in schools and administrative offices, and an estimated 8,205 local government-funded teachers in public schools.
Table 2: Teaching and Non-teaching Personnel in DepEd
| | Teaching Personnel (including ALS) | Teaching-related Personnel | Non-teaching Personnel |
| --- | --- | --- | --- |
| Central Office | | | 1,297 |
| Regional Offices | | | 2,097 |
| Division Offices | | | 22,657 |
| Senior High School | 67,291 | 4,747 | 9,844 |
| Junior High School | 276,778 | 16,680 | 21,249 |
| Elementary School | 503,396 | 30,441 | 9,183 |
| Subtotal | 847,465 (88%) | 51,868 (5%) | 66,327 (7%) |
| Grand Total | | | 965,660 |
Source: Bureau of Human Resources & Organizational Development (January 2021)
Education Stakeholders and Partners
Local Government Units (LGUs)
Local Governments participate in education through the Local School Board (LSB) and the Special Education Fund (SEF). The LSB controls the use of the SEF, which is generated from the local real estate or property tax (equivalent to 1%). 
The SEF can be quite substantial in size for very large LGUs. The SEF for the city of Manila, for example, is the largest in the country at PhP 1 Billion per year.
Most LGU SEF, however, are less than PhP 5 Million a year, reflecting the wide disparity in LGUs. The SEF for 5th and 6th class status (lowest in terms of revenue) would be in the thousands of pesos.
Commission on Higher Education (CHED)
CHED oversees colleges and universities which produce graduates who become teachers in the system. This relationship informs the CHED and aligns the teacher education curriculum with the newly-established Philippine Professional Standards for Teachers (PPST). The relationship, however, is at arm's length and could be closer, especially in teacher education and development.
Technical Education and Skills Development Authority (TESDA)
TESDA oversees technical and vocational education in the country where there is an overlap with DepEd. The only difference is that Tech-Voc in DepEd is below certification. Certification in DepEd would expand the value of this senior high school offering and should be seriously pursued.
Early Childhood Care and Development Council (ECCD)
The ECCD Council is a government agency mandated by RA 10410 or the Early Years Act (EYA) of 2013 to act as the primary agency supporting the government's ECCD programs that cover health, nutrition, early education, and social services for children aged 0-4 years. The ECCD Council is an autonomous unit that is attached to DepEd for administrative purposes.
National Government Line Agencies
DepEd works with a range of Philippine line agencies on a wide range of education-related programs.
Department of Public Works and Highways (DPWH)
DPWH delivers fully constructed school buildings and other facilities based on mutually-agreed building specifications and plans. These facilities are funded by the DepEd GAA, which is transferred to DPWH for construction.
Department of Social Welfare and Development (DSWD)
DSWD overseas ECCD (0-4 years old). DSWD also manages the conditional cash transfer program (4Ps), which has an education component.
Department of Health (DOH)
DOH helps DepEd with school health and nutrition programs.
National Economic Development Authority (NEDA)
NEDA works with DepEd to flesh out the basic education section of the Philippine Development Plan and provides assistance in monitoring the programs of the Sustainable Development Goals (SDG) related to education.
Department of Budget and Management (DBM)
DepEd works with DBM on budget planning, management, and accountability. Over the years, DBM and DepEd (with Commission on Audit concurrence) have designed and set up budget mechanisms to facilitate and make efficient the usage and flow of funds, such as the Direct Release System, where funds for field units no longer had to pass through the central office.
National Nutrition Council (NNC)
The NNC provides valuable data on the state of nutrition of children essential for the planning of school health and school feeding programs.
National Commission on Indigenous People (NCIP)
NCIP provides information and contacts with IP communities, many of which are in GIDA areas and might be the subject of the Last-Mile-Schools program.
Private Sector in Education
Philippine Colleges and Universities and Schools
Philippine universities are grouped into associations that interact with DepEd in different fora depending on the issue. COCOPEA (Coordinating Council of Private Educational Associations) is the umbrella organization with five educational associations with over 2,500 educational and learning institutions among its member schools.
The five associations are:
Philippine Associations of Colleges and Universities (PACU);
Catholic Educational Association of the Philippines (CEAP);
Association of Christian Schools, Colleges and Universities (ASCU);
Philippine Association of Private Schools, Colleges and Universities (PAPSCU);
Tech-Voc Schools Association of the Philippines (TVSA).
The Government has a policy of complementarity in education between the private and public sectors (Philippine Constitution of 1987, Article XIV, Section 4), which is currently being tested by specific government programs and policies such as the free tertiary education program in state universities and colleges.
Teacher Education Institutions (Private and Public)
Philippine colleges and universities with teacher education institutions (TEIs) are working with DepEd, notably through the National Educators Academy of the Philippines (NEAP), on teacher education, particularly in-service training. At present, this is limited to Centers of Excellence and Centers of Development, which are identified by CHED designations.
Academic Think Tanks
Academic think tanks are institutions that do academic scholarly work of peer-reviewed quality and publication. Two Philippine education think tanks have worked with DepEd continuously over the past seven years: RCTQ (Regional Center for Teacher Quality at the Philippine Normal University, in partnership with the University of Newcastle, Australia) and ACT-RC (Assessment Curriculum and Technology Research Center at the University of the Philippines, in partnership with the University of Melbourne) through the BEST program.
SEAMEO-Innotech (Southeast Asian Ministers of Education Organization) has done years of collaborative work with DepEd on a wide range of education topics.
Philippine Institute of Development Studies (PIDS) has done studies on education financing, out-of-school youth, senior high school, private education, and education-labor market dynamics.
Donor Community
Major Donors
Two multilateral donors – the World Bank and the Asian Development Bank – have provided loans and technical assistance to DepEd since the 1980s. Bilateral agencies have also extended financial and technical assistance to DepEd, including DFAT (Australia), USAID (USA), JICA (Japan), GIZ (Germany), and KOICA (Korea). The UN system has also extended technical assistance to DepEd, notably through UNICEF.
The relationships and contributions of these foreign donors are coordinated through the Philippine Development Forum.
International NGOs
A number of international NGOs (INGOs) are active in Philippine education. Save the Children Philippines, World Vision, and Oxfam are three of the largest. Many others work at a more local level on very specific interventions in education delivery, child support, health & nutrition, WASH, and others.
Civil Society Organization (CSO) or Non-Governmental Organization (NGO)
The Philippines has a large and active NGO sector, many of which have supported public education. Two of the most active are Philippine Business for Social Progress (PBSP) and Philippine Business for Education (PBEd), both of which are members of the Philippine Education Forum created by DepEd.
One special organization created to work exclusively with DepEd is Teach for the Philippines, a local affiliate of the international Teach for All.
The League of Corporate Foundations, with over 50 corporate foundation members, has many that support education projects. These include such foundations as the Bato Balani Foundation, the Coca-Cola Foundation, the Ramon Aboitiz Foundation, the Jollibee Foundation, and more.
READ:
Share of Private Schools Enrollment in Basic Education in the Philippines
Language as a Key Element of Quality of Learning
Importance of Time in School Assigned to Teaching and Learning
Teacher Quality as a Key Factor Influencing Student Learning Outcomes
Curriculum Issues Affecting Student Learning Outcomes in the Philippines
Reading Performance Declining in the Philippines
Transition Issues Between Learning Stages in the Philippines
Overview of Student Learning Outcome Assessments in the Philippines
Bullying and School-Related Gender-Based Violence in the Philippines