Republic of the Philippines
Department of Education
CORDILLERA ADMINISTRATIVE REGION
Wangal, La Trinidad, Benguet
September 14, 2015
REGIONAL MEMORANDUM NO. 164.2015
2016 Cordillera Administrative Region Athletic Association (CARAA) Meet
To: All Schools Division Superintendents
The 2016 Cordillera Administrative Region Athletic Association (CARAA) Meet will be hosted by the City Government of Baguio City and the Department of Education, Baguio City Division on February 6 to 10, 2016 at the Burnham Athletic Bowl, Baguio City.
The sports event played in 2015 CARAA Meet with its related guidelines shall remain in effect unless amended, modified or revised.
Service credits will be granted to officiating officials, coaches, chaperons, delegation officials who are on teacher leave basis while Compensatory Time-Off will be granted to officials and other non teaching personnel for services rendered during Saturdays, Sundays, holidays within the duration of the meet subject to civil service rules on service credits and Compensatory Time-off. The Schools Division Superintendents shall issue special order on service credits/compensatory time-off to the coaches, chaperons, delegation officials and officiating officials in their respective divisions and the Regional Director shall issue special order on compensatory time-off to regional office personnel.
The composition of a delegation, medals to be contested, and Deped Memorandum Number 95, s. 2015 are enclosed for the guidance of all concerned.
Immediate dissemination of this Memorandum is enjoined.
Sgd.
ELLEN B. DONATO, Ed.D., CESO III
Regional Director
[scribd id=295177790 key=key-BV5CnJtNckOtPMeVbh56 mode=scroll]
---
Republic of the Philippines
Department of Education
CORDILLERA ADMINISTRATIVE REGION
Wangal, La Trinidad, Benguet
November 9, 2015
To: SCHOOLS DIVISIONS SUPERINTEDENTS
From: ELLEN B. DONATO, Ed.,D., CESO III
Regional Director
ACCREDITATION AND SCREENING OF ATHLETES AND COACHES FOR 2016 CORDILLERA ADMINISTRATIVE REGION ATHLETIC ASSOCIATION (CARAA)
1. The 2016 Cordillera Administrative Region Athletic Association (CARAA) will be conducted on February 6 to 10, 2016 at the Burnham Park, Baguio City and to be hosted by the City Government of Baguio.
2. Below are the required documents to be submitted for accreditation and screening of athletes and coaches:
A. For the Eligibility of the Athletes:
a. Athlete's Record, signed by the athlete, coach, and PESS Division Supervisor
b. Original and photocopy of Birth Certificate issued by the National Statistics Office (NSO). Late registration may be accepted provided; the same was issued one (1) year prior to current Palarong Pambansa, April 2016.
In the case of foreign bom Filipino athlete, in lieu of NSO Birth Certificate, the original birth certificate issued by the Country of his/her birth and a valid passport showing his/her nationality, date and place of birth must be presented or an official document from the Bureau of Immigration stating his/her nationality as a Filipino.
c. Form 137, certified true copy from original/computer printed duly prepared by the teacher, with recent signatures by the registrar/principal/school heads, and the Division PESS Supervisor.
d. Certificate of Enrolment duly signed by the school registrar and the school head.
e. Parent's or guardian consent, verified by the Principal/Registrar/Teacher-Adviser
f. Medical Certificate, signed by a Physician, stating that the athlete is physically fit and with the date of examination not later than three (3) months from the date of the opening program in April 2016 ( The complete name of the signing physician shall clearly appear on this document, with the license number)
g. Dental Certificate with a universal entry, duly signed by a dentist over his/her clearly printed name and license number, and with the date of examination not later than six (6) months from date of the opening of the Palarong Pambansa in April 2016.
h. Six (6) passport size l'A X 11 2A identical pictures with Name Tag (Surname, First Name and Middle Initial) and grade/year level for Athlete's Record, Dental Certificate and Gallery.
i. Master list of athletes indicating the date of birth, division, school and name of coach duly signed by the Regional Director, on soft (diskette, USB or any other media) and hard copy. A soft copy in excel file should be submitted online to the depedcarregionaI09@gmail.com on or before December 30, 2015.
B. For the Eligibility of Coaches and Chaperons:
a. Certificate of Employment (certified copy of the original document duly notarized). There are 2 separate Certificate of Employment Form for Coaches/chaperons from the Public and Private Schools.
b. Form 212 with one (1) 1 'A X 1 !4 I.D. pictures
c. Sworn Statement or Affidavit of the Coach attesting the authenticity, validity and correctness of the entries on the above mentioned documents of the Athletes submitted.
For Coaches from Public Schools may use a Sworn Statement Form while Coaches from Private Schools may use an Affidavit Form.
d. Medical Certificate
e. At least three (3) 1 yA X 1 % I.D. identical pictures
C. Galleries of ail events with identical pictures of Athletes and Coaches/Chaperons
3. The documents shall be accomplished legibly and duly signed by authorized or concerned officials and to be submitted before joining the sports activities and the different events.
4. Attached are the templates of all the required documents and to be used in accomplishing all the documents needed.
5. For strict compliance.
[scribd id=295178165 key=key-dWOBTWCopFxv7lPGRXAY mode=scroll]
---
Download 2016 Cordillera Administrative Region Athletic Association (CARAA) Meet Forms
---
CARAA 2016 Uniform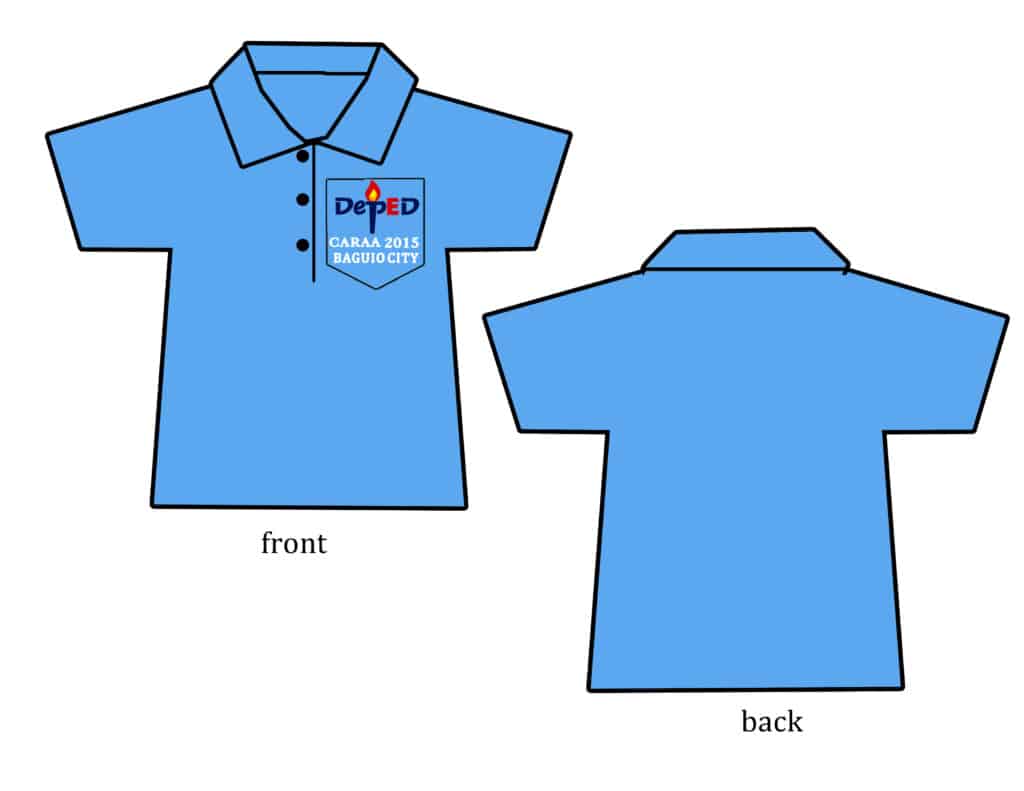 ---
2016 CARAA Online Game Results – Click Here